Outbounding by William Miller
A book that has everything around and about winning customers with outbound sales and calling off the dependency on inbound leads.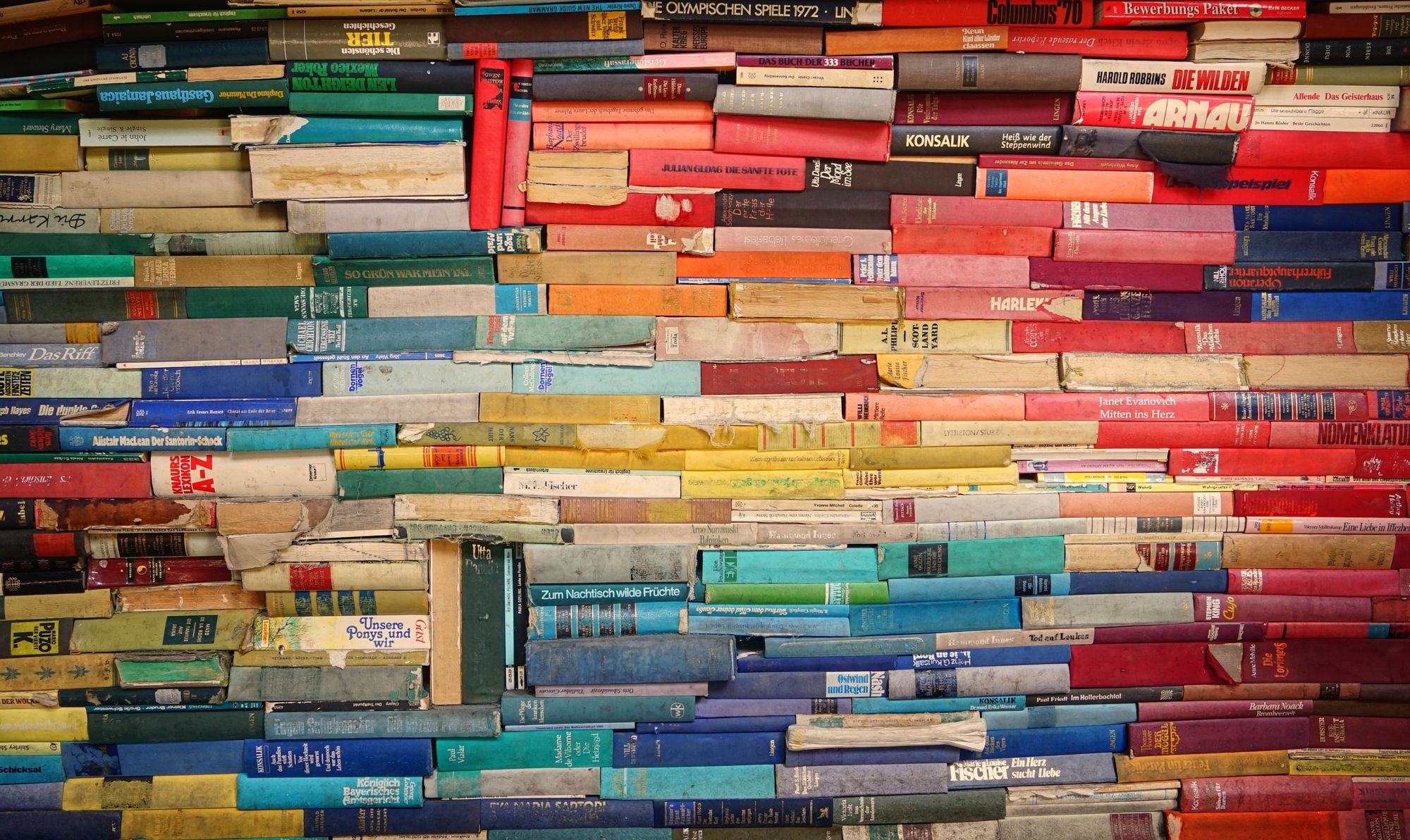 ---
When it comes to marketing, there are two universal concepts currently that help you limit the scope: outbound and inbound marketing. Inbound sales marketing was once ruling the world but no doubt outbounding came forth again as it suits today's world.
The founder and president of M3 Learning, William (Skip) Miller came forth with his seventh book "Outbounding". In this article, we give you a quick rundown of the major takeaways and the summary of this outbounding sales bible.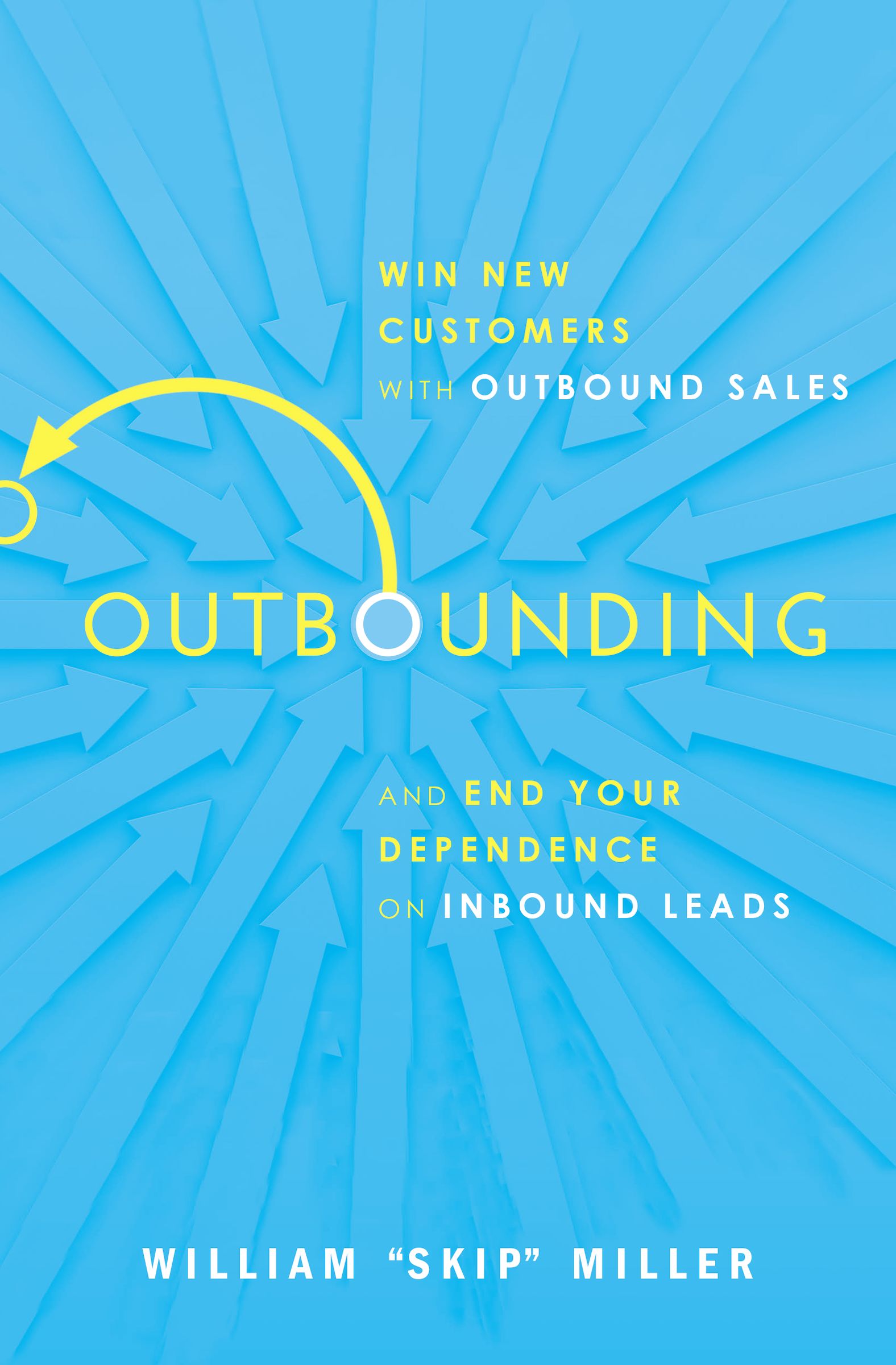 A quick rundown of 'Outbounding' By William (Skip) Miller
Outbounding, the need of the hour!
Explain the significance of the needed change to the client and then show how to appease that
Know the perspective of your customer
Meet the needs of both ATL and BTL Buyers
Discover your prospects need to change
Shuffle the three stages of the sales call from Intro>>Middle>>The End to most productive order that is The End>>Intro>>Middle
Handle time with care
Determine a "Power hour" and make it a part of your daily planning
Pay attention to 'Cadence and Sequencing
It's a number game!
Believe in yourself, your company and your product
---
Outbounding, the need of the hour!
We heard the term 'Inbounding' in the year 2005 as a 'sales approach' to use social media marketing, content marketing, search engine optimisation, and overall branding to allure customers. Soon these inbound leads started drying up. Approaching thousands via different channels hoping, at least a few will endure it no more sounds like a win-win game.
The author explained the differences between "Inbound" and "Outbound". An efficient salesperson must know them before taking any step further.

Considering the list of differences between "Inbound" and "Outbound" sales strategies, it is quite clear that the logical sales solution is "Outbound". But, it is not going smoothly for B2B firms. Why? The author has the answers!
Salespeople at different organisations who are contributing in outbound are primarily trained for inbound sales.
For the action plan to succeed, the outbound sales team heavily relies on sales representatives and business development representatives for their leads.
The team might be ignoring or not using the formal outbound sales processes.
The team might not be paying much attention to developing an outbound-lead model.
---
Know the perspective of your customer
Study the prospect's perspective to discover how they will be benefitted. Try to see things from their eyes and work on your listening ability, communicate with confidence, and keep learning.
In the book, the author represented the company's decision-making process for a buy with a figure which gives us a clear picture of what an organisation goes through before it starts contacting vendors.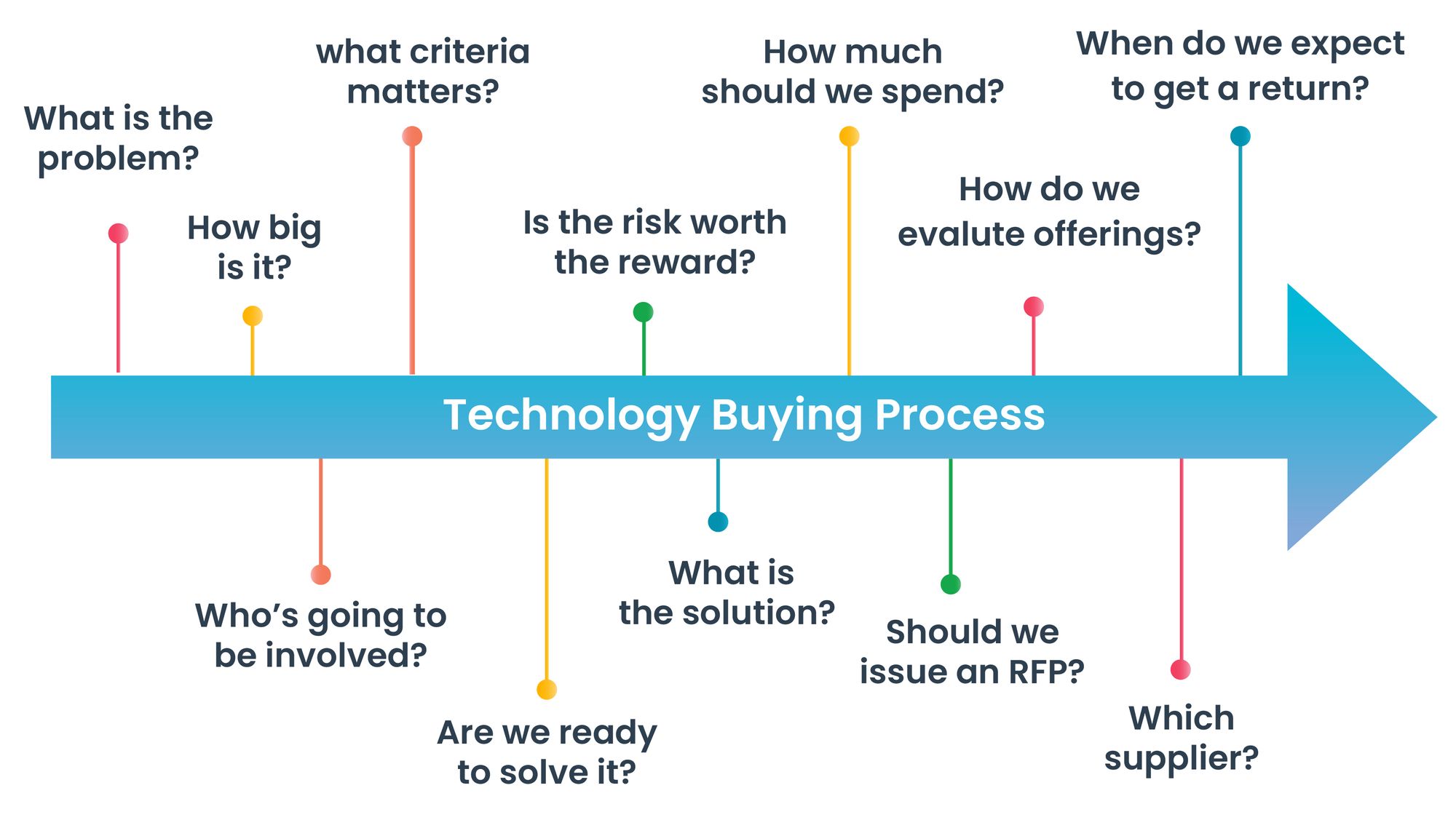 Explain the significance of the needed change to the client and then show how to appease that
Effective B2B salespeople must bat around the kind of changes a prospect might need, to fix the problem they are facing or might face in the near future. Put together these change-n-fix related questions and bring them up in front of each prospect.
Why is change needed?
Why now?
What will be the results?
What are the expectations from the change?
What information do they need for the change?
To get the B2B sales situation right, William Miller used the buy-sell pyramid model.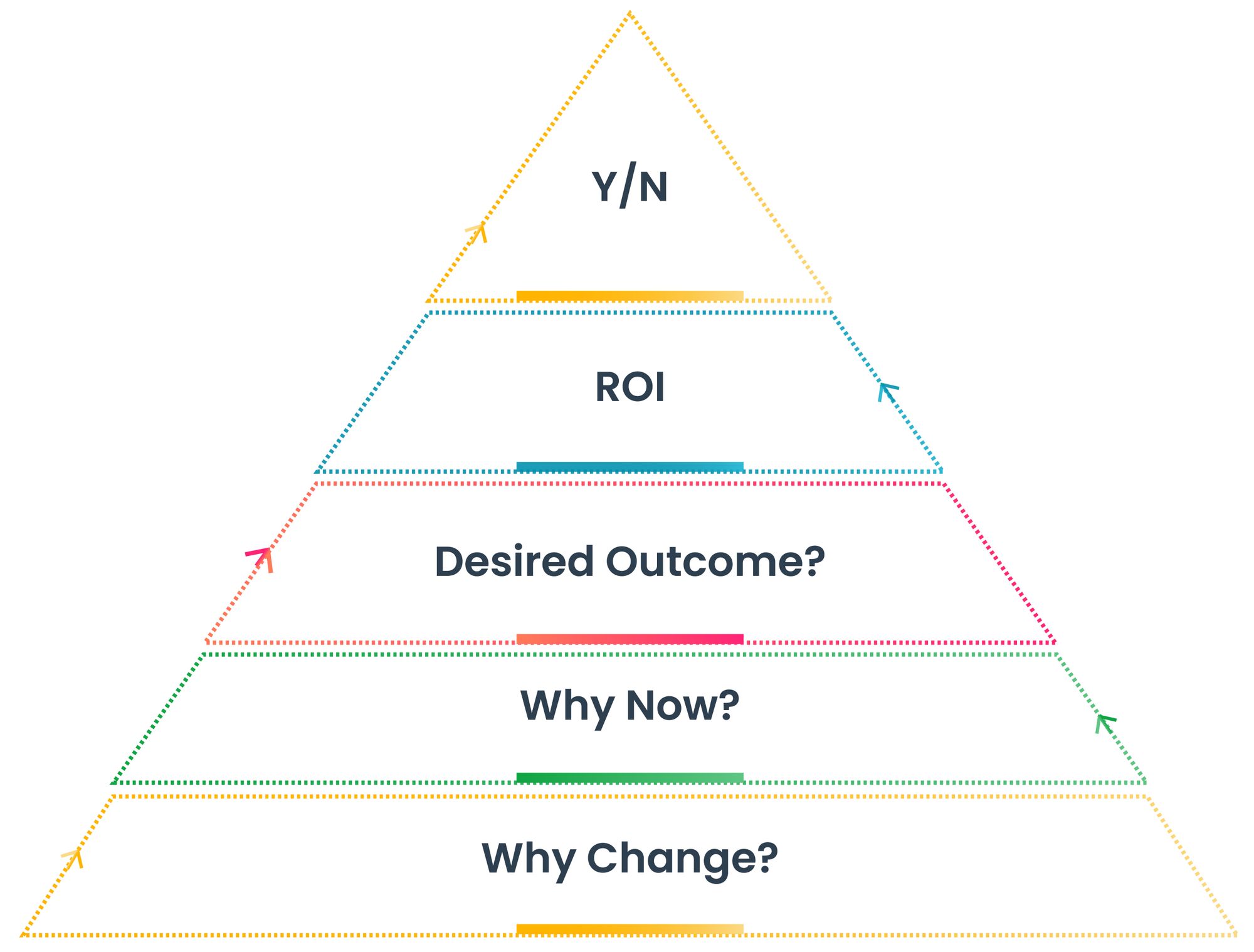 ---
Meet the needs of both ATL and BTL Buyers

Above the line (ATL) and below the line (BTL) buyers, both require different approaches as they have different sets of goals and expectations.
Usually, BTL buyers set the reason for purchase and on the other hand, ATL buyers initiate its need.
BTL buyers are always inclined towards finding the best alternatives for their organisation. Thus, their considering and reconsidering stage takes forever and one must love this category as they are usually up for buying. Study the concerning topics for both ATL and BTL buyers, learn what they care about and what they need instead of spending time on what you care about and your needs. Mostly, salespeople ignore the ATL value proposition and consider only the BTL way.
---
Skills required for Outbounding
There is a certain skill set that William Miller talks about in his book. He stated an outbounding skill set that is needed for running a successful outbounding effort.
Research Skills
Organisation Skills-System
Overcoming Fears
Listening Skills
Value Skills
Multimedia Skills
Attention-Getting Skills
ATL BTL Skills
Product Knowledge
Time Management Skills
---
Define a good document sequence
According to the author, clubbing together a sequence of events to form a cadence is a critical step in outbounding. The five elements of a sequence must be well aligned with each other to make a great sequence for the target outbound audience.
The elements of a great sequence are -
Attempts - This is the number of attempts a salesperson does to connect with a prospect. The suggested number is between five to ten.
Media - Among the many forms of media, a few best options as per the writer are email, voice mail, social media, social video, and direct mail.
Duration - There are three elements to duration that one wants to pay attention to - length, market, and calendar.
Spacing - It seems like the accepted standard right now is a two to three day spacing in between touches. If the touch gap is longer than that, you'll lose attention. If the buyer's window is not open during your first two weeks, then, give it a rest.
Content - The content is obviously very important. The author has introduced some rules for framing the content to make it more effective.
He insisted on writing to the persona and had a different approach while writing for ATL and BTL Some of the general ideas that he suggested are as follows:
---
Pay attention to 'Cadence and Sequencing'
The author, William Miller, has elaborated the model outbound sales cadence in the book and also briefed about the sequencing well. He suggests an 8 touch 10-day sequence to start with.
8-Touch 10-day Sequence
Important ratios for outbounding
The writer also elaborated on some success ratios. Here is a quick rundown for you to consider -
1. It takes four to six attempts to contact a warm lead.
2. It takes six to ten attempts to contact a cold lead.
3. If you do not have an ATL discussion after Stage 2 of your sales process, the deal is less than 50/50.
4. The more media you use in your sequence, the higher the probability of success.
5. You need to have 4x to 5x of funnel activity in Stages 1 and 2. In essence, if your monthly quota averages out to three deals, you need to have twelve to fifteen deals in the first two stages of your pipeline.
6. Same ratios go for cadences.
---
It's a number game!
B2B sales demand numerous efforts, such as an abundant number of telephone calls or other prospect contacts. A tally suggests that a salesperson should make 33 telephone calls every day along with 2000 plus calls, 200 plus connections and 30 meetings per quarter.
Telephonic calls are the best way, to begin with as it's the most powerful sales mechanism. Listen to yourself before making calls and practice using your voicemail system.
Follow the 5 steps telephonic calling plan –
1)  Know the reason for calling
2)  Know the typical client expectation
3)  Plan the very first 20 seconds
4)  Get ready for objection handling
5)  Set goals for every call and also schedule a follow-up person

ASTRO APPROACH
To open the call using the "ASTRO" approach. The A-S-T-R-O stands for -
A & S – A is for 'Attention' and S is for 'State' where the writer suggests using the prospects name to grab their attention.
T - T is for the 'The purpose' which stands for the purpose of call use words wisely as words like purpose, reason, cause the brain to think as it's a cause-and-effect response
R – Reframe - Reframe the pattern interrupt to something they can relate to. Give them a reason to listen to, make it about them, make it relational-relate to their title, their industry, or their geography.
O - Options - This is the ask, make sure you have options. Remember, questions hijack the brain. So, end with a question. While cold calling, ask multiple questions to engage minds and try to end the conversation with a question too.
---
The sales book summary ends here but we know your curiosity doesn't.
Subscribe to our blog to get such informative and quick book summaries and keep learning every day.