WhatsApp promotional messages: Tips, Use cases, and Examples
WhatsApp has always been a fast, simple, and convenient messaging channel. Learn how you can leverage it for your business growth with WhatsApp promotional messages.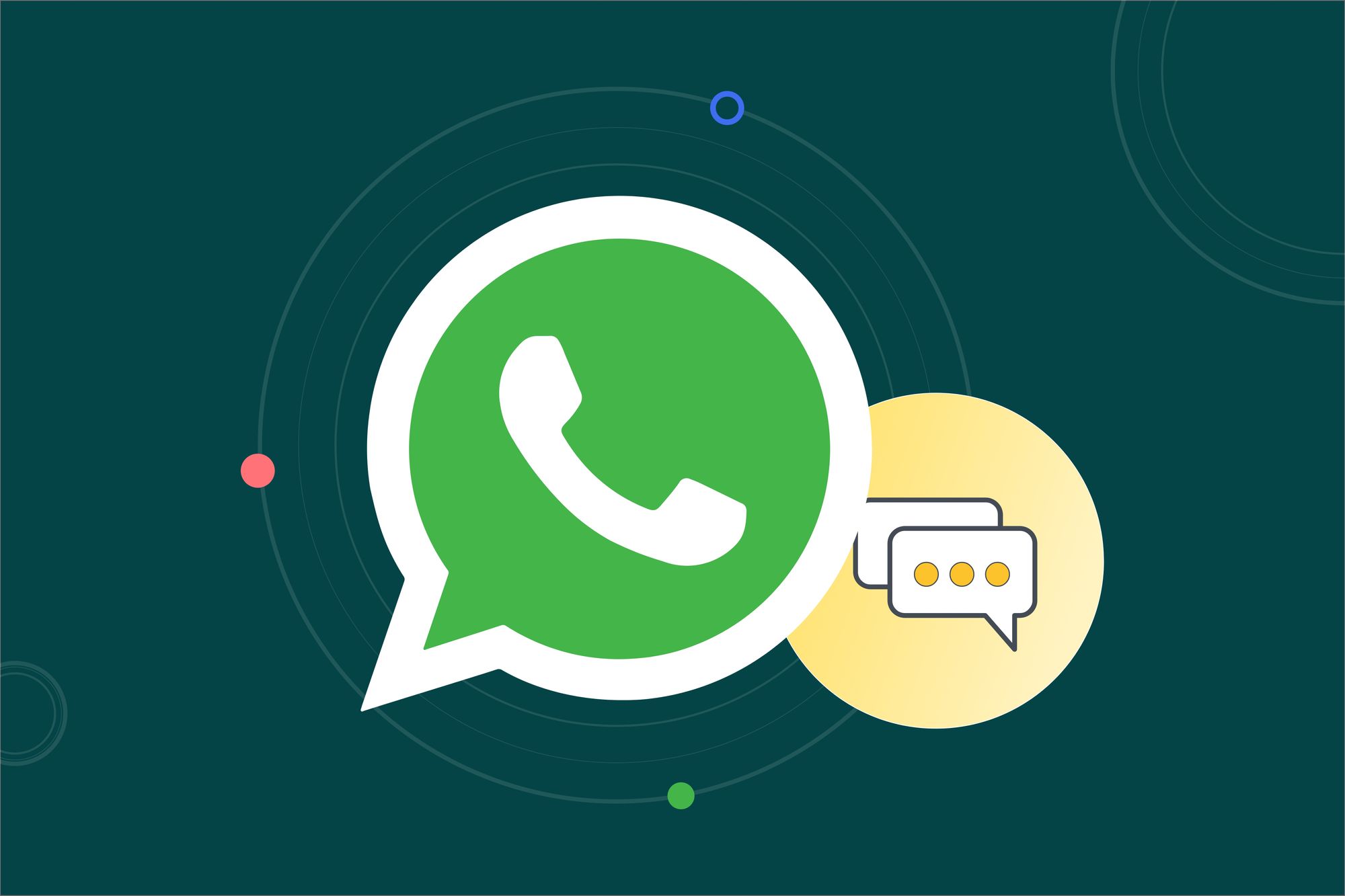 Did you know,
WhatsApp has roughly 2.2 billion global users.
WhatsApp delivers roughly 100 Billion messages every day.
The WhatsApp open rate is 98%. It means that out of 100 messages you send, 98 messages will be read.
WhatsApp has a 45-60% clickthrough rate and conversion rate.
WhatsApp has always been a fast, simple, and convenient messaging channel to converse with family and friends, share photos and videos, send and receive documents, send messages privately or in bulk, and have secure conversations. Concurrently, WhatsApp can be a powerful tool for businesses too.
With numerous features of the WhatsApp Business API and the option to promote the business through promotional messages, WhatsApp can be critical for your businesses in the progressive business world. If employed correctly, WhatsApp messaging for business can take your customer communications to the next level of engagement.
But how? Read further to know.
This blog is structured to help you understand the following
What is a WhatsApp promotional message?
What is up with WhatsApp business messaging?
Guidelines for WhatsApp promotional messages
How to write a good WhatsApp promotional message
WhatsApp promotional message examples and use cases
Summing up
---
What is a WhatsApp promotional message?
A WhatsApp promotional message is a non-transactional message that allows businesses to market their products and services and offer a better customer experience throughout their journeys. WhatsApp promotion messages may include new launch alerts, discounts, product stock availability, app promotions, etc.
A promotional message can consist of text, images, video, PDF documents, or interactive elements such as call-to-action buttons.
Here is an example of a WhatsApp promotional message: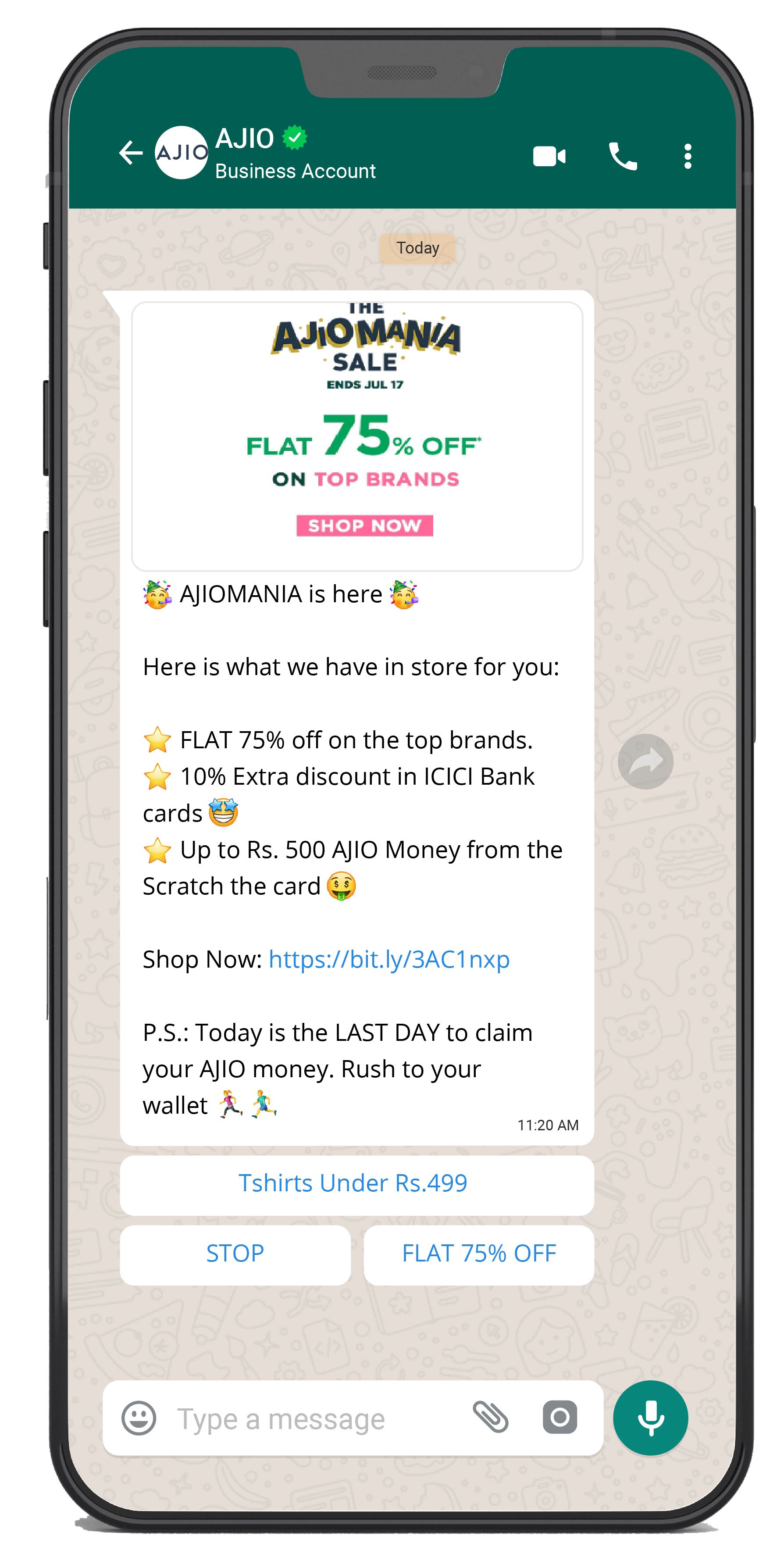 WhatsApp promotion messages can help your business in numerous ways. We have highlighted a few for you.
WhatsApp messages help the business have informal and instant interactions which help in building brand loyalty and long-term relationships.
With WhatsApp message templates, you can initiate conversations with your contacts.
Promotional messages on WhatsApp have the potential to reach a wider audience with the lowest investment. Simply put, it is cost-effective.
Applicable in several industries such as hospitality, e-commerce, retail, tourism, real estate, and many other verticals.
---
What is up with WhatsApp business messaging?
If you are aware of WhatsApp business API, you may very well know that businesses have to get the template messages approved directly from WhatsApp.
Prior to September 2021, WhatsApp allowed and approved businesses to send only transactional messages such as reservations update, ticket confirmations, shipping updates, payment details, a short welcome message for customers, etc.  This was to ensure the users/customers are not spammed with unnecessary notifications. But the businesses needed a solution to market and promote their products and services. WhatsApp realised this requirement of the companies eventually.
Throughout 2021, WhatsApp approved and trialled non-transactional or promotional messages in several countries and in September 2021, WhatsApp took a major leap and allowed businesses globally to send promotional messages.
So what exactly is WhatsApp promotional message?
---
Guidelines for WhatsApp promotional messages
It is said, "with great power comes great responsibility".
WhatsApp has allowed you to promote your business on its platform. But at the same time, WhatsApp is customer-focused and wouldn't appreciate it if businesses spam the customers. For the same reason, there are certain guidelines that businesses must follow while sending WhatsApp marketing messages.
Businesses must comply with WhatsApp commerce policy.
Businesses must get the consent of the customer and comply with the opt-in policy of WhatsApp.
Try to maintain a 3:1 ratio between transactional and promotional messages.
Segment your audience and send personalised and relevant messages.
The messages must be timely. Don't send the messages after 5 months of opting in or send messages too often. Understand the frequency with which your audience is comfortable and know when your audience is most likely to engage with your messages.
Avoid sending marketing messages to the less engaged users. If they report your business to WhatsApp, the quality score of your business may go down.
Don't send promotional messages to users who have opted out or unsubscribed.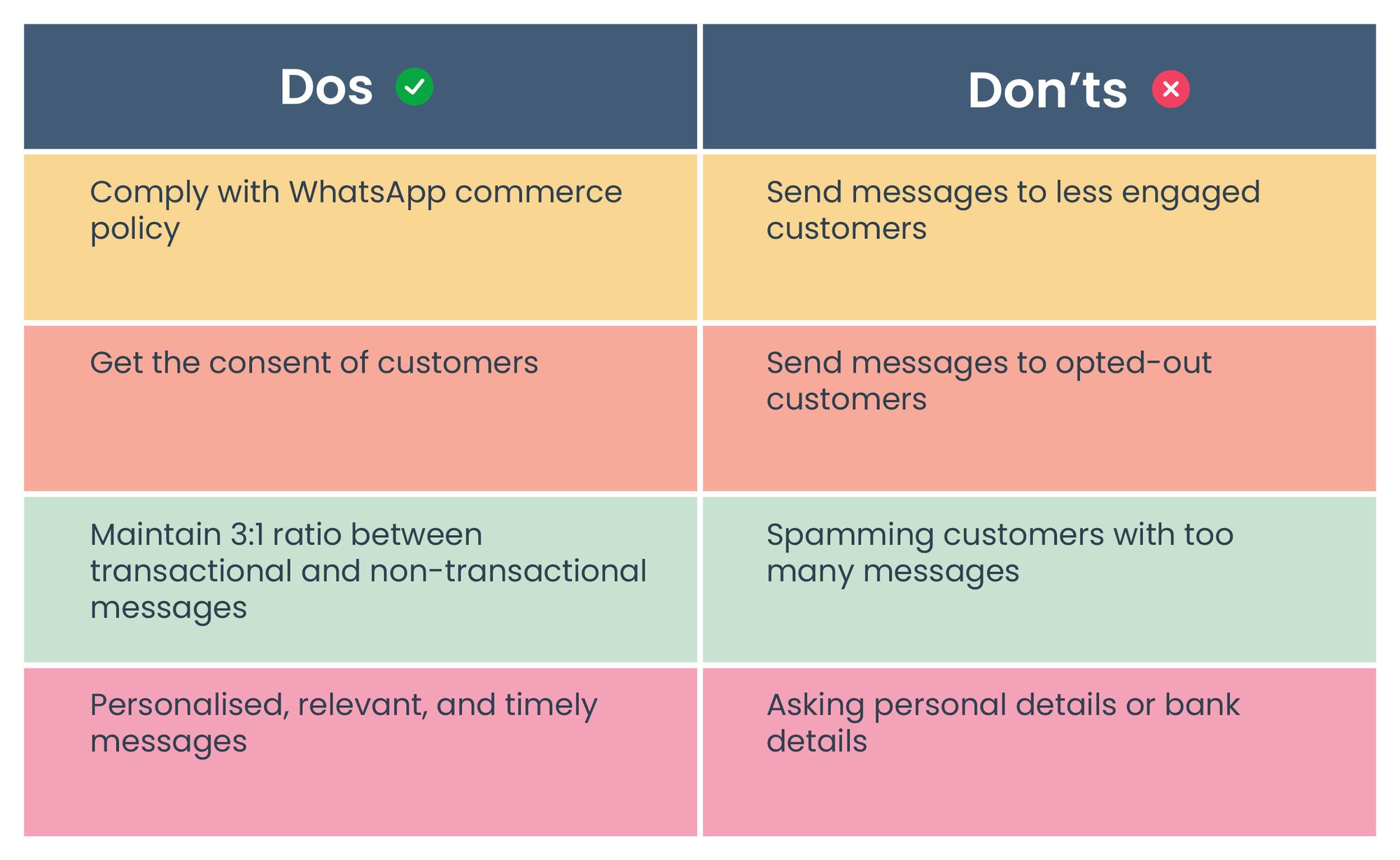 ---
How to write a good WhatsApp promotional message
We have discussed the dos and don'ts for sending promotional messages on WhatsApp. But how to write a good promotional message? Here are a few quick tips.
Write an interesting message
Your customers look at a huge number of promotional messages every day. If your message doesn't stand out from the crowd, your efforts will be wasted. So, make your message conversational, keep it crisp and to the point. Suggest an action clearly at the end of the message. Make your message interesting and interactive with images, videos, PDFs, or CTA buttons.
Promote, but don't overdo it
Keep your message subtle. Don't over-promote or overpromise. An over-salesy message can come off as spammy and may lead to a reduction in your quality score.
WhatsApp uses algorithms to identify spam messages. Evoking a false sense of urgency with words like "Today", "Now", etc. or asking for personal details over WhatsApp are a few of the ways to be noticed by WhatsApp and being marked as spam.
Remember no one gets it perfectly at first. But you can always send messages, get feedback and improve upon them.
---
WhatsApp promotional message examples and use cases
You can use WhatsApp marketing messages in multiple ways to promote your products, services, and business. Here are a few use cases with message templates and examples.
1. Sales and discount offers
Whenever your business is offering a seasonal sale or discount offer, you can send out a promotional message to your customers. Here is one of the WhatsApp promotion message templates:
"Hi [Customer name]! The summer sale is back! Check out our latest collection of summer wears and shop now 🛒 at [URL]."
Here is one of the promotional discount message examples:
"Get 20% OFF on all your orders, this Black Friday! Use code: BLACK. Order at [URL]"
2. Reminder alerts
Let's say you are launching sales offers, you can create excitement by sending out sales reminder messages proactively.
Another use case is sending out reminders for the booked appointments, cart abandonment reminders, etc.
Here is one such promotional message example:
"Hey [Customer name],
Our winter sales start in 1 hour! Are you ready to grab the best deals?
Browse and add your favourite items to your cart now for a faster checkout later."
3. Launch announcements
Announcing your new launch to your audience and incentivising them to use it can be a great marketing tactic to get quicker feedback and improvise your product for future launches.
Here is an example of a launch message:
"Hey [Customer name],
The wait 🕜 is finally over! We have launched the much-awaited collection of [item name]. Order it now! [URL]"
4. Back-in-stock notification
Let's say you own a business which sells products fast, such as electronic gadgets. In such cases, this kind of message template will be useful.
An example of a WhatsApp promotional message template:
"Hi [Customer name],
The [item name] is back in stock🥳! Order it now at [URL]"
5. Cross-selling and upselling
For existing customers, you may already have their purchase history. Based on that, you can either upsell or cross-sell your products.
Here is a WhatsApp promotion message template.
"Hi [Customer name],
Congratulations on subscribing to our services for the next 3 months. Here's an insider tip to help you save more money: Extend your subscription for one year to get two more months' FREE subscription. Click here: [URL] to upgrade your account."
6. Re-engagement
With numerous brands available in the market, it is possible that your customers eventually forget you. To ensure you are not forgotten and to gain their loyalty, it is important to often engage with your customers.
Template:
"Hi [Customer name],
It's been a while since you ordered your favourite [Item name]. We are curious, what happened?
We've recently launched a new collection of [Items]. You might want to try it out this time. Check here: [URL]"
7. Upcoming event
In the digital world, spreading the word about your upcoming event is easier than ever. And WhatsApp can be a fast and convenient tool to reach out to your audience.
Here is a template which you can use to promote your upcoming events:
"Hi [Customer name],
[Celebrity name] is in town to launch our exclusive collection of [Item name] and we want you to join us in our celebration. Reserve your spot now at [URL]. See you soon!"
---
Summing up
Statistics have clearly shown that customers prefer chatting with brands over WhatsApp. And if you have a WhatsApp business account, you can certainly leverage this for your business growth.
However, if you are unsure about how to create a WhatsApp business account, or how to send marketing messages through WhatsApp, Pepper Cloud - a WhatsApp CRM, can help you out. Talk to our friendly staff and get cracking with your business.
---
Further reading