How can CTOaaS make digital transformation easier for SMEs?
Discover how the IMDA's Chief Technology Officer as a Service (CTOaaS) can simplify digital transformation for Singapore SMEs. Explore the benefits of digitalisation, CTOaaS, its features, eligibility criteria, and learn how CTOaaS empowers SMEs.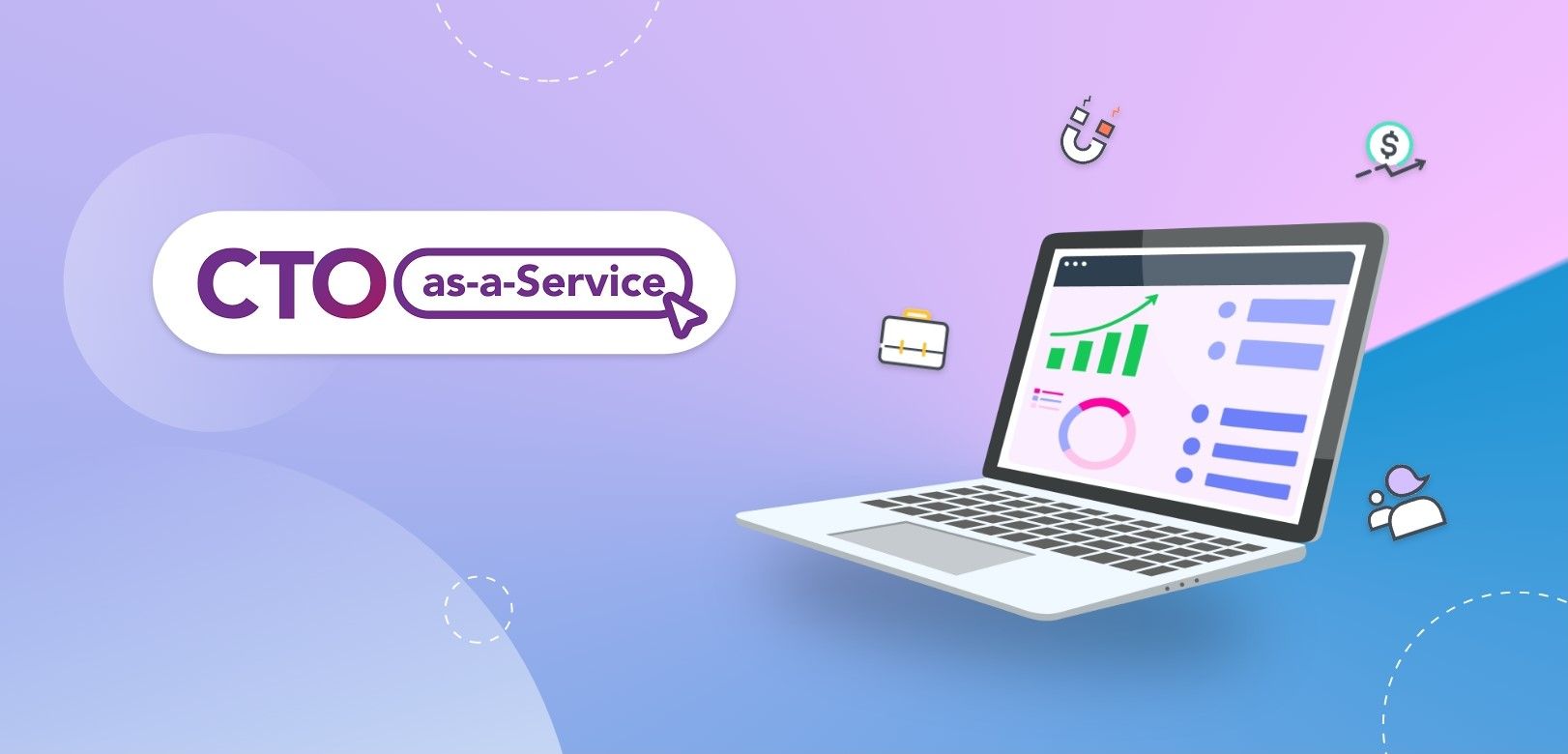 In today's fast-paced digital era, small and medium-sized enterprises (SMEs) face a pressing need to embrace digital transformation in order to remain competitive and thrive. However, the journey towards digitalisation can be challenging for SMEs due to various factors. To address these obstacles and assist SMEs in Singapore, the Infocomm Media Development Authority (IMDA) has introduced the Chief Technology Officer as a Service (CTOaaS) under the SME Go Digital program.

In this article, we will understand how IMDA Singapore's CTOaaS can make digital transformation easier for SMEs by discussing the following topics:
Benefits of digitalisation for SMEs
SMEs digitalisation challenges
What is CTOaaS
Features and benefits of CTOaaS
Eligibility for subsidised digital consultancy
What if you already know your SME's digital needs
---
Benefits of digitalisation for SMEs
To say the least, digitalisation is offering a plethora of benefits that can propel SMEs' growth and competitiveness. In this section, let's explore the key benefits that digitalisation brings to SMEs, ranging from increased operational efficiency to the ability to adapt to the ever-changing marketing dynamics.
Increased operational efficiency: Digitalisation enables SMEs to automate manual processes, streamline workflows, and eliminate redundant tasks. By implementing digital solutions such as cloud-based CRM systems, and project management tools, SMEs can improve operational efficiency, reduce human error, and enhance productivity.
Improved customer engagement: Digitalisation opens up new avenues for SMEs to connect and engage with their customers. Through various digital channels such as social media, email marketing, and online customer support, SMEs can build stronger relationships, gather valuable feedback, and provide personalised experiences. These interactions lead to increased customer satisfaction, loyalty, and ultimately, business success.
Enhanced data-driven decision-making: Digitalisation provides SMEs with access to valuable data and analytics. By leveraging tools and technologies for data collection, analysis, and visual dashboards, SMEs can gain insights into customer behavior, market trends, and business performance. Data-driven decision-making empowers SMEs to make informed choices, uncover growth opportunities, and optimise strategies.
Access to global markets at no extra cost: Digitalisation offers valuable opportunities for small and medium-sized enterprises (SMEs) to expand their reach in global markets. By leveraging digital tools, SMEs can reduce costs associated with transportation and border operations, as well as capitalize on the increased potential for trading services.
Agility and adaptability: In today's rapidly changing business landscape, agility and adaptability are crucial for SMEs. Digitalisation provides the flexibility to quickly respond to market shifts, customer demands, and emerging trends. By adopting digital technologies, SMEs can easily adapt their products, services, and business models to stay relevant and competitive. This ability to pivot and innovate gives SMEs a significant advantage in a dynamic and evolving marketplace.
---
SME digitalisation challenges
In today's rapidly evolving business landscape, where digital transformation has become increasingly prevalent, it is notable that only a small percentage of small and medium-sized enterprises (SMEs) actually consider their endeavours in this realm as successful. This sheds light on the challenges faced by SMEs when it comes to embracing digitalisation.
One of the major obstacles is the inherent intimidation associated with digitalisation. Many SMEs find themselves grappling with the complexities and unfamiliarity of this technological shift. The rapidly advancing digital landscape can be overwhelming, leaving business owners and decision-makers unsure of where to start or how to navigate this new terrain. The lack of expertise and knowledge in the subject matter acts as a significant deterrent, hindering SMEs from taking the plunge into digital transformation.
Additionally, the initial start-up costs involved in implementing digital solutions pose a substantial barrier for many SMEs. Limited financial resources and budget constraints make it challenging for these businesses to allocate resources towards the necessary technologies, tools, and infrastructure required for a successful digital transformation.
Furthermore, the time constraints faced by busy business leaders add to the reluctance to embark on the digital journey. SME owners and managers often find themselves preoccupied with various responsibilities, leaving them with limited time and resources to dedicate to the process of digitalisation.
In light of these challenges, IMDA's CTO as a Service (CTOaaS) can be a solution that alleviates these concerns and help businesses navigate the complexities of digitalisation.
---
What is CTOaaS?
As part of the Infocomm Media Development Authority's (IMDA) goal of architecting Singapore's Digital Future, CTO-as-a-Service has been introduced under the SME Go Digital program. Designed to support small and medium-sized enterprises (SMEs) in Singapore, CTOaaS will play a crucial role in guiding and empowering businesses in their digital transformation journeys by providing required technology consultations and digital solutions.
In other words, the Chief Technology Officer-as-a-Service (CTOaaS) initiative in Singapore empowers SMEs to assess their digital readiness, access cost-effective digital solutions, and engage digital consultants for transformation strategy and project management services under the SMEs Go Digital Programme. With CTOaaS, SMEs can evaluate their digital needs remotely, adopt proven digital solutions, and receive expert guidance to drive successful digital transformations.
---
Features and benefits of CTOaaS
Through CTO-as-a-Service, an SME can:
SMEs can conduct a self-assessment to determine their level of digital readiness and identify specific areas where digitalisation is needed.
SMEs can gain valuable insights and knowledge by learning from the experiences of other successful SMEs that have implemented digitalisation projects. By studying and understanding the strategies and best practices of these enterprises, SMEs can leverage their learnings to enhance their own digital transformation endeavours.
SMEs can receive tailored recommendations for digital tools, technologies, and solutions based on their specific business needs and profile.
SMEs can compare various digital solutions based on their functions and costs
With CTO-as-a-Service, SMEs can benefit from the expertise of digital transformation consultants provided by Accenture and Stone Forest IT. These consultants offer digital advisory services to help SMEs:
Gain a deeper understanding of the needs and priorities of businesses.
Customise digital solutions and training roadmaps specific to their business requirements.
Incorporate crucial elements like cybersecurity risks, data usage, and protection into their digitalisation strategies.
SMEs can also request the help of consultants to manage the implementation of their digitisation projects.
For eligible enterprises, the initial use of digital advisory and project management services comes at no cost. Subsequent usage or enhanced services will be subject to commercial agreements if SMEs wish to continue engaging digital transformation consultants.
CTOaaS also shares a wide selection of over 450 subsidised digital solutions available to Singapore SMEs, catering to sector-specific or common business needs.
---
Eligibility for subsidised digital consultancy
Business entities that satisfy the following criteria will qualify for first-time usage of digital advisory and project management services at no cost.
The entity is registered and actively operating in Singapore.
The entity has a minimum of 30% local shareholding.
The entity's group annual sales turnover does not exceed $100 million per annum, or its group employment size is within 200 employees.
The entity has not previously utilised the services of digital transformation consultants under the CTO-as-a-Service program.
By meeting these eligibility requirements, businesses can take advantage of the no-cost digital advisory and project management services offered to support their digital transformation endeavours.
---
What if you already know your SME's digital needs?
If you already have a clear understanding of your SME's digital needs, you can expedite the process by directly comparing the various packages offered by different vendors on the CTOaaS page. Each vendor entry provides a brief yet informative description of the digital solution they offer, as well as comprehensive details about the packages available.
Pepper Cloud CRM is one of the digital solution vendors under the SMEs Go Digital programme that offers CRM solutions for small and medium-scale businesses. It helps in managing sales, opportunities, and accounts. It is a CRM integrated with various tools such as WhatsApp, Facebook, Xero, Mailchimp, G-suite, etc.
Under CTOaaS, Pepper Cloud offers digital consultancy services for CRM solutions. Our experts are equipped to advise on how digital solutions can empower your team and assist in growing your businesses.
Pepper Cloud is also an IMDA's pre-approved PSG CRM vendor. Hence, businesses can avail PSG grant on CRM. Contact us to book a free demo.
---
Conclusion
Digital transformation is essential for SMEs in today's digital era. IMDA Singapore's CTOaaS program offers valuable digital consultancy, tailored recommendations, and cost-effective solutions to help SMEs overcome challenges. With digitalisation, SMEs can enhance operational efficiency, engage customers better, make data-driven decisions, access global markets, and adapt to market changes. On the other hand, CTOaaS addresses complexity, limited resources, and time constraints by providing expert guidance and subsidised solutions. SMEs.