Email marketing with CRM technology: A tool to generate more sales
Email marketing is around for more than half a century and not going anywhere anytime soon. But do you know how to leverage it to generate more sales? Read the blog to know about CRM email marketing and how it can be a powerful in driving your sales.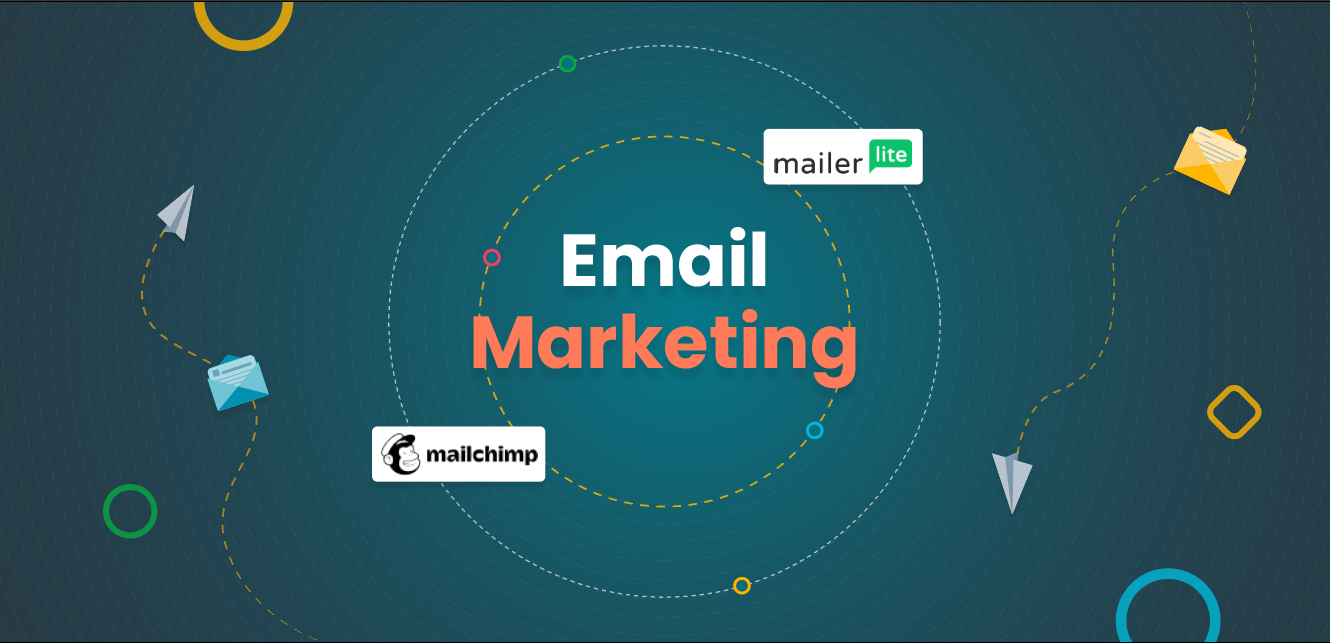 According to statistics, the number of global email users in 2020 is four billion and is expected to rise to 4.6 billion by 2025. According to another study, most of us can't go more than 6 minutes without checking emails or IMs. Not just that, email marketing returns $38 for every $1 spent.
With such solid proof, isn't it evident how email can be a powerful marketing channel?
Email is around for more than half a century and not going anywhere anytime soon. From creating a vast reach to inspiring actions among your leads and customers, email has been a constant companion for companies that are looking to grow.
In this blog, let us look into how companies can benefit from emails. Here is a breakdown.
What is email marketing?
History of email marketing
The power of email marketing
Disadvantages of email marketing
CRM email marketing - A strategy to generate more sales
Traditional email marketing vs CRM email marketing
MailerLite and Mailchimp integrated CRM - Pepper Cloud
---
What is email marketing?
First things first - What is email marketing?
Email marketing is a direct marketing channel through which email communication is sent. The objectives of email communication often involve sharing new updates; and/or promoting your services and products to your prospects/customers.
Email marketing is an inbound marketing strategy that acknowledges the fact - not everyone is ready to purchase/subscribe to the company's offerings at that exact moment. Hence, email helps you to stay on prospects' minds by informing, reminding, and delivering messages to their personal inboxes.
Furthermore, marketing emails provide call-to-action buttons that get the users to sign up, book a demo, etc. These kinds of emails help in nurturing the leads, engaging the customers and driving sales. (Thanks to the "Father of email" and the "Father of spam"!)
Before we dive deeper into the importance and benefits of email marketing, let's look into its history.
---
History of email marketing
Before the 1970s, marketers relied on traditional mails such as flyers, catalogues, etc., to promote their offerings and market their brands. But in 1971, Ray Tomlinson (Father of email), a computer programmer for MIT's ARPANET, sent out the first email. Unlike sending email through the internet, email was sent from one computer to another through a network of machines. Fast forward to 1978, the father of spam, Gary Thuerk (a Marketing Manager at Digital Equipment Corp) blasted emails to 400 ARPANET machines. This generated $ 13 billion in sales.
From there on, there was no turning back to the marketers. The sales opportunities through email marketing efforts kept growing.
Here is a trip down digital messaging memory lane.

---
The power of email marketing
Throughout the history of emails, we saw how simple text messages transformed into detailed communications that are complex, yet aesthetically pleasing.  Even more so, the emails and the marketing campaigns are backed by numbers and strategies, making them highly useful for growing businesses.
Here are a few advantages of email marketing among many others.
Launching a new product and releasing a new update? Send EDM marketing campaigns to your contact list about your offerings and see your sales conversions boost. An email marketing strategy that you can use to further increase your conversions is: sharing coupons or special offers with your customers; remind the users about abandoned cart emails.
Emails can be a marketing tool that can help you to talk to your customers one-on-one or in bulk. Curating and sending effective emails to your list makes your brand stay on top-of-mind of your customers.
One of the major benefits of email marketing is, you can send emails to a larger set of audience while remaining cost-effective.
Generate and nurture leads
You can generate leads and grow your contact list by sending emails with CTA to subscribe to the newsletter or to sign up. On the other hand, you can send informative and relevant EDMs to your prospects to warm them up and move them to your sales pipeline.
In the modern era of digital marketing, it is critical to generate content for your businesses. It can be blogs, case studies, ebooks, or other online assets. But even more critical is promoting them. Through email marketing, you can touch base with your prospects and your customers who are in your sales pipeline.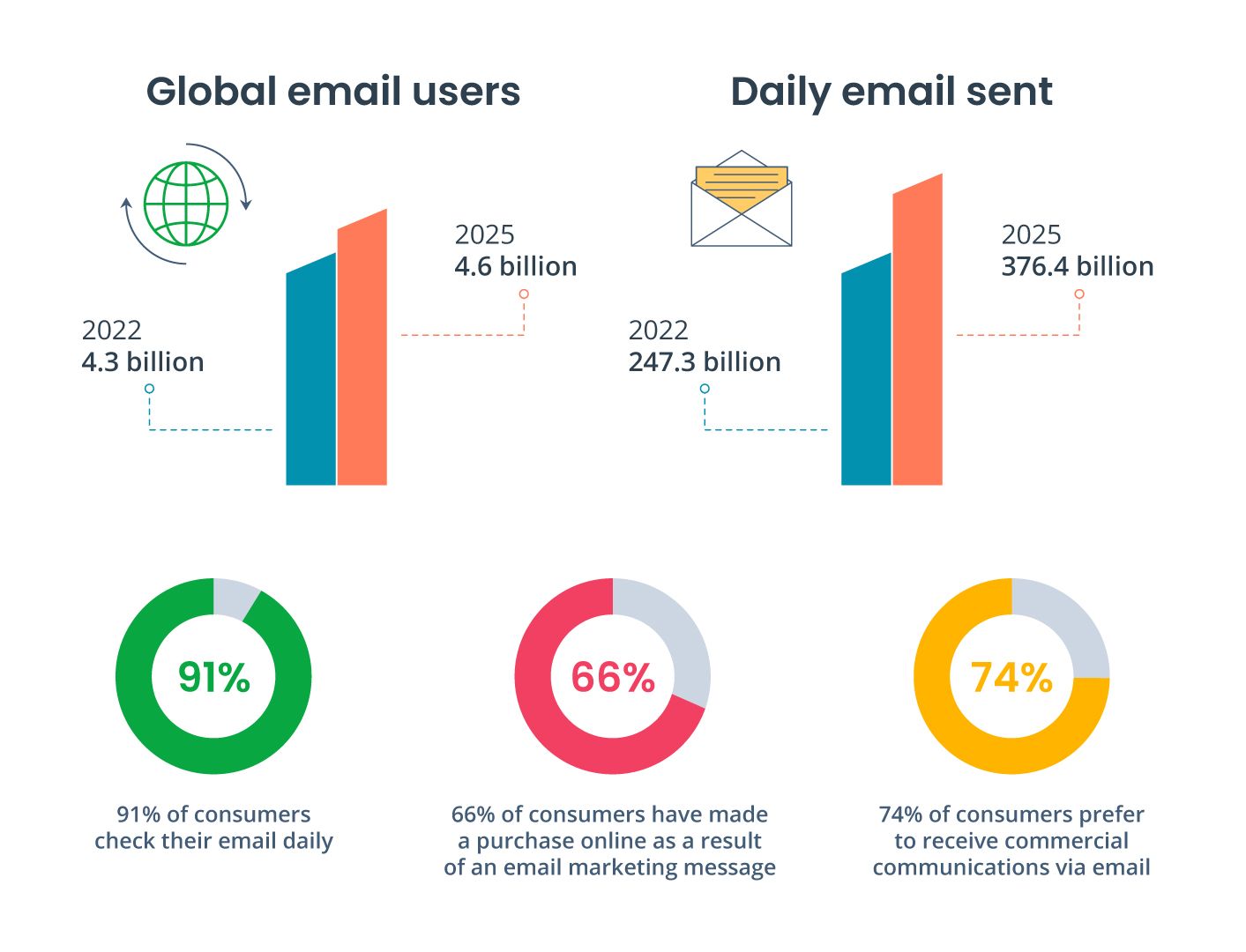 Email marketing strategy is a perfect way to build a community. It can drive customer loyalty throughout the customer journey. From lead nurturing to onboarding, and thereafter, emails streamline communication and boost customer loyalty.
While these are a few of the favourable advantages of email marketing, it comes with challenges too!
---
Disadvantages of email marketing
After more than five decades of email marketing and the noise created by it with faceless emails, special offers, limited deals, and generic advertisements by companies, customers can now conveniently opt out of receiving these emails. They can choose what emails can enter their inboxes, which email is spam and needs to be moved to the trash, and whether or not they want to interact with EDMs, with just a click. This has been posing challenges to the companies that are trying to reach out to their potential clients.
For emails to successfully get delivered to the prospects and leads and stay out of their trash folder, the emails should offer more than boring, generic and impersonal copy (which has been used for a long).
How to do it?
With CRM email marketing!
---
CRM email marketing - A strategy to generate more sales
Before we dive into how CRM email marketing can benefit businesses, let us first understand what is CRM email marketing.
CRM (stands for Customer Relationship Management) is a term used to describe the technologies and practices that are used by companies to manage and improve their relationship with their potential customers and the existing customer base. CRM email marketing is basically a way of email marketing that takes the help of CRM software to craft personalised and effective emails for advertising and marketing purposes.
---
Traditional email marketing vs CRM email marketing
Traditional email marketing opened up an avenue for marketers across the globe. It enabled marketers to send emails to a wider audience at a lower cost. While this was a good solution for marketers to find interested leads, most recipients were overwhelmed by these spray-and-pray marketing emails that are delivered to their inboxes on daily basis. This resulted in the creation of spam-blocking solutions, the CAN-SPAM Act by FTC, and the "unsubscribe" option to opt-out.
CRM email marketing, on the other hand, is an email marketing strategy aimed to keep customers from exercising those options, by creating interesting and tailor-made EDMs. How is this done? CRM typically records and stores complete information about the customers and their requirements with the help of their social profiles and their interactions with the team. This helps in analysing and understanding the needs of the recipients, customising the approach for individuals, and making it much less intrusive. In essence, every marketing communication is translated into something that addresses the needs of the individuals. As a result, the unsolicited, annoying emails became valuable notifications for interested leads and they became an effective tool in accurate lead targeting for marketers.
Without a doubt, CRM email marketing offers better flexibility and the highest ROI due to targeted marketing. However, to actualise it effortlessly, you need to know how to find the best CRM for email marketing. A CRM integrated with email marketing tools can be the best choice for growing businesses.
---
MailerLite and Mailchimp integrated CRM - Pepper Cloud
Pepper Cloud is Singapore's #1 sales CRM that offers an array of features to manage your sales pipeline, sales conversations, sales opportunities and customer management. The CRM is integrated with MailerLite and Mailchimp email marketing tools. The CRM Mailchimp integration and the CRM MailerLite integration allow you to sync your leads and contacts with email marketing tools and blast your email campaign right away. Additionally, it also helps you to track the performance of email marketing campaigns through visual dashboards.

In a nutshell, the era of customers being happy with just being a part of the crowd is long gone. They expect personalised communication. If you would like to remain competitive in the business world, now is the time to enter the customised world of marketing. Stop clamouring and start attracting your customers' attention through personalised CRM email marketing.

Contact our friendly team to have a one-on-one session to know how you can boost your sales with CRM email marketing.

"
---
Further reading