A comprehensive guide to channel integrations and their features
Integrate WhatsApp, Facebook, Instagram, and Telegram with Pepper Cloud CRM and explore various features of the Channel integrations.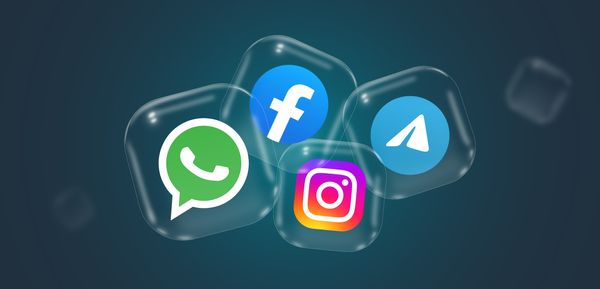 Pepper Cloud CRM brings to you the power of a single communication channel through multi-channel integration. This allows you to integrate various communication channels such as WhatsApp and Facebook Messenger, with your CRM and allows you to consolidate all your sales communications into one single channel.
So, how exactly is Pepper Cloud CRM and Channel integration helps your business to grow?
---
Benefits of connecting messaging channels with Pepper Cloud CRM
The integration between communication channels (such as WhatsApp, Facebook, Instagram, and Telegram) and your CRM provides you with a single platform to communicate with your leads and customers. Along with it, it also empowers your business with various other benefits.
Provides your entire team with a single platform to respond to conversations.
Facilitates all your team members to use a single chat account to talk to customers.
Allows you to conveniently send one-to-one private or bulk messages to your contacts.
Empowers your team to reply instantly with customisable message templates.
Enables team collaboration by assigning the conversations to the right team member.
Offers you a holistic view of your potential customers and provides you with a conversation history.
Captures and converts visitors into leads automatically.
Suggests merging the contact details when your potential customer messages you from multiple messaging platforms.
---
WhatsApp + Pepper Cloud CRM
With over 2.2 billion active monthly users, WhatsApp has proved to be one of the very popular messaging apps. However, businesses that are looking to use WhatsApp to talk with their leads and customers, need to either use a WhatsApp Business app or WhatsApp API.
WhatsApp Business app is for small teams (1-2 sales staff) whose primary need is to communicate with the customers one-on-one.
WhatsApp API is designed for growing enterprises with a dedicated sales team. It would facilitate multiple users on multiple devices to respond to messages through one WhatsApp number. However, the WhatsApp API does not have an official app or an interface.
Learn the differences between WhatsApp Business account and WhatsApp Business API in this blog.
The integration between WhatsApp API and the CRM system can provide a robust interface.
WhatsApp API can be linked with CRM by two methods: 1. Through intermediary Business Solution Partners (BSPs); 2. Directly through Meta Facebook
1. Integrating WhatsApp Business API with Pepper Cloud CRM, through a BSP
Here is how you can implement WhatsApp Business API with Pepper Cloud CRM through BSP such as Twilio.
Pre-requisites:
Twilio WhatsApp Business API
Pepper Cloud CRM
Here is a quick guide to connecting Pepper Cloud CRM with WhatsApp
To integrate with WhatsApp, WhatsApp Business API is required. Purchase WhatsApp Business API through the WhatsApp partner, Twilio. Learn how to get Twilio WhatsApp API with this guide.
After purchasing Twilio WhatsApp Business API, login to your CRM system and navigate to "Channels".
Click on the "Create New" channel and choose "WhatsApp".
Connect your WhatsApp Business API by adding Account SID, Auth Token, and Twilio registered WhatsApp number into your CRM. You can access this information through your Twilio account dashboard.
Copy and paste "Message Comes in URL" and "Call back URL" into your Twilio.
Complete the set-up in your CRM.
Here is a step-by-step detailed guide on how to integrate WhatsApp Business API with Pepper Cloud CRM, refer to our guide.
2. Direct integration between WhatsApp and Pepper Cloud CRM through Cloud API
There are 3 major steps in the integration process of WhatsApp Business and Pepper Cloud CRM. Here are the prerequisites and the steps:
Pre-requisites
Admin credentials of Pepper Cloud CRM
Facebook App and Facebook Business Account
A phone number that can receive voice calls or SMS
A quick guide to connect WhatsApp Cloud API with Pepper Cloud CRM
After successful integration, you can send and receive messages right from your CRM.
---
Facebook Messenger + Pepper Cloud CRM
Facebook is one of the essential customer touchpoints for modern businesses. With fast and personalised messages, you can easily win over your prospects, nurture your leads, and manage your sales pipeline. The integration between Facebook messenger and Pepper Cloud CRM can help you create and chat with your Facebook leads right from your CRM.
Pre-requisites:
Here is a step-by-step guide to connecting Pepper Cloud CRM with Facebook messenger.
Navigate to "Channels" after logging in to your CRM.
Click on the "Create New" channel and choose "Facebook".
Connect with Facebook by signing in to your Facebook account
Choose the Facebook page.
Complete the set-up in your CRM.
Here is a detailed guide on how to integrate your Facebook messenger with your CRM.
After completion, any message sent to your Facebook messenger will be received in the message module of your CRM.
---
Instagram + Pepper Cloud CRM
Instagram business account has unlocked various features for businesses to grow globally. Right from creating and promoting your brand to talking to leads and boosting your sales growth, Instagram can play a major role. Here is how you can integrate Instagram with Pepper Cloud CRM.
Pre-requisites
Instagram business account
CRM account with admin permissions
Steps to integrate Instagram with CRM
There are two major steps in integrating Instagram and CRM.
1. Preparing your Instagram account for the integration. There are 3 sub-steps in this step.
Switch your Instagram personal account to a business account.
Allow access to messages.
Connect your Instagram account with your Facebook page.
You can find details of each of the above steps in our blog, A guide to creating an Instagram Business Account.
2. Integrating Instagram business account with Pepper Cloud CRM. You can read our blog, "how to integrate Instagram with Pepper Cloud CRM?" to know the step-by-step process.
Read our blog to know how Instagram CRM integration can help you in your business growth.
---
Telegram + Pepper Cloud CRM
Telegram, one of the popular messaging platforms is known for its speed and security. Telegram offers multiple features, including customisable bots for your business, that can empower your team to improve sales productivity. Here is how you can integrate Telegram with Pepper Cloud CRM.
Pre-requisites
Telegram business account
CRM account with admin permissions
Steps to connect Telegram business account with Pepper Cloud CRM
There are two major steps in the Telegram and CRM integration process.
1. Setting up your business account in Telegram: This can be done with the help of the BotFather in Telegram.
2. Configure the Telegram channel in Pepper Cloud CRM.
Get detailed information on the above steps in our step-by-step guide to integrate Instagram with Pepper Cloud CRM.
Read our detailed guide to know how to maximize your business potential with Telegram and CRM integration.
---
Quick ways to get you started with Channel integration
Before we start with the tips and tricks, here is a comprehensive view of various channels and how they behave when integrated with CRM.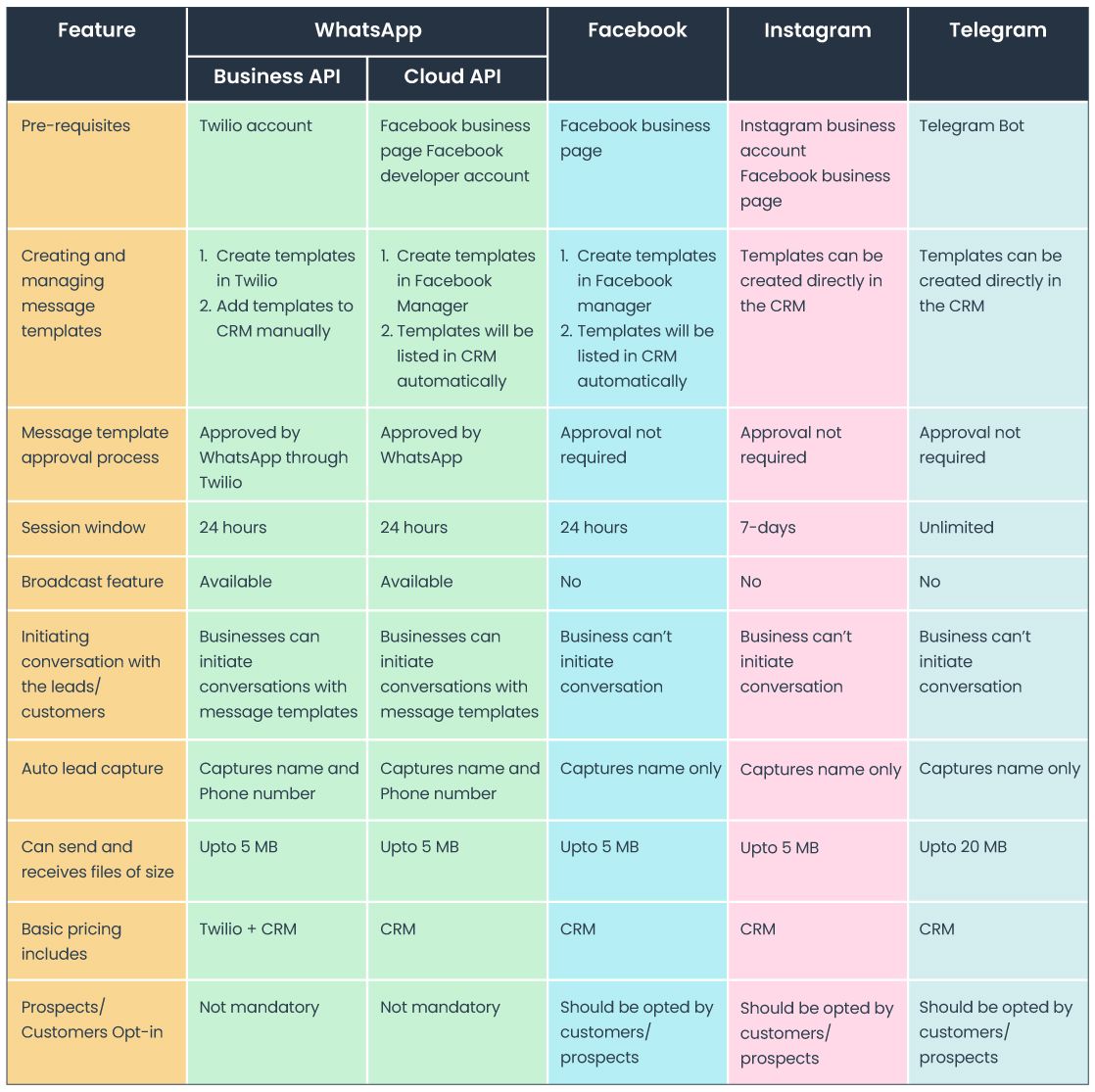 Message Module
The user will be able to send messages only after the CRM and Channel integration.
Messages sent and received are populated on this screen.
The messages section has 3 sections:
Unassigned messages:  All new messages are unassigned messages and will be available in the "New Messages" screen.
Assigned to me: Upon replying to a message, the conversation is assigned to the messaging team member. Alternatively, the message can be manually assigned to the team member.
All conversations: It will collectively have assigned and unassigned messages.
Message templates
Message templates are formats that can be used over and over to message your prospects, leads, or customers. Message templates can be used in multiple scenarios such as:
To initiate a conversation with the prospects.
To market your products and services through promotional message templates.
To chat with your customers beyond the session window.
To provide updates and share reminders with the customers.
To send quick and instant replies for queries
Note:
You can send message templates in WhatsApp only after it is approved. But in Facebook, Instagram, and Telegram, you don't need pre-approval.
Read our blogs to know more about types of message templates and examples and how to create message templates.
Broadcasting messages
Note:
Only available for the Leads and Contacts with mobile numbers.
You can broadcast messages only through the WhatsApp channel.
You can broadcast pre-approved message templates only
Users can send messages from the CRM to individual numbers by accessing the icon or can also send the same message to multiple users by the broadcast message feature.
1. Navigate to the "Leads" or "Contacts" module.
2. Select the Contacts/Leads to whom you want to broadcast messages.
3. Click on "Actions" and choose "Send Broadcast"
4. In the "Send Broadcast" modal, enter the broadcast details such as Broadcast name, Channel, and Template. You can see the live preview of your template as well. Click "Next".
Note: When channels are chosen, the user will only be able to select Templates added to the particular channel in the dropdown. Following which dynamic fields will be rendered for the user to select either a system field or a custom field of the CRM.
5. In the next screen, fill in the recipients' details and proceed to schedule the broadcast or send it right away.
6. You can review the status of your broadcast message in the bulk action section. For this, navigate "Bulk action logs" by clicking "Logs" from the header of the screen.
Converting Visitors into Leads/Contacts
1. The panel on the right side of the message module provides you with contact information.
2. Upon confirming the changes (by clicking the tick mark) the changes are saved.
3. This information can further be used to create a lead/contact by using the action button.
4. Following validations, the record is added to the lead/contact list.
Note: While converting profiles into leads/contacts from WhatsApp/Facebook/Instagram, the name and the email id will be auto-populated. However, when you are converting profiles into leads/contacts from the Telegram channel, only the name of the profile will be populated. Other contact details need to be filled in manually.
---
Editing Contacts/Leads information
1. Your team member can edit the information received in the right-hand panel by clicking on "View Lead Details"
2. Click on "Actions" and "Edit" to edit the information.
3. Edit the information in the opened-up modal and click "Update" to save the information in your CRM.
Filters
You can search and filter out conversations in the system with the help of the filters.
Here are a few points to remember:
You can filter the messages based on "Assigned to", "Status", "Channel", "Tags", "Created At", or by "Messaged At" date.
In the "Assigned to me" tab, you can only filter messages that are assigned to you.
You have to navigate to the filters in "All conversations" to have access to all the conversations.
---
Status and assignment of conversations
Open status of the conversation: The conversation status is "Open" when a message is received from the potential customer or a template message is sent to the lead.
Assign the conversation: The messages can be assigned to any team member by clicking the name drop-down. After the message has been assigned, the message will no longer be available in the "Unassigned" and will have to be filtered out. If the message has been assigned to you, it will be available in the "Assigned to me" section.
Close the conversation: You can close the conversation. A closing note can be added to the conversation for the next user's reference or as a reminder to oneself as to why the conversation was closed.
Closed conversations are moved to "Unassigned". They will have to be filtered or searched if you want to find them again.
Merge conversation
If the contact sends the message through different channels, they can be merged into one conversation. This makes it easier for the salespeople to track the previous conversation comprehensively. Read our guide to know more about the benefits and how to merge contacts.
Away status and message
With this feature, you can set up the off hours, change the availability status to "Away" and schedule away messages to be sent out when you are not around.
This feature and the away message can offer:
Reassurance to the customers that you would respond soon.
A reason for not being able to respond immediately.
Estimated response time
Wondering how to set up away message? Read our blog!
---
In conclusion, integrating channels into your CRM system can significantly improve customer communication and support, with the help of its highly useful features. By consolidating customer interactions across multiple channels into a single platform, you can gain a comprehensive view of your customers, streamline communication, provide more personalized and efficient service, and drive business growth.
Have trouble with integrating Channels? Talk to our friendly representatives!