Maximize your business potential with Telegram and CRM integration
Manage your customer interactions and data in one place with Telegram messenger integrated CRM. Know everything about CRM Telegram integration in this blog.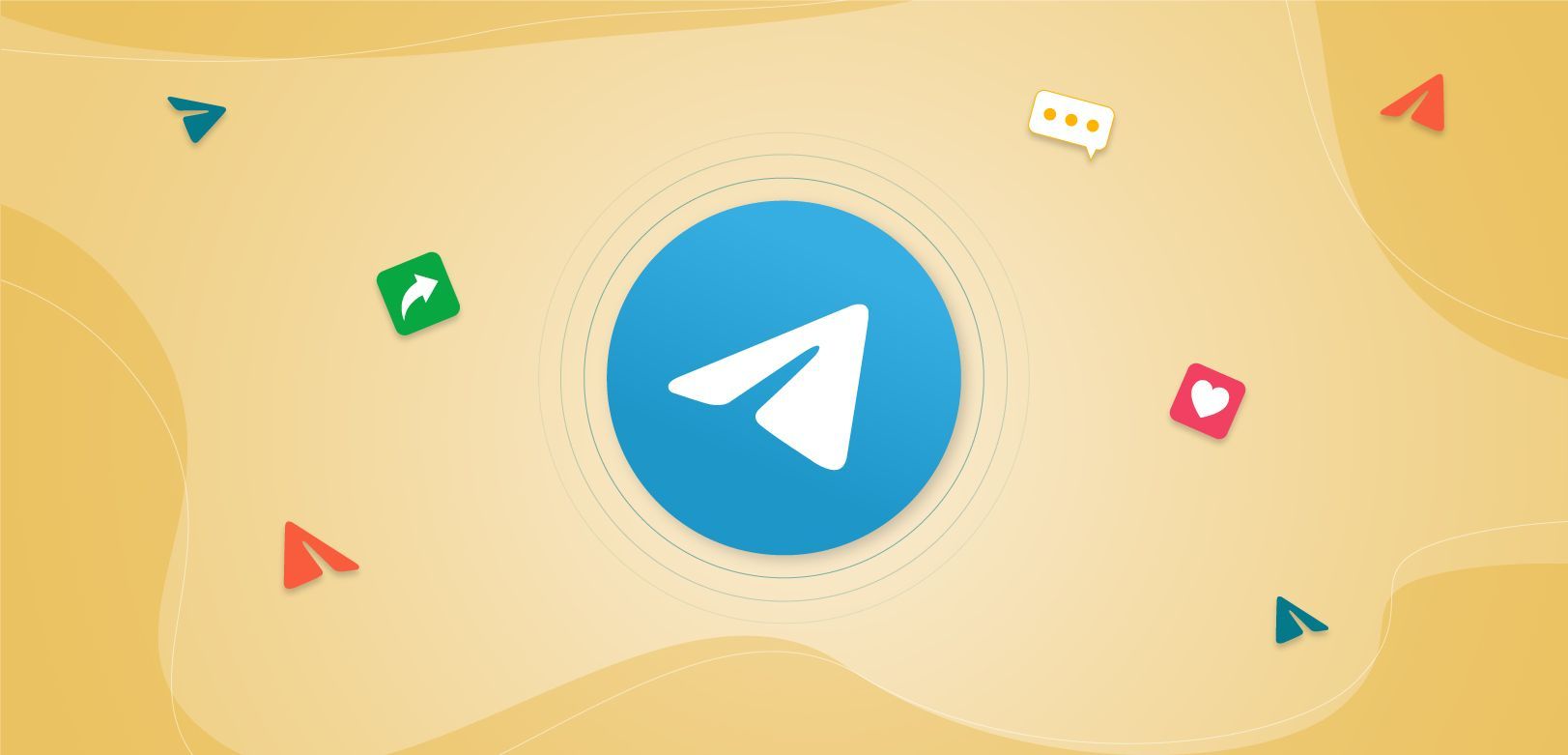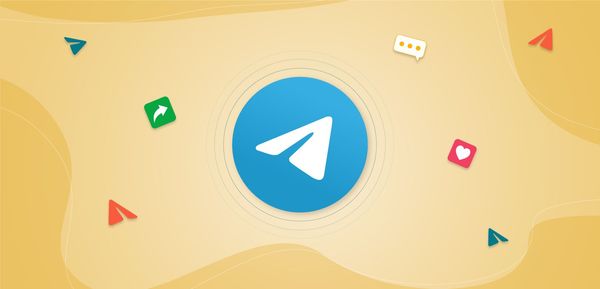 In this new era, the sales are dominated by millennials and Gen Z and as was foreseeable, millennials and Gen Z are inclined towards digitalisation and prefer texting over talking. And if you want to have a competitive edge, you need to adapt to these requirements and be available on popular messaging channels such as WhatsApp, Facebook, Instagram, Telegram, etc. At the same time, if you want to use these messaging channels efficiently, you need to integrate them with the CRM. Before we dig in further, let us give you a sneak peek into this blog.
What is Telegram?
Telegram business account benefits
Why integrate Telegram with CRM?
Getting a Telegram CRM: What you should know
Telegram CRM integration to boost your sales productivity
Frequently asked questions
Let's begin!
---
What is Telegram?
Telegram is a cross-platform, cloud-based instant messaging service that focuses on speed and security. It offers end-to-end encryption for all conversations, ensuring that only the participants in a conversation can read the messages.
Telegram was developed by the Russian entrepreneurs, Pavel Durov and his brother Nikolai, in 2013. Telegram accounts can be registered using a phone number or username, and users can communicate in both one-on-one and group chats.
Telegram can be used as a Telegram app on your phone or through a Telegram web login.
Telegram offers two types of accounts:
Personal accounts: Personal accounts are intended for individuals.
Business accounts: Business accounts are designed for companies and organisations. Businesses opt for Telegram app or Telegram API. (We will discuss further on these in the following sections). These accounts can be linked to a Telegram bot.
In addition to messaging, Telegram also offers a range of other features that can be useful for businesses. These include the ability to share files of any type and create channels for broadcasting messages to large audiences. Telegram also offers a range of tools and APIs that can be used to integrate with other software systems.
One of the key features of the Telegram business is the ability to create custom Telegram bots. These bots can be used to automate certain tasks, such as sending messages to customers or gathering information from them. This allows businesses to save time and improve their efficiency.
Let us look into the benefits offered by the Telegram business account from a business perspective.
---
Telegram business account benefits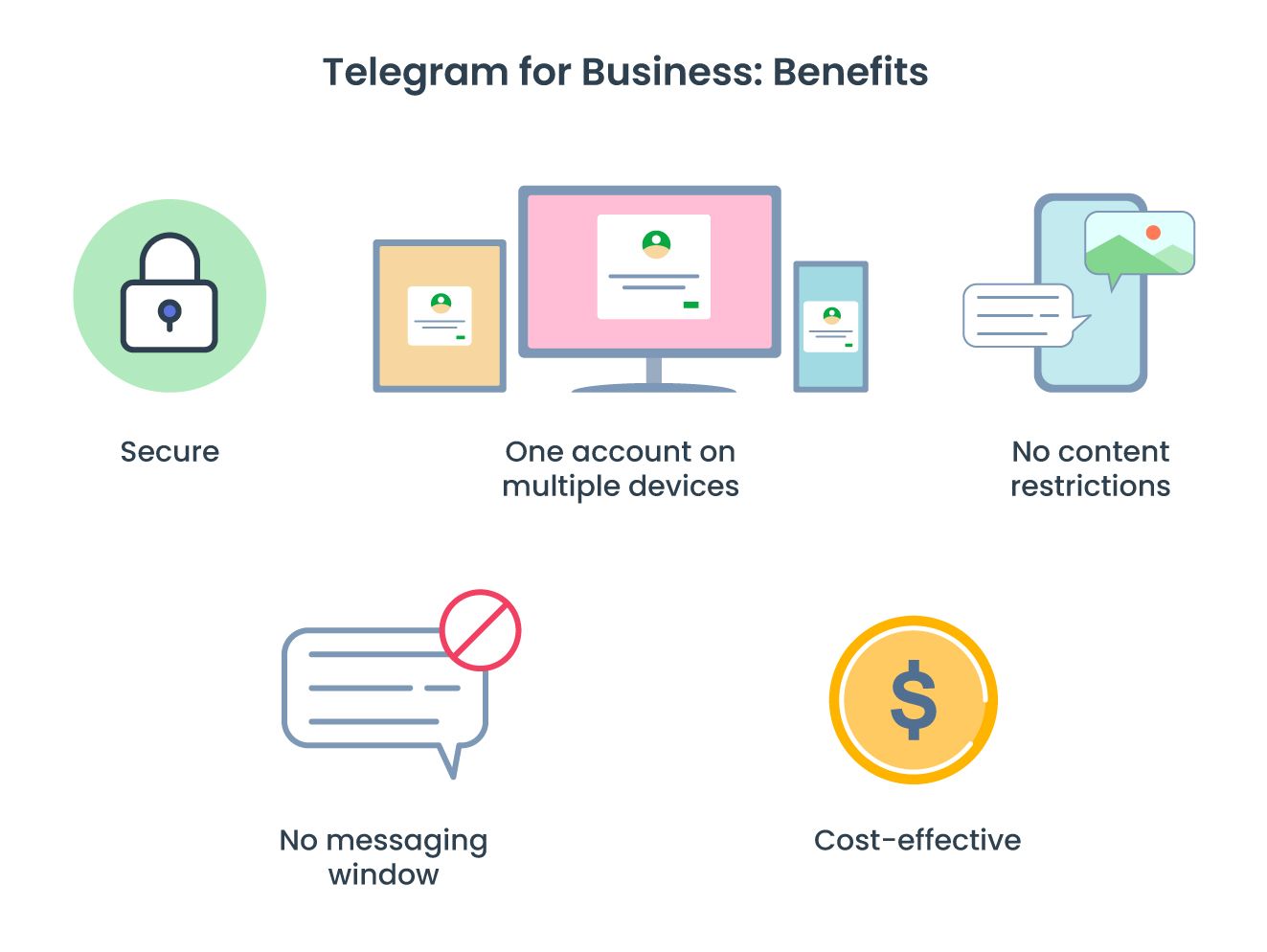 There are four major benefits of Telegram business accounts.
Security: The Telegram messenger is end-to-end server-client encrypted and all the files are stored in an encrypted format. This provides the utmost security for businesses to manage their client information.
One account on multiple devices: This feature provides the much-needed convenience to your team. Your team members can log in on multiple devices through one Telegram account without any hassle.
No content restrictions: Telegram business account doesn't restrict the content types. Hence, provides a great channel for businesses.
No messaging window: Unlike the 24-hour messaging window in WhatsApp, and the 7-day messaging window in Instagram, Telegram doesn't offer any messaging window. You can reply to your leads and customers at any time.
Cost-effective: Telegram offers Telegram App and Telegram Bot for free. This allows you to have a cost-effective messaging solution.
After learning the different features of the Telegram business account, you might be curious about why the Telegram business account needs an integration.
We will tell you why!
---
Why integrate Telegram with CRM?
As a business owner, you are always looking for ways to ease down the processes, improve the customer experience and drive more sales. One way to do this is by integrating the popular Telegram messenger with your customer relationship management (CRM) system. Here are a few reasons why Telegram CRM integration can benefit your business.
Streamlined communication: Integration with a CRM system allows businesses to manage all of their customer interactions, including messages, calls, and other interactions, in one place. This makes it easier for businesses to keep track of customer interactions and ensure that they are providing the best possible service to their customers.
Enhanced customer data: Integration with a CRM system allows businesses to collect and analyze customer data, which can help them better understand their customers and tailor their marketing and sales efforts accordingly.
Communication in real-time: Telegram CRM integration allows you to attend the queries and easily converse with your customers in real-time. With Telegram, you can send messages, photos, videos, and other types of media to your customers and also make the conversations interactive with customisable buttons.
Improved customer satisfaction: The Telegram CRM integration allows you to send personalised messages to customers through which you can improve your customer relationships and increase customer satisfaction.
Increased sales: By providing better customer service and building stronger relationships with customers, businesses can increase their sales and revenue.
Overall, integrating your CRM with Telegram can be a great way to improve the customer experience, drive more sales, and save time and money. So why not give it a try? But before you jump into it, there are a few more details that you need to know.
---
Getting a Telegram CRM: What you should know
As mentioned before, Telegram for business has two options. Telegram app and Telegram bot (also known as Telegram business API).
Unlike WhatsApp, Telegram doesn't have a dedicated app for businesses. However, if you want to integrate your Telegram account with a CRM, you will need a Telegram bot.
Telegram bot is designed to help businesses that receive high volumes of messages and require advanced automation to manage their conversations. But Telegram bots don't have a message interface and need to be integrated with business messaging inboxes or Telegram-integrated CRM software. This integration can be done through the Telegram API.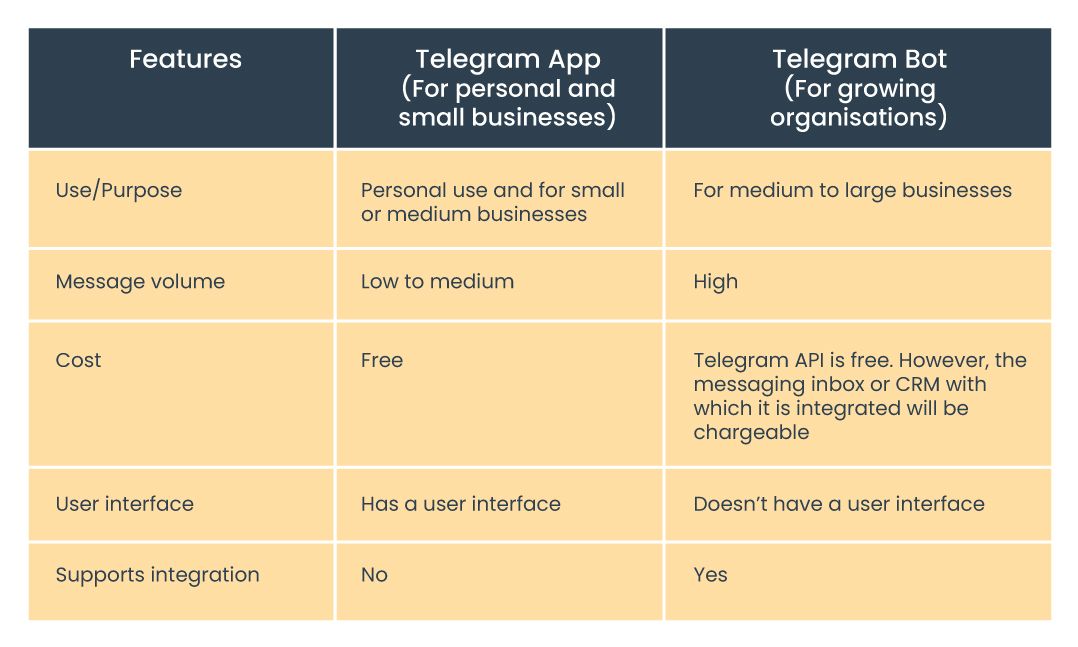 ---
Telegram CRM integration to boost your sales productivity
Now, let's go over the simple and basic steps involved in integrating Telegram with our Telegram-integrated CRM, Pepper Cloud.
Steps for Telegram CRM integration
Prerequisites:
Telegram account for your business
CRM credentials with admin permissions
Steps:
There are two major steps:
1. Setting up your Telegram business account
In this step, you need to create and customise a Telegram bot for your business and copy the Telegram API token of the bot. Telegram API basically acts as a hook between your Telegram business account and your CRM.
2. Configuring Telegram channels in the CRM
In this step, you create a Telegram messaging channel in your CRM by pasting the Telegram API token which you generated and copied in the previous step.
Read our help guide to know the step-by-step process for Telegram CRM integration.
Features of Telegram CRM integration
The integration between the Telegram bot and Pepper Cloud CRM offers many key features. Here are a few:
You can create pre-defined templates and use them to reply quickly to your customers.
You can send and receive folders, documents, videos, audio files, GIFs, Excel, etc.
You can add closing notes or comments on the conversations for the reference of your team.
Assign the message threads to the right team member.
You can create and manage Telegram groups and use them to collaborate on projects, share updates, and work together on tasks.
However, you need to note that the Telegram bot wouldn't allow you to initiate the conversation with your leads or customers. In other words, the conversation can only be initiated by your prospects or customers.
If you are thinking "How can I make them message me on Telegram?"
There are a few simple ways!
How to get customers to contact you via Telegram?
Promote your Telegram chat link through your marketing efforts.
Share your Telegram bot's scannable QR code on your website and wherever necessary.
Provide a Telegram chat widget on your website.
---
Frequently Asked Questions (FAQs)
1. Can I connect to a personal Telegram account?
To connect to a Telegram channel a Telegram Bot is required. You can create a Telegram Bot here.
2. Can I start a conversation with a Telegram Contact?
Telegram bot rules say contacts must message you first before you can message them back. You can share your QR code or t.me link with your Audience.
3. Do you support Telegram Groups?
Telegram Groups are not supported yet in the Telegram CRM integration. However, you can share the feature request in our Facebook community.
4. What are Telegram usernames?
Usernames are basically your public profile name and it starts with an "@" sign and it is visible to everyone globally. Please note that people who find your username can send you messages, even if they don't know your number.
5. I have added commands for my bot, will I receive the commands in the CRM also?
In CRM, the commands will be visible which were sent by the user but they will be treated as plain texts.
6. Can I send message templates to my Telegram clients?
Yes, you can add channel templates from Customisation and send the template to your clients.
7. What are the message types that will be supported in CRM?
You can send Photos, Videos, Files, GIFs, folders, and Audio messages from the CRM.
8. I am getting an unsupported message on my conversation window. How can I see the message?
The user might have sent you the poll message or animated GIFs. These messages are not supported in the CRM.
9. I was able to send a poll message in my Telegram app. Can I also send some poll messages from CRM to my clients?
No, the poll message is not supported in the Telegram CRM integration yet.
10. Can I see the whole Telegram-like channels and groups in the CRM?
No, you can only receive and reply to the messages that are being sent to your Telegram bot.
11. I want to generate some commands for my Telegram business account bot. Can I do that from CRM?
No, you can only generate the commands from the Telegram app or Telegram web by messaging BotFather.
12. Is it mandatory to have a phone number to get Telegram integrated with the CRM?
Although the phone number is not directly required for Telegram CRM integration, you would require it to get a Telegram account (which is the first step of Telegram CRM integration).
13. One of my clients has added my bot in one of the Telegram channels. But I'm neither receiving any messages nor the channel conversation. Why?
The channels are not supported in CRM. You can't receive or send messages in the channel through CRM.
14. Can I receive the live & current location of my clients in CRM?
Yes, you can receive the live and current location of your clients in the CRM.
15. Can I receive contact cards sent by my clients?
Yes, you can receive the contact card and view it in the CRM.
16. Up to which size I can send the files and images?
You can only send files up to 5MB.
17. Can I message my clients first?
You can only send replies to your client who has messaged you. You can't initiate a conversation through a Telegram bot.
18. What is the character limit of the text message that we can send?
The text message limit will be 4096 characters whereas in the caption 1024 characters are allowed.
19. How to create a Telegram bot?
Follow the steps mentioned in our help guide to create a Telegram bot for businesses.
20. How to export Telegram chat or how to back up Telegram chat?
You can back up or export your Telegram chat only through the latest desktop version of Telegram which is installed on your PC. Click "Settings" and click on "Export Telegram data". For more information on this, check out the Telegram official guide.
21. Is Telegram safe?
Telegram is more secure than most of mass messaging apps. Telegram uses the MTProto protocol designed from time-tested algorithms to make security compatible with high-speed message delivery and reliability on weak connections.
22.  How to use Telegram?
Telegram allows you to send and receive instant messages even without sharing your phone number.
23. What is Telegram handle?
A Telegram handle refers to the username of the account. The Telegram username must be unique and can be changed later. Telegram handles could be used to find you in Telegram.
24. How to use Telegram without a phone number?
You can't use Telegram without your phone number. The app will work only after you verify your number with the app.
25. How to create Telegram bot commands?
The commands can be created using BotFather, where you can choose your bot and raise multiple commands. Click here to know more.
26. Why am I receiving "Telegram doesn't support files size of more than 20 MB"?
Your customer or client might be sending you a file that is more than 20 MB and the Telegram bot doesn't support file sizes beyond 20 MB.