WhatsApp CRM integration: All you need to know
WhatsApp Business API is designed for small but growing enterprises. And it is very different from WhatsApp Business App. How can WhatsApp Business API benefit your business? Learn about it in this blog.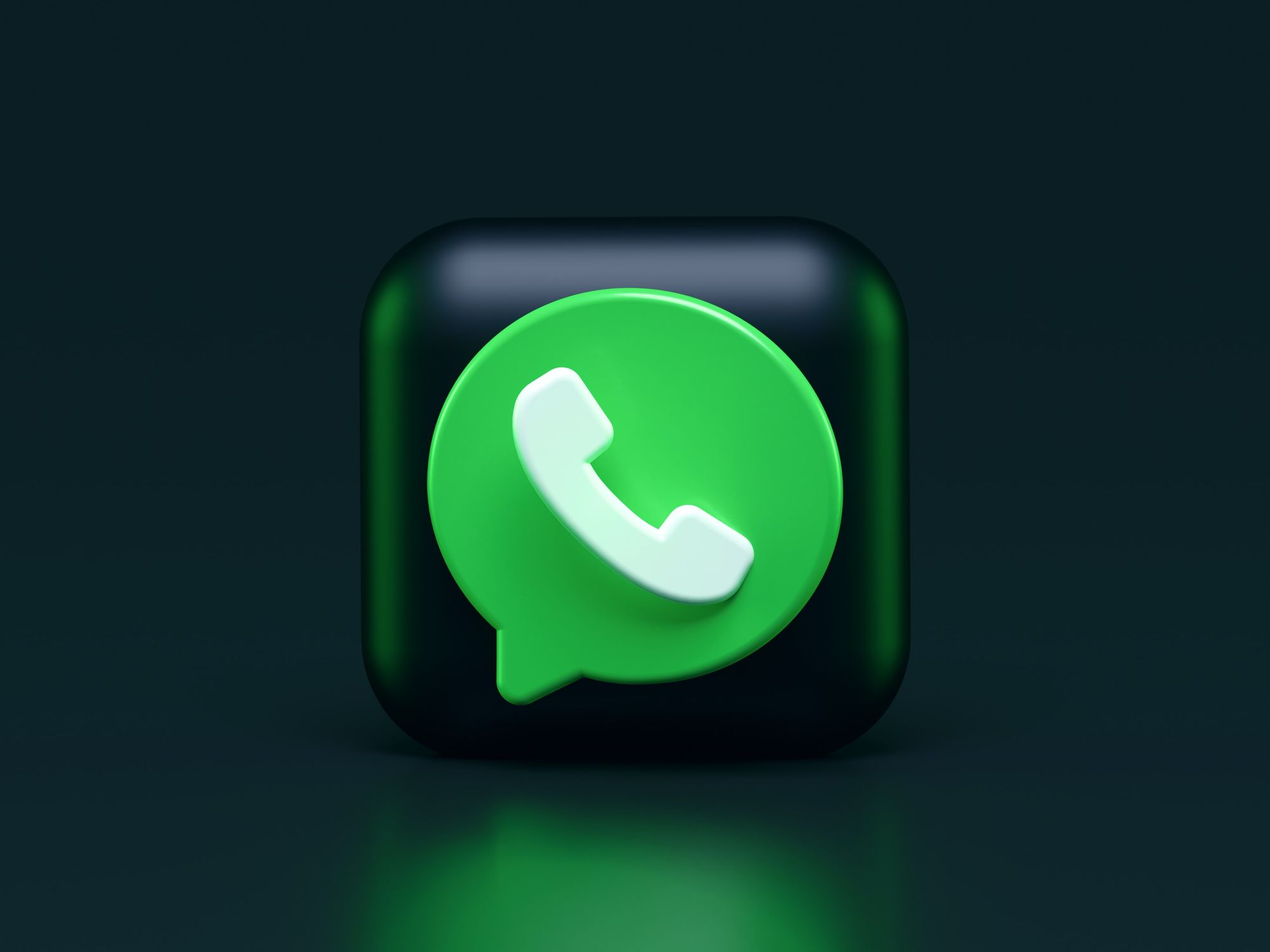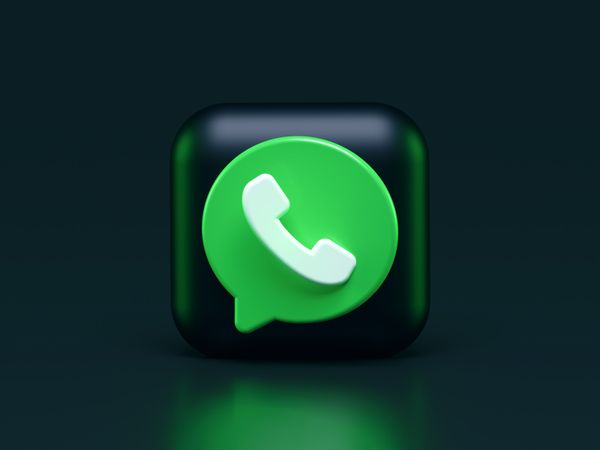 According to a survey conducted by Avochato, 63 per cent of the participants confirmed that they prefer companies that offered text messaging as a communication channel.
In the modern era, we are opting for digital conversations for faster reach and ease. The use of internet-based messaging apps like WhatsApp is certainly paving a way for this.
Since its launch in 2009, WhatsApp has allowed us, individuals, to enjoy free messaging services. With over two billion active monthly users in 180 countries sending more than 100 million messages a day, WhatsApp is outperforming all other social channels.
This vast reach encouraged businesses to notice the potential benefits of WhatsApp communications and the business owners started using their personal accounts as a business tool to reach out to customers. However, there were problems that businesses kept bumping into. A few of those problems were:
Cannot simultaneously respond to multiple customers at a time from a single account.
No quick replies and templates to send to multiple contacts in one shot.
Cannot get an overview of the customer details.
Difficult to search archived contacts and messages.
Limited Information for businesses to highlight their profile or catalogue.
This prompted Facebook (which bought WhatsApp in 2014 for $19 billion) to create 2 WhatsApp products specifically designed for businesses: WhatsApp Business App and WhatsApp Business API.
While the WhatsApp business app addressed the above problems to some extent, for growing teams where the volume of messages they receive was huge, it was still a challenge. They needed a WhatsApp version that can be used by multiple users on multiple devices to answer the queries. This challenge was addressed by WhatsApp business API. However, the API didn't have an official app and needed a robust interface for a better experience and to cover business use cases. That's when CRM systems came into the picture.
A WhatsApp integrated CRM solution allows businesses to send and receive WhatsApp messages right from the CRM while automatically capturing the contact details of potential customers.
WhatsApp Vs WhatsApp Business App Vs WhatsApp Business API
Which WhatsApp Business solution is suitable for your business?
Choosing the right WhatsApp CRM for your business
How can the WhatsApp CRM integration benefit your business?
---
WhatsApp Vs WhatsApp Business App Vs WhatsApp Business Solutions (API)
We all are aware of WhatsApp that is used by individuals for private communications. However, in 2018, WhatsApp rolled out WhatsApp solutions for businesses and enterprises - WhatsApp Business and WhatsApp Business API. How can these WhatsApp solutions help your business and which one is better for your business?

WhatsApp: For personal usage, not for businesses usage
The WhatsApp messenger which we use for our day-to-day conversations is a free version that can be used only for private purposes. In other words, you can use WhatsApp to send messages to your family and friends but can't use it for any sort of business communications.
The basic version of WhatsApp messenger doesn't abide by any data protection laws such as PDPA, GDPR and if the businesses or any organisations try to use it for commercial purposes, their account might get blocked permanently by WhatsApp.
WhatsApp Business App: Free app for small businesses
WhatsApp Business is for small teams whose primary need is to communicate with the customers one-on-one. It is free and can be downloaded directly from Playstore or Apple store to start chatting with customers right away.
The WhatsApp Business app allows you to send messages, notifications, automatic replies free of cost. In other words, it is similar to basic WhatsApp messenger but with a few additional features that are useful for businesses. Some of these features include:
Business profile to list out the important information regarding the business, such as the company's address, email, website details, business opening hours, and product catalogue.
Labels to organise your chats and messages.
Easy messaging tools to respond to the customers quickly. You can set up away messages, greeting messages and quick replies.
WhatsApp business app statistics such as messages sent, delivered, read, and received.
The short link feature lets you share a URL that leads directly to your WhatsApp Business chat and customers can start a conversation with you right away.
In simpler words, WhatsApp Business is a perfect messenger for proprietorship or business with smaller teams and they can automate, sort and quickly respond to messages.
How to set up WhatsApp Business App?
Setting WhatsApp Business App is really basic and is as easy as possible. It takes just 4 steps:
You can download the WhatsApp Business App from the Google play store or the Apple app store.
Verify your business phone number.
Set your business name.
Fill your profile in the Settings and you are set to start.
The WhatsApp Business also has a few disadvantages.
The WhatsApp Business can only be used on one device by one user, which can be severely limiting for growing companies.
The standard business app is limited in terms of automation. For Ex: Chatbots can't be installed.
GDPR and data protection are not guaranteed.
The above disadvantages of WhatsApp Business are combated by WhatsApp Business API.
WhatsApp Business API: WhatsApp Enterprise solution
WhatsApp Business API is designed for small but growing enterprises. It is fast, secure, and highly customisable. With the WhatsApp Business API account, you can send messages at a scale. Some of the features provided by WhatsApp business API are:
Multiple salespeople can log in from an unlimited number of devices
Create message templates to send bulk messages instantaneously.
Sharing location, document and rich media content.
Creating a rich business profile with Business name, Logo, Location, Opening hours, catalogue, etc.
Create message templates to send notifications easily
Chats can be assigned to users within the team
Measuring the business outcomes
The WhatsApp Business API is very different from the WhatsApp Business App. You can't simply download it as easily on your phone. Instead, you need to follow a process to apply for API.
Apply for API through WhatsApp Business Solution Provider: This is another method to get your API approved. The WhatsApp partners such as Twilio eases the process of application and make the approval rate faster and higher. Sounds too much work? Here is how you can get the API from Twilio.
On the downside, WhatsApp Business API doesn't have a standard interface. Instead, it can be connected to existing messaging software or a CRM.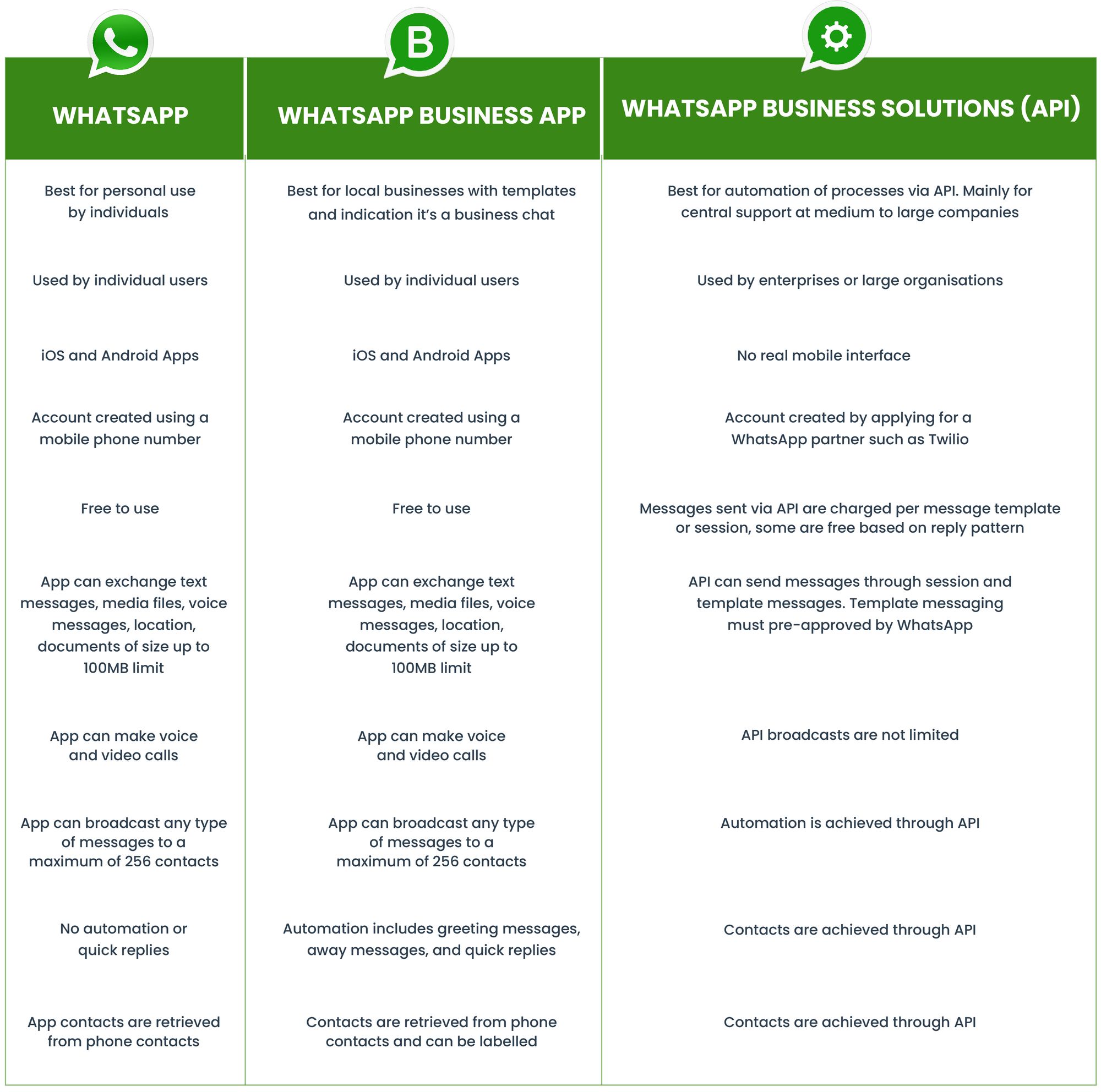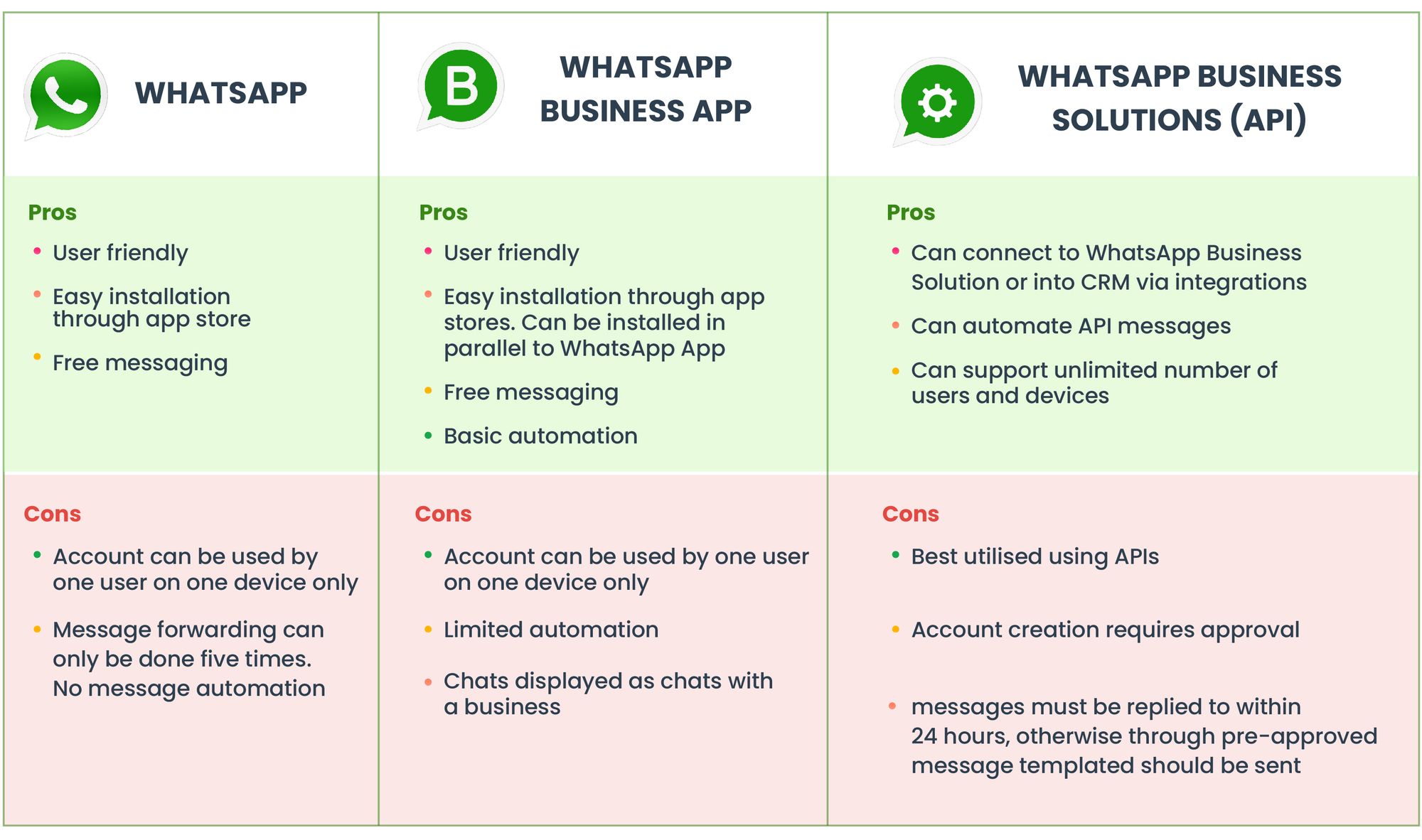 After looking into the differences between various types of WhatsApp accounts, the obvious question will be "Which WhatsApp account is suitable for your business?" We have got you covered.
---
Which WhatsApp business solution is suitable for your business?
A simple answer to this question would be "if you are an individual entrepreneur or your team consists of 1-5 people, engage with your customer through WhatsApp Business App and if there are more people in the team, the right fit for you is WhatsApp Business API."
But, if we dig in deep, here are a few factors you should consider before choosing the business solution for your business.
How many consumers do you expect to engage with on WhatsApp every day?
What are your business needs/user cases?
How many members are required to manage your expected volume of conversations every?
How long would you want your team to spend on each conversation?
Do you use any other software for your business processes? Eg. CRM.
Can you deploy an additional budget to customer growth through WhatsApp?
Having said that, we would like to remind you once again that if you are not a business, there is no need to download the WhatsApp business app or WhatsApp business API. Instead, you can continue to use a basic WhatsApp Messenger account for your personal use.
If your business critically needs WhatsApp Business API, you also need to opt for messaging platform or a CRM that integrates with WhatsApp business API as WhatsApp Business APIs have no front-end interface and no official WhatsApp app.
---
Choosing the right WhatsApp CRM for your business
An excellent customer relationship management (CRM) system helps businesses efficiently manage customer data, strengthen customer relationships and streamline sales processes. Various aspects such as ease-of-use, features, integrations, implementation support, and your own business objectives must be considered before opting for any CRM. Access the complete checklist of What to look for in CRM in this blog. However, to integrate your WhatsApp Business API account with CRM, you should opt for a CRM with WhatsApp integration (in other words, WhatsApp integrated CRM).
Pepper Cloud is Singapore's #1 WhatsApp-integrated CRM that connects with WhatsApp. The integration allows you to easily send and receive messages to your customers right from your CRM and offers you many other benefits to keep up with your customers' requirements and your business growth. Contact our team right away to get you started.
---
How can the WhatsApp CRM integration benefit your business?
What can WhatsApp CRM integration do? There are multiple ways through which this powerful integration can boost your business. Here are a few quick ways.
A single platform to manage your all conversations
Integrate your CRM with WhatsApp and access all your conversations in one place. Chats can be responded to, leads can be created, and conversations can be assigned to relevant staff.
Multiple users for a single WhatsApp business API account
For growing businesses, it has always been a challenge to operate communication channels from a single device. The WhatsApp CRM can help you to invite your teammates and let multiple users handle the conversations from different devices through a single WhatsApp Business API.
Send pre-approved message templates such as booking confirmations, product updates, to individuals or send the messages to the larger audience easily with the WhatsApp CRM.
Holistic view of the conversation
Provide your team with the right context of conversation before assigning to them. The WhatsApp integrated CRM provides you with an overview of the customer conversation. This helps your team to analyse the key conversation and provide a personalised experience to your potential customers.
Instant and real-time messages
With multi-channel integration, it is easier than ever to handle the overwhelming number of messages, instantly. You can respond to the queries and messages in real-time and keep up with the expectations of your prospects. You can also send automated greeting messages to your visitors.
Effective team collaboration
Invite and involve your team members to enable a collaborative sales process. Notify and assign the conversations when you need their help. Add closing notes to the conversations to let the other team members know feedback about the conversation.
Private messages or Broadcast messages
Conveniently send one-to-one messages to your prospects and keep the conversation going even beyond the 24-hour message window or send promotional messages to several contacts at once, with the broadcast message feature of WhatsApp Business API.
Native experience of WhatsApp
Send different kinds of messages such as text messages, media messages, documents, etc. through WhatsApp CRM to provide the native experience to your customers. Additionally, you can also observe delivery indicators, read indicators, and undelivered warnings too.
Capture Leads automatically:
Don't miss out on any leads. Automate the process of Lead capture with multi Channel integration. Capture the details of the prospects from WhatsApp or Facebook messenger conversations and save them as Contacts or Leads.
---
To conclude, WhatsApp CRM can enhance the experiences of your customers and ease the processes for your team members. From broadcasting media-rich messages to automatically capturing the Leads, WhatsApp integrated CRM can set your business for long-term success. If you want to know more about how you can integrate WhatsApp with your business, book a free consultation session with us.  
---
Further reading