WhatsApp marketing 101: Proven strategies for success
Leverage WhatsApp Business for marketing success! Learn advanced marketing strategies to boost customer engagement and drive sales with WhatsApp CRM.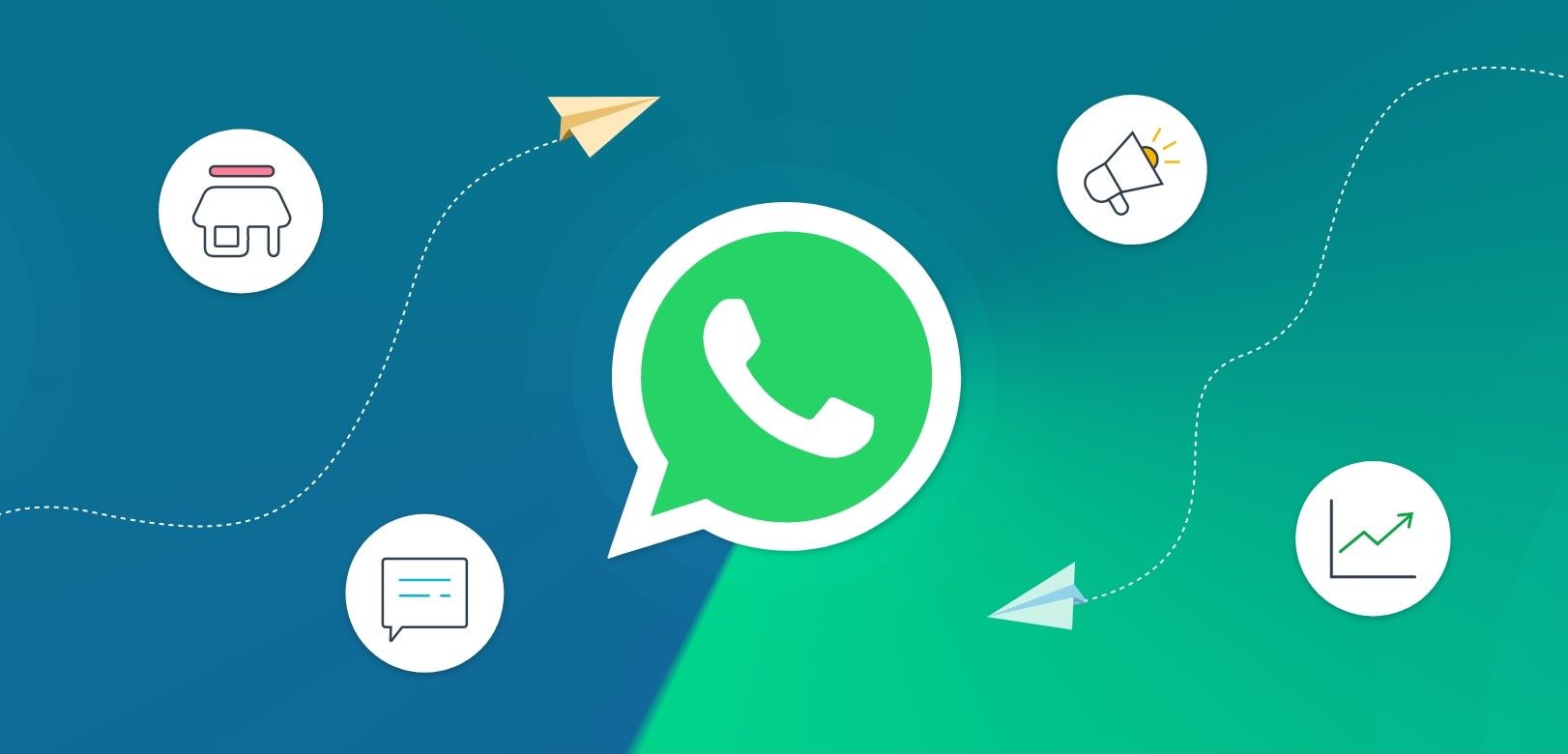 Picture this: You have mastered the art of marketing on platforms like Facebook, Instagram, and Twitter, but what if we told you there is a goldmine with over 2.7 billion monthly active users waiting to be explored? Yes, we are talking about WhatsApp.
WhatsApp marketing might be the hidden gem you have been searching for, but it is not like any other social media marketing journey. It is a different ballgame altogether.
Now, let's dive into the requirements, effectiveness, and strategies to unlock the full potential of WhatsApp for acquiring more customers and driving sales.
In this blog, we will discuss:
What is WhatsApp marketing?
Why is WhatsApp marketing essential for your social strategy?
Unlocking advanced marketing with WhatsApp Business API
Develop your unique WhatsApp marketing approach
---
What is WhatsApp marketing?
WhatsApp marketing encompasses promotional activities conducted through WhatsApp. To effectively engage your audience, marketers employ WhatsApp Business and WhatsApp Business API, which are different from those of a personal WhatsApp account.
These tools provide essential features like welcome messages, comprehensive metrics, and more, making them the preferred choice for marketing professionals. Sending marketing campaigns through personal WhatsApp numbers is not a good idea, as it may encounter issues with large contact lists.
Before we delve into WhatsApp marketing, let's first understand the difference between WhatsApp Business and WhatsApp API.
WhatsApp Business
WhatsApp Business stands as a separate mobile application thoughtfully tailored for small businesses to facilitate real-time customer connections. The best part? It is completely free!
Small businesses can craft an in-app store with product catalogs, pricing details, and vital information such as operating hours, physical location, and links to their website and social media profiles.
Beyond the business profile and product catalog, it offers quick replies and the capacity to broadcast up to 256 messages simultaneously, simplifying interactions with potential customers. From the audience's perspective, WhatsApp Business closely resembles regular WhatsApp. They will receive your marketing messages seamlessly in their WhatsApp inbox, just like any other message.
WhatsApp Business API
The WhatsApp Business API is a robust tool designed for larger businesses. It links your WhatsApp Business account to your CRM or email service provider, enabling efficient management of numerous conversations from a single platform. Businesses can access two types of WhatsApp APIs: the WhatsApp Business API integrated through third-party software and the WhatsApp Cloud API hosted on Meta servers.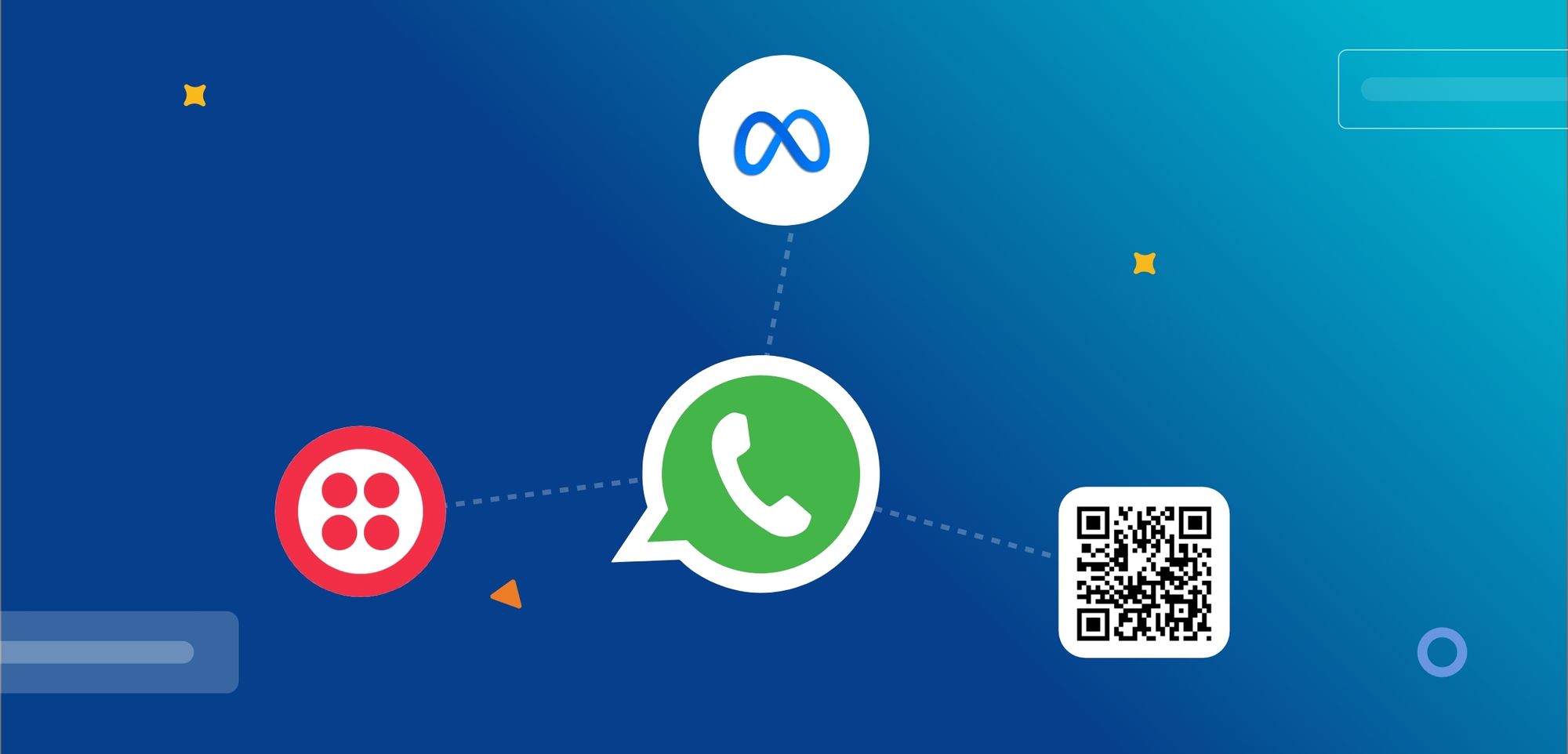 The platform offers advanced features like unlimited users, mass marketing campaigns, and strong customer service support. You can send automated messages without limitations for various purposes. Unlike the free WhatsApp Business app, the WhatsApp Business API charges per message. To use it, partner with a WhatsApp Business Solution Provider (BSP like Twilio). Moreover, it is like email marketing, but the content reaches your audience's WhatsApp inboxes.
---
Why is WhatsApp marketing essential for your social strategy?
Customers now expect quick and easy communication with businesses, just like they do with friends and family. WhatsApp marketing ensures a smooth customer experience, boosting retention and loyalty. Here are three strong reasons why WhatsApp marketing is essential for your social media strategy: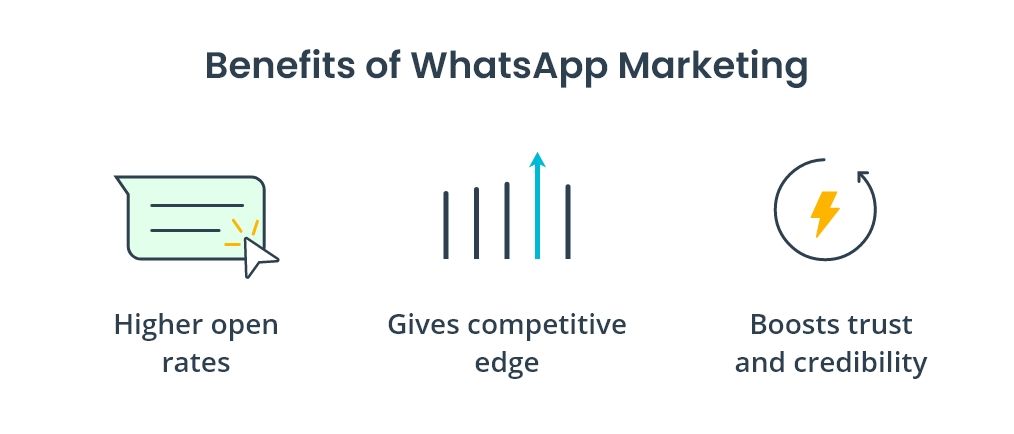 Higher open rates
WhatsApp marketing offers a remarkable advantage in terms of engagement. Unlike email marketing, which has a 16.97% open rate, WhatsApp messages boast an impressive average open rate of over 98%. Moreover, these messages allow businesses to track metrics similar to email analytics, providing insights into campaign effectiveness. Essentially, WhatsApp blends the strengths of both email and SMS marketing, ensuring your messages reach and engage your audience effectively.
Gives an edge over your competitors
WhatsApp marketing provides your business with a competitive advantage through personalised communication, swift responses, and effective engagement tools. As per observation, the majority of consumers favour businesses that engage with them on a personal level through messaging conversations, highlighting the importance of integrating WhatsApp into your social media strategy for enhanced customer engagement.
Boosts trust and credibility
WhatsApp Business API enables businesses to secure green badge verification, symbolising authenticity and trustworthiness to customers. This badge not only affirms your brand's legitimacy to customers but also sets you apart in their eyes. With 7 out of 10 consumers showing a preference for trusted brands, this green checkmark becomes a potent tool for enhancing your credibility. Verified businesses may enjoy enhanced visibility in WhatsApp search results, attracting more customers and potential clients to your business. Additionally, verified businesses gain access to the WhatsApp Business API, facilitating the sending of automated messages, notifications, and vital information to their customers. This not only elevates customer service but also fosters higher engagement.
---
Unlocking advanced marketing with WhatsApp Business API
With the fundamentals covered, let's delve into effective WhatsApp marketing strategies.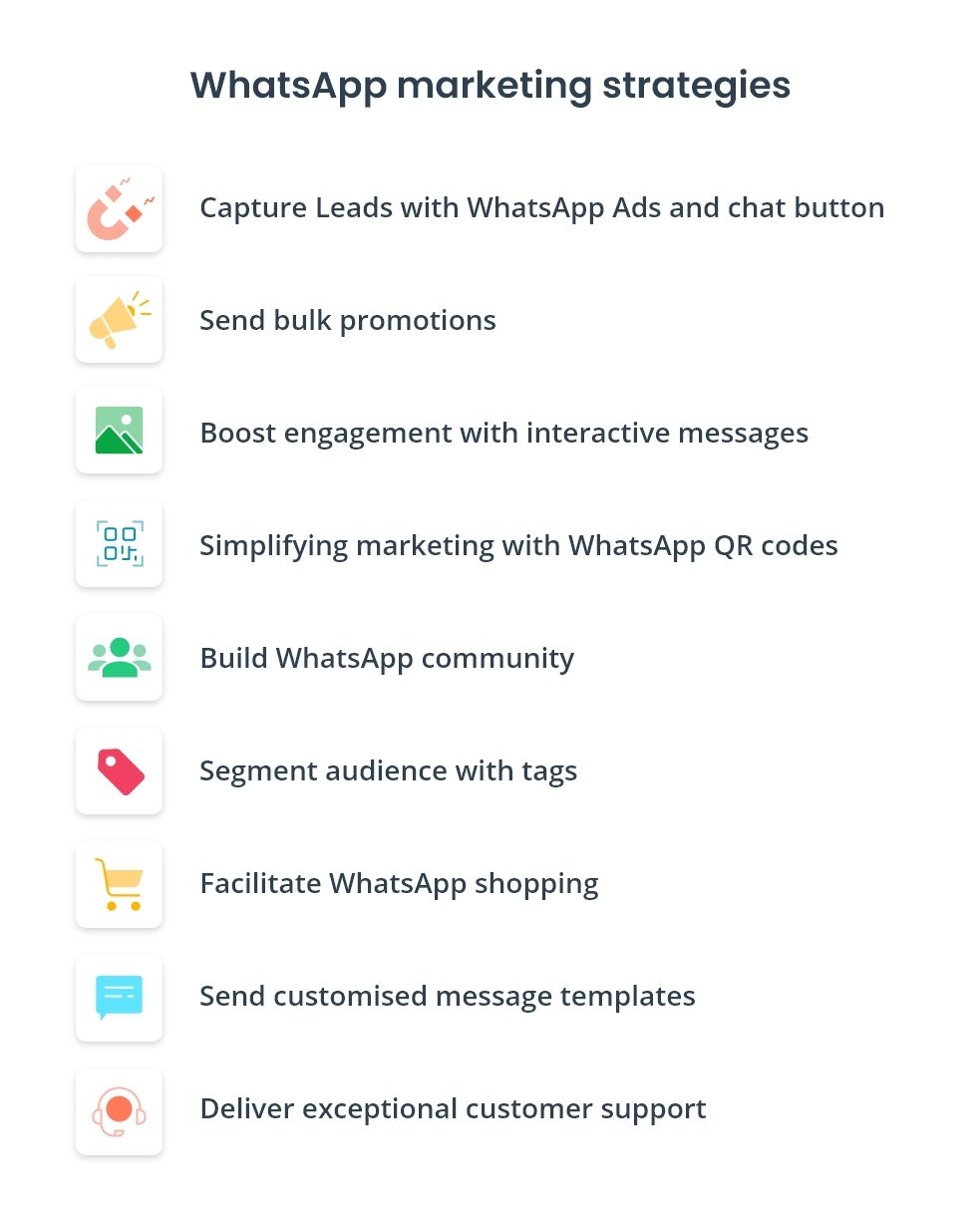 Attract leads with WhatsApp ads and website chat button
Click-to-WhatsApp ads, similar to the 'send message' buttons on platforms like Facebook and Instagram, offer a compelling opportunity for businesses. These ads initiate direct conversations in WhatsApp, engaging a vast global user base of 2 billion people.
Studies indicate that consumers forge stronger brand connections through messaging apps, highlighting the significance of pre-purchase interactions with businesses. Moreover, a substantial number of consumers make purchases following productive chats, often resulting in higher spending per transaction. Fostering conversational relationships not only bolsters customer retention but also proves cost-effective. With users accessing WhatsApp 23-25 times daily on average, this platform serves as a dynamic and effective channel for businesses to explore, yielding promising marketing results.
You can also integrate a WhatsApp chat button into your website to allow you to maintain contact with website visitors even after they have left your site. It provides a superior customer experience and gives your team more flexibility in responding promptly.
Send bulk promotions
WhatsApp broadcasts are the cornerstone of WhatsApp Business API, enabling you to tap into its extensive reach. With broadcasts tailored to segmented customers, you can effectively target returning customers for upsells, promote relevant products, and deliver limited-time offers to potential buyers.
When it comes to initiating broadcasts, you will find four distinct tiers, each with its own daily messaging limits.
Read WhatsApp Business API messaging limits blog to learn more.
Maximise engagement with interactive messages
WhatsApp Business API empowers businesses to enhance their marketing campaigns by providing control over interactive messages, making customer journeys more intuitive. This versatile feature can be applied in various ways. You can utilise this feature to provide customer support by guiding users with list messages and reply buttons for FAQs and contact options. For businesses with both an online and offline presence, a combination of messages can promote in-store walk-ins, enabling customers to book appointments, make online purchases, and receive recommendations. Reordering becomes simpler through list messages, single-product or multi-product images, and reply buttons for payment. Businesses can streamline the process of changing order details by presenting limited options for personal detail modifications. Additionally, facilitating returns, exchanges, and refunds can be made more straightforward. This in turn increases customer satisfaction and conversion rates.
Streamlining marketing with WhatsApp QR codes
Leverage WhatsApp QR codes for marketing. These unique text-based symbols simplify access to contact information, streamline customer engagement, and enhance your marketing efforts. WhatsApp QR codes offer a convenient means for users to access your business information, eliminating manual entry and phone book storage. Incorporating WhatsApp QR codes can enhance your marketing strategy, offering benefits such as guiding users to web content, enabling direct calls, simplifying app downloads, providing location details, connecting users to social media profiles, and initiating email correspondence.
Build a community on WhatsApp
WhatsApp communities is a powerful WhatsApp feature that enables businesses to bring together various groups, facilitate conversations, and exchange vital insights. Businesses can utilise this versatile platform for product and service promotion, streamlined sharing of updates, efficient product launches, accessible customer support, and organise company events. Moreover, you can use it as an effective tool for internal communication, allowing your business to create department-specific groups within a unified community. Moreover, it offers a space for sharing promotions and deals, boosting customer engagement, and increasing conversions.
Segment your audience using tags
Segmenting your audience is vital for delivering a tailored experience and running targeted promotions. The way you engage with a new customer should differ from a loyal one, and failing to distinguish between them can lead to missed revenue opportunities.
While tagging numerous contacts may seem overwhelming, Pepper Cloud CRM simplifies this process, enabling easy contact tagging and tag-based message broadcasting. With this feature, you can effortlessly categorise your audience and ensure personalised, relevant promotions reach the right recipients.
Facilitate WhatsApp shopping
In 2021, Meta transformed WhatsApp into a full-fledged eCommerce platform, enabling online shoppers to seamlessly explore product catalogs and add items to their carts directly within WhatsApp chats, eliminating the need to navigate to external websites. This groundbreaking feature streamlines the customer's path to purchase, accelerating sales. To leverage this functionality, you need to follow these key steps:
Upload your product inventory to Facebook in catalog format using either your API or the Meta Commerce Manager.
Establish a connection between your catalog and your WhatsApp Business API account.
Promote your products to your customers.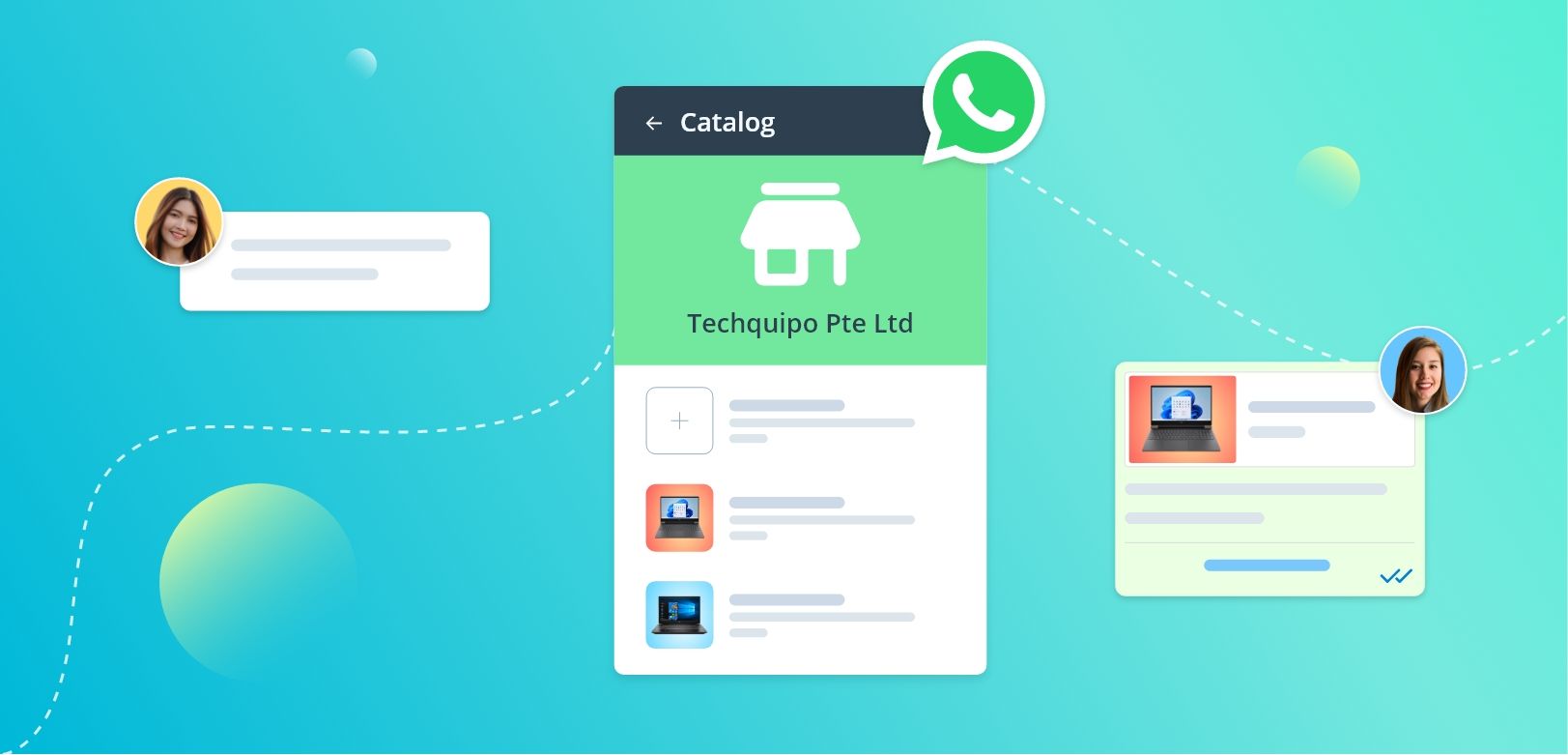 Effortlessly customise and send message templates
Businesses have a wealth of untapped potential when it comes to sending easily customised template messages. From tracking shipment updates to gentle cart abandonment nudges, businesses can frequently send various messages to both customers and potential buyers. Some of the commonly used message templates include:
Greeting messages: Show appreciation for a customer's message and let them know when you will be responding.
Away messages: Notify customers when you are unavailable outside regular working hours.
Quick replies: Provide swift responses to common product or service inquiries using pre-made templates.
Cart abandonment reminders: Remind customers about their abandoned carts with enticing discounts and compelling calls to action.
Order confirmation messages: Clearly confirm receipt of an order and its impending shipment.

Explore more such message templates.
Deliver exceptional customer support
Outstanding customer service is a key factor in building lasting customer relationships, with over 90% of customers more likely to become repeat buyers when they receive top-notch support. WhatsApp Business API offers a suite of powerful tools to assist brands in managing customer interactions. In addition to the personalised templates and messaging capabilities mentioned earlier, here are some strategies to elevate your customer service:
Provide real-time support during business hours.
Utilise chatbots to swiftly address common queries or direct customers to solutions for frequently asked questions.
Organise teams and assign specific customer support roles to your agents.
Approximately 80% of consumers are inclined to make purchases from companies that offer personalised experiences. WhatsApp empowers businesses to create precisely that. By pairing a dedicated customer service team with WhatsApp API's robust toolset, you can set your brand apart from the competition and create memorable, tailored interactions for your customers.
---
Develop your unique WhatsApp marketing approach
Now that you have explored the exciting possibilities of WhatsApp marketing, it's time to unleash your creativity in crafting your unique strategy! WhatsApp proves to be a valuable marketing tool for businesses of all scales, offering the potential to foster enduring customer relationships, enhance retention rates, and ultimately boost sales.
Leveraging WhatsApp CRM, you can design interactive messages that captivate and engage customers with the help of message templates. Automation becomes your ally in keeping customers informed about shipping updates and enticing sales offers, all while ensuring that your brand remains easily accessible for customer communication whenever the need arises.
To know more about how you can utilise Pepper Cloud, a WhatsApp-integrated CRM for your business, get in touch with our friendly support team.