14 Best WhatsApp Business greeting message samples
Welcome your customers to your business with a warm and professional greeting message on WhatsApp. In this article, you will find 14 examples of WhatsApp Business greeting messages and also learn the steps to send them to your customers. Get ready to boost customer engagement and lead conversion.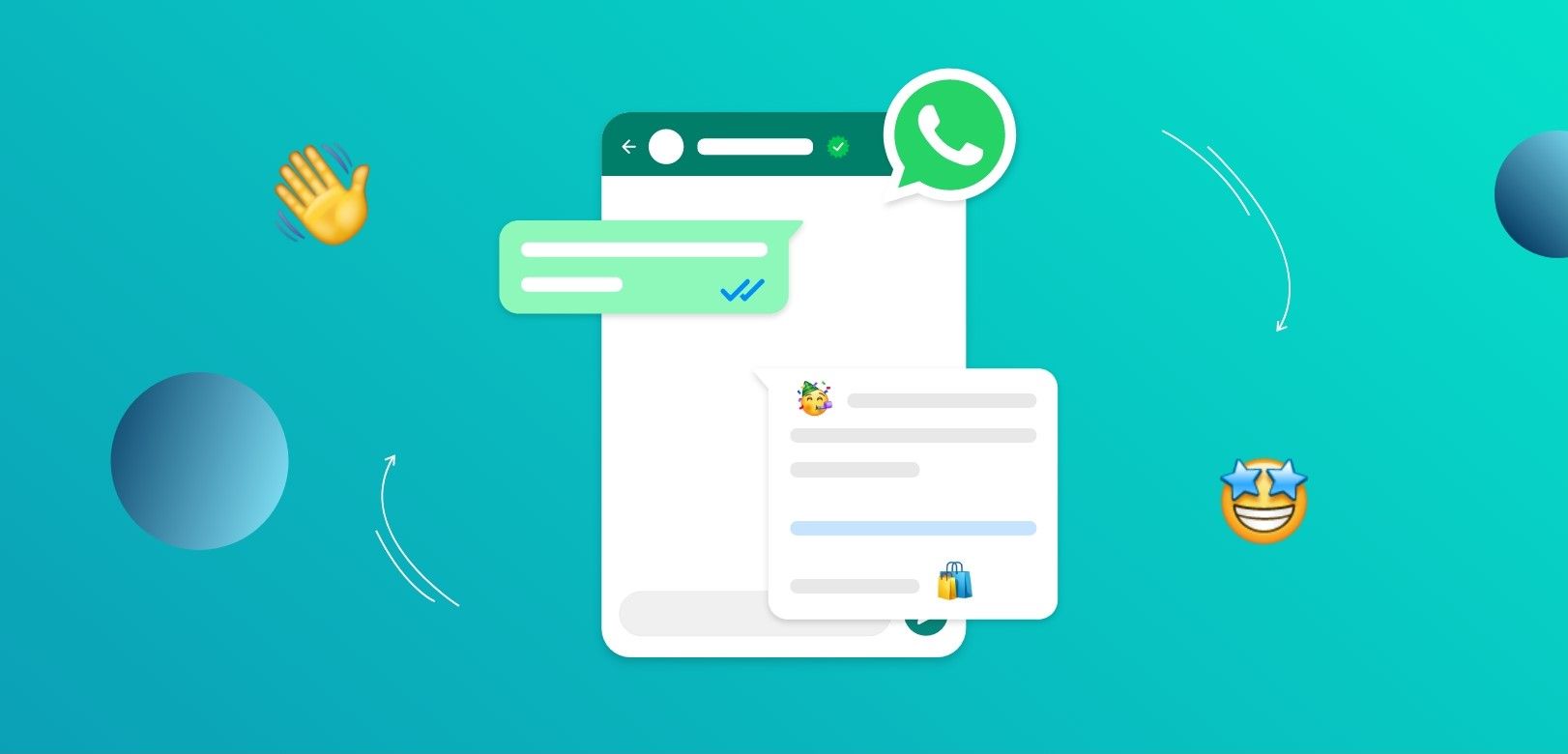 Have you ever observed how high-end stores and hotels greet their guests right at the door? The warm welcome from a doorman conveys a feeling of appreciation and value to customers when they enter. You can replicate this feeling for your customers with a WhatsApp greeting message.
The greeting messages over WhatsApp should be professional and courteous, leaving a positive impression on the person who receives them.
In this article, we will explore all the topics related to WhatsApp Business greeting messages such as:
What is WhatsApp Business greeting message?
Benefits of using WhatsApp Business greeting messages
14 WhatsApp Business greeting message examples: Based on categories
Setting up WhatsApp greeting messages
---
What is WhatsApp Business greeting message?
WhatsApp Business greeting message is commonly referred to as WhatsApp welcome message. These are customisable, automated messages that get sent to your prospects or customers on WhatsApp when they message you for the first time.
Here's what a welcome message sent by a business looks like:
A welcome message for your customers through WhatsApp Business can be set up for a wide range of situations and moulded to be welcoming in nature.
---
Benefits of using WhatsApp Business greeting messages
Businesses using WhatsApp greeting messages to welcome new users are sure to benefit in many ways. Some of them are:
Creates a positive first impression: A friendly and welcoming message can help to create a positive tone for your customer interactions.
Acknowledges customers: A prompt welcome message sent by a company in response to a customer's message demonstrates that their communication has been received and will be taken care of.
Sets clear expectations for customer communications: A welcome message gives businesses the opportunity to explain the next steps to their customers.
Assure follow-up to customers with grievances: By sending welcome messages, businesses can demonstrate that they are invested in customer satisfaction, providing assurance that their concerns will be addressed. This encourages customers to reach out to the business without hesitation if they have any issues.
Easy way to collect customer details for context and leads: By sending out welcome messages, businesses can introduce customers to their product or service and gain valuable information about their needs and preferences. This information can then be used to personalise future messages and offers, as well as to create targeted campaigns that are more likely to generate leads and conversions.
Furthermore, greeting messages on WhatsApp can also be used to remind customers of upcoming events, promotions, or offers related to holidays or special occasions. This, along with all the previously mentioned points, can help businesses build customer relationships and create a sense of goodwill with their customers.
---
14 WhatsApp Business greeting message examples: Based on categories
When it comes to finding the best greeting message for WhatsApp Business, there is no one-size-fits-all solution. WhatsApp greeting messages should be crafted based on specific needs and objectives. That's why we have created an array of greetings tailored to different scenarios.
Let's explore!
General welcome messages
A general WhatsApp welcome onboard message is an opportunity for businesses to demonstrate their brand values to potential customers. It should be carefully crafted to set the tone for the interaction, whether professional or friendly. These messages are usually meant to be sent during business hours for the best impression.
Listed below are a few examples of general welcome messages by businesses on WhatsApp:
"Welcome to [business name]. Please tell us how can we help you today?"
"Heya! Thank you for reaching out to[your business]. We will get back to you within 24 hours.
Hello! Good to see you. Are you aware of the 50% discount offer on all of our products this spring? The code is XXXX. Bring your questions to us if any and we'll be there at your assistance instantly!
Customer service welcome message
Creating a friendly, helpful greeting message for customers on WhatsApp can help you build a strong customer support system. This message can greet customers warmly, provide helpful resources, and ensure that all customer inquiries will be followed up on. Ultimately, this will give customers the assurance that they can rely on your customer service team to solve their issues.
Few examples of emphasising customer support in a greeting message:
4. Thank you for reaching out! Our customer care team will be with you shortly.
5. Hi there, thank you for your inquiry! We will make sure that your concern is forwarded to the right person, and you will receive a response within 24 hours.
6. Hi there! Welcome to [business name]! Our team of amazing support agents is here to help. Please provide us with a detailed explanation of your issue so we can get the right person to assist you.
Away messages
Away messages assist businesses to notify their customers about their unavailability to provide assistance at the moment. It is used for setting expectations about businesses' response times. Popular options for away messages include out-of-office and after-hours. Businesses can also notify customers about holiday hours and sudden business closures.
Some of the away message examples are:
7. Thank you for contacting us. We are away from the office right now and our business hours are [business hours]. We will respond to your message on the next business day. Have a great day! [business name].
8. Hey!  We're currently not available to respond. Our business hours for this festive season are [business hours]. You can expect a response within 24 hours. Have a lovely day!
Seasons greetings
At certain times of the year, your organisation may need to manage seasonal tasks or festivities. Even if it is hectic due to the holidays or events, you must keep your customers informed.
Here are examples to fit such situations:
9. "Gong hei fat choy"! Due to the seasonal rush, our agents are unable to assist you at the moment. We will get back to you for assistance shortly. Thank you for cooperating with us.[business name].
10. Happy Valentine's Day!  Thank you for contacting [business name]. We are now picking the best blooms for your bouquets. We'll be in touch shortly!
Lead capture messages
Did you know that leveraging WhatsApp greeting messages to welcome new customers can also give you the opportunity to generate leads? With welcome messages on WhatsApp, you can turn possible customers into contacts by requesting their contact information and adding them to your customer database.
Here are a few WhatsApp greeting examples that can be used to capture leads:
11. Hi! You have reached [business name]. To get started, can you please provide us with your full name and email address?
12. Hi there! We appreciate you taking the time to get in touch with us. Please provide your full name and email address so that one of our team members can contact you shortly.
New business updates
Sending customers a WhatsApp message with business updates can help them stay up-to-date when it comes to any new launches or feature updates in the product or services offered. This will guarantee that the customers have the most recent information about all the business developments, allowing them to benefit from it.
13. Hey there! We are excited to let you know about our newly launched summer collection at [Business name]. We have created some truly amazing patterns and designs that we are sure you will love. Check out our website [link].
14. We are thrilled to update you about our latest feature! Now you can access Telegram group chats right within Pepper Cloud CRM. We hope that this new feature will help you maximise your productivity and make your work life easier. Thank you for being a valued customer of ours.
Now that you've explored the different types and categories of WhatsApp greeting messages, it's time to take the next step and learn how to send them.
---
Setting up WhatsApp greeting messages
If you are a WhatsApp Business app user, you can set up personalised WhatsApp greeting messages on the app itself. To learn how to do this, just follow the simple steps outlined on the WhatsApp website.
Instead of the WhatsApp Business app, you may opt for the WhatsApp API for sending greeting messages. This opens up more possibilities for customisation and makes your messages more effective. To use the API for this purpose, however, you will need compatible software to interface with it and set up automation such as personalised greeting messages.
In the upcoming section, let's learn about how to create and send welcome messages on WhatsApp using the best WhatsApp Business API solution provider.
How to set up and send greeting messages with WhatsApp API?

Setting up and sending greeting messages using WhatsApp API is no rocket science; you just need to follow a few steps and you are done. Here we will guide you on the steps using Pepper Cloud CRM. Before that, you have to make sure that you have a WhatsApp API account and a Pepper Cloud CRM account.
Step 1. To start setting up the greeting message, you have to first log in to the CRM.
Step 2. Now, in order to integrate your WhatsApp to the CRM, go to the settings icon and then select "Integration"
Step 3. Choose the "Channels" option and click on "Create new".
Step 4. Select the WhatsApp Cloud API channel and click "Next"
Step 5. Complete the required steps and add the channel details along with the greeting message and click on "Update".

After setting up is complete, every time your company receives the first message from a fresh chat, the greeting message will be sent automatically as a reply.
In conclusion, crafting a unique, personalised greeting message on WhatsApp is key to building customer trust and loyalty. But, make sure that your message is timely and consistent; this will help create a sense of reliability and dependability in your customers.
Subscribe to Pepper Cloud Blogs for more such insightful posts to help you boost your business.