Conversational sales: How to sell smart using WhatsApp?
Learn how you can optimise your sales with WhatsApp API-driven conversational sales methods. Discover different ways to convert your leads into customers in an interactive way.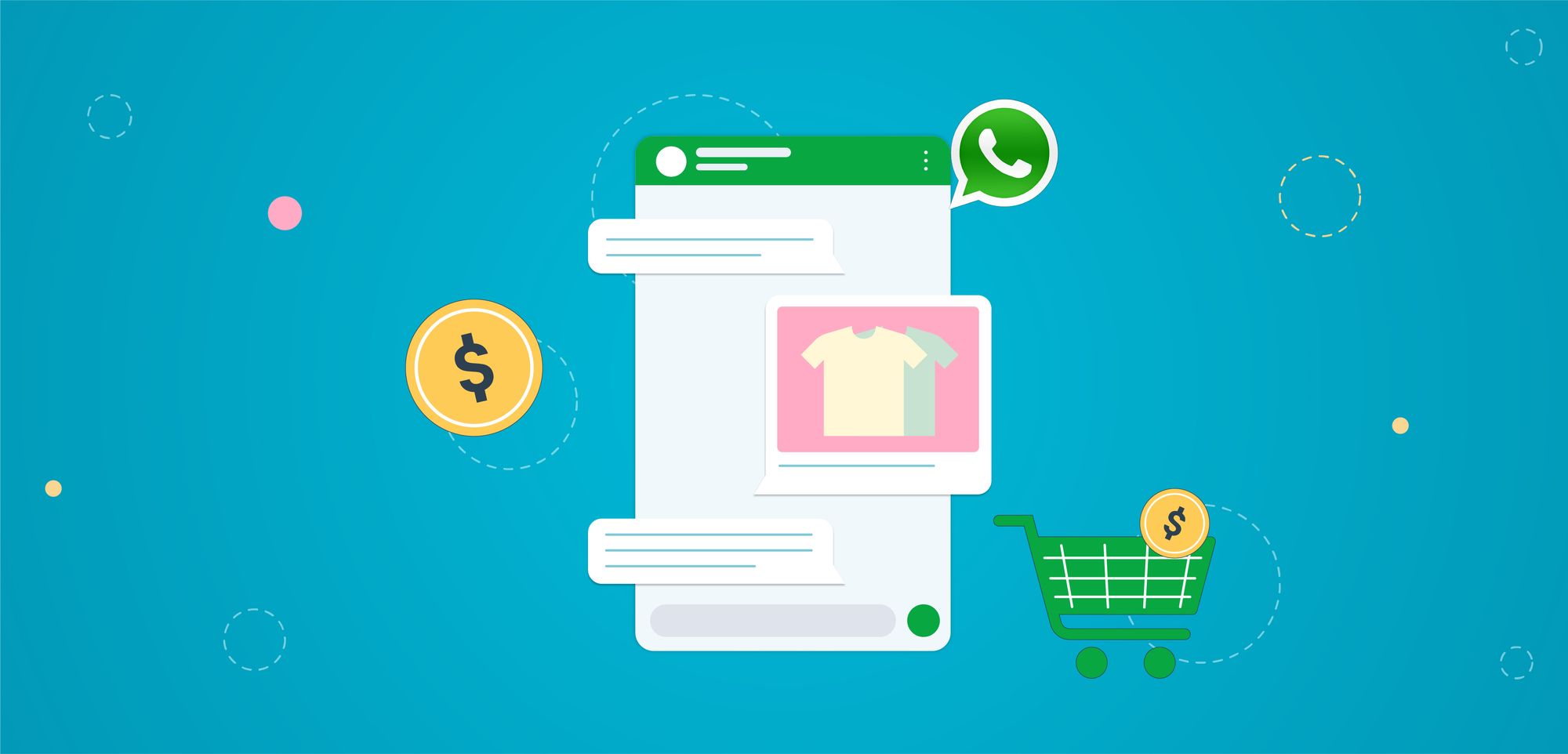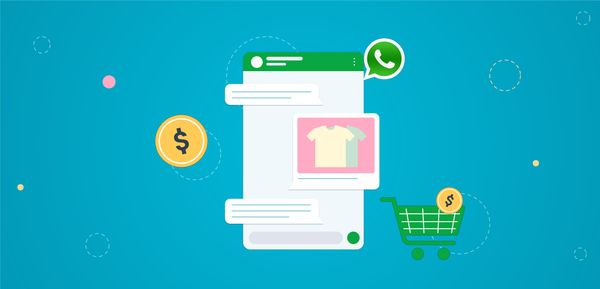 "Sales is not about selling anymore, but about building trust"
Traditional sales techniques have been the way to grow businesses until now. But, what if your business is looking for growth that is consistent and long-term? One way could be by building trust with your customers!
In today's technologically advanced world, customers look out for businesses that respond quickly and provide personalised solutions. "Conversational sales" can bestow your customers with what they need, and help you build trust.
In this article, we will discuss:
What is conversational sales?
Why choose WhatsApp for conversational sales?
How to sell smart using WhatsApp API?
How are companies in Singapore and other Southeast Asian countries growing their business using WhatsApp API?
Before we dive deeper into the topic, let us first understand what is conversational sales.
---
What is conversational sales?
Conversational sales is an interaction-driven approach to online sales. In other words, it is a method that relies on personalised interactions with customers through online tools for quick response. The basic principle of this sales method is to sell to potential customers who are ready to buy. For customers in doubt, the sales team, via conversations and interactions, responds and answers to the concerns they have. Since the main focus of this sales method is your customers' needs, you can effortlessly increase conversion rates, improve customer experience, and cut down lengthy sales cycles.
While there are multiple conversational sales tools such as Live chat, Chatbots, Email Marketing, and Customer feedback, we can't stress enough the importance of WhatsApp in conversational sales.
With over 2 billion monthly active users, WhatsApp has undoubtedly become the most popular tool for conversational sales.
If you check the WhatsApp stats, it is understandable that WhatsApp caters to the needs of individuals as well as growing businesses. While WhatsApp allows the creation of personal accounts, the 2 advanced versions of WhatsApp —WhatsApp Business app and WhatsApp Business API, are suitable for businesses. Since we are focusing on conversations sales in a business, we will look into WhatsApp for businesses.
WhatsApp Business app allows businesses to respond to multiple customers simultaneously, but from a single device. It is suitable for small businesses with 1-2 sales staff. Contrarily, WhatsApp business API allows businesses to respond to messages from a single account, but from multiple devices. It is just right for growing business with a dedicated sales team.
Read our blog to understand the difference between WhatsApp, WhatsApp Business, and WhatsApp Business API.
For obvious reasons, in this blog, we will discuss how WhatsApp API is helping growing businesses in conversational sales.
---
Why use WhatsApp for conversational sales?
Everyone prefers an easier and more accessible way to get in touch with businesses. Well-attended conversations, along with fast and efficient replies, are what people expect, not only from their family and friends but also from businesses. Businesses are well aware of this customer behaviour and are attempting to make interactions with their customers easier and more personal. WhatsApp can be the right tool for this!
If you own a business, the below-mentioned points will explain why you need to choose WhatsApp for your sales conversations: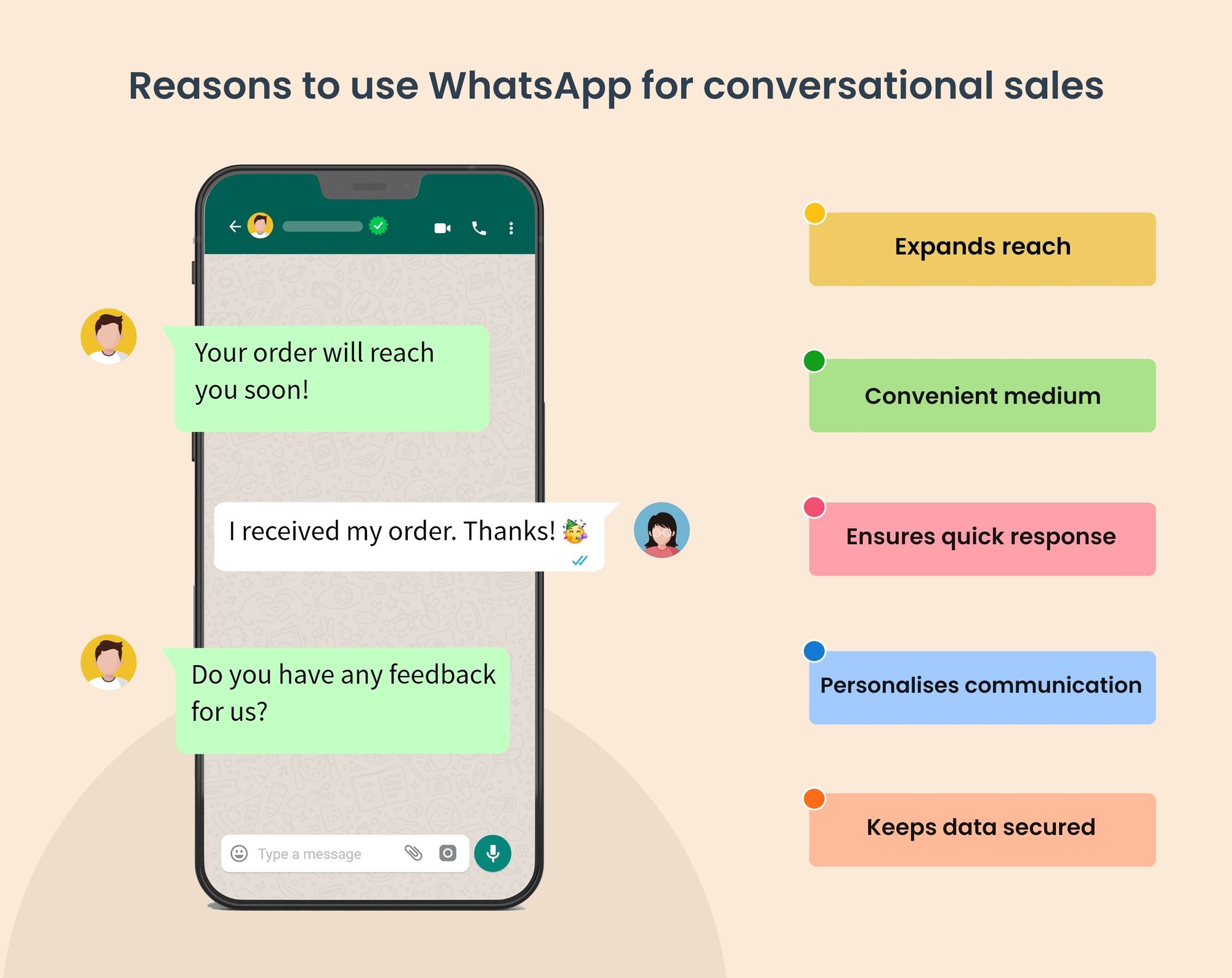 Convenient medium
For better conversions, communicate with customers where they are most active. WhatsApp being one of the most popular and frequently used messenger apps has become the perfect platform for businesses to communicate with their audience. As a result, there is a drop in the number of times customers have to check their emails for orders or query updates.
Expand reach
According to a report, WhatsApp ranks among the top messenger apps globally, and Malaysia, Brazil, and Indonesia account for an average userbase of 85%. Businesses can now leverage WhatsApp for sales conversations and expand their web across the world.
Quick response
Long messages, endless queues, and delayed responses act as deal breakers for customers. With WhatsApp messages, customers can expect an immediate response from the companies, increasing the conversion possibility of prospects into clients and retention of existing customers.
Personalised communication
Make your sales conversation personal and casual rather than a typical sales pitch, with WhatsApp. The WhatsApp Business API lets you capture and analyse customers' data to build personalised messages for better communication. This approach helps a great deal when connecting with customers. The customers feel the brand is at their level and understands their needs. It becomes easier this way to make it to your client's contact list and bring them closer to your business.
Data Security
With data privacy issues on the rise, WhatsApp, with its end-to-end encryption, has become the secure choice for customers willing to communicate with businesses. It also protects user privacy and offers spam protection.
---
How to sell smart using WhatsApp API?
For SMEs to grow, it's not just enough to sell but to sell smart through efficient sales methods. One highly efficient method is conversational sales with WhatsApp business API. Before we look into "Why WhatsApp business API", let us first understand how exactly WhatsApp Business API is helping businesses to grow.
WhatsApp Business API is a version of WhatsApp designed for small but growing enterprises. Some of the features provided by WhatsApp business API are:
Multiple salespeople can respond through their devices, but from a single account
Create customised message templates
Send one-to-one or bulk messages instantaneously.
Share location, documents, audio files, videos, and other media content
Create a rich business profile with Business name, Logo, Location, Opening hours, catalog, etc.
Assign chats to users within the team
On the downside, WhatsApp Business API doesn't have a standard user interface. Hence, it needs to be connected to messaging software or a CRM. Pepper Cloud CRM is Singapore's #1 WhatsApp-integrated CRM that helps you to unleash the potential of your sales team by allowing you to easily send and receive messages.
To know more about the different features of WhatsApp CRM integration, watch this video:
Now, let us learn why WhatsApp business API.
WhatsApp Business API along with CRM offers quick wins in sales conversations with the following features.
Customised message templates for quicker response
WhatsApp message templates can be conceived as a conversation starter for businesses. Initiate a conversation or keep your customers updated with product launcher, order status, etc. with pre-approved message templates. These message templates can also have quick reply CTA buttons for booking appointments.
Read our blog to know everything about WhatsApp message templates.
Create a WhatsApp chat experience
Make the chat experience lively for your customers. Incorporate interactive elements into your text messages, such as emojis, images, videos, audio files, documents, etc., in order to provide the native experience of WhatsApp to your customers.
Be notified about the delivery status
The delivery indicators on the messages intimate you about the success, failure, or read status of the messages in real-time.
Capture and nurture leads
With CRM WhatsApp API integration, you can now automatically capture the Leads from the conversations and import them to your CRM. Additionally, you can also build a complete social profile of the customers with all the provided information.
Collaborate with your team for better output
Enable your team members to collaborate. Assign the message conversations to the right team member and provide your lead with an appropriate answer.
So, next time you need any help from your teammates in certain cases or conversations, assign it to your teammates and work together efficiently. With this, you can be assured that your customer's queries are being answered correctly.
Here is a glimpse at how businesses can benefit from conversational sales on WhatsApp API:
For salespeople, WhatsApp API is a great tool to efficiently gather information about leads (in fact, faster than emails ever could), facilitate building partner-like relationships with leads for better conversions, and to attract and nurture the leads with regular follow-ups.
For growing businesses, WhatsApp Business API allows communication with customers all over the world in a safe, secure, and dependable way.
---
How are companies in Singapore and other Southeast Asian countries growing their business using WhatsApp API?
Did you know? 87% of Singaporeans use WhatsApp every day for personal and business purposes simultaneously. This indicates clear leadership along with the trust that users have in WhatsApp. Brands are now reaching out to their customers without any delay by using a platform that they are already familiar with, resulting in increased customer satisfaction and overall brand perception.
Eng Choon Enterprises efficiently connects with its customers using WhatsApp API
Eng Choon Enterprise Pte. Ltd., popularly known as Aircon Uncle is a service-based company in Singapore. They offer sales, installation, and maintenance services for new air-conditioner units. The enterprise was in need of an efficient tool to help manage customer queries.
Pepper Cloud's WhatsApp-integrated CRM streamlined Aircon Uncle's entire workflow with reduced turnover time. The WhatsApp API enabled the team to respond quickly to messages within the CRM. With the ability to send personalised and error-free message templates, the team rapidly gains traction with flowing conversations.
PSB Academy effectively engages and converts prospects via WhatsApp
PSB Academy, Private Education Institution offering high-quality education with an extraordinary approach utilised WhatsApp API features to enable quick responses without compromising on the preferred human interaction. With the significance given to humanised communications, PSB Academy has successfully advanced closer to its goal of enhancing customer experience. Customers can now communicate with them via their preferred channel at any given time and receive a quick response.
With WhatsApp, Hap Seng Star enhanced customer relationships
Hap Seng Star, aka Mercedes-Benz Malaysia, for better communication with their customers started using WhatsApp. Whenever any customer contacted them, they received quick and personalised responses with WhatsApp's secured end-to-end encryption.  Not just this, the company also uses WhatsApp as the platform to notify and remind their customers to book a service appointment and renew their car insurance.
Companies are attempting to provide a unique and straightforward experience to their users as it is observed that they are more comfortable transacting via mobiles. Profitable businesses are integrating with WhatsApp to promote their brand and connect with customers in real-time.
The WhatsApp Business API with its feature suit touches every aspect required to boost the potential of your sales team. So, look for a CRM platform that enables you to communicate with your customers via the world's most popular messaging app channel.