WhatsApp Business API Components: A detailed overview
The WhatsApp Business API is an ideal solution for medium and large-scale businesses who communicate with customers around the world. Discover the key components of the WhatsApp API such as the WhatsApp business profile and phone number.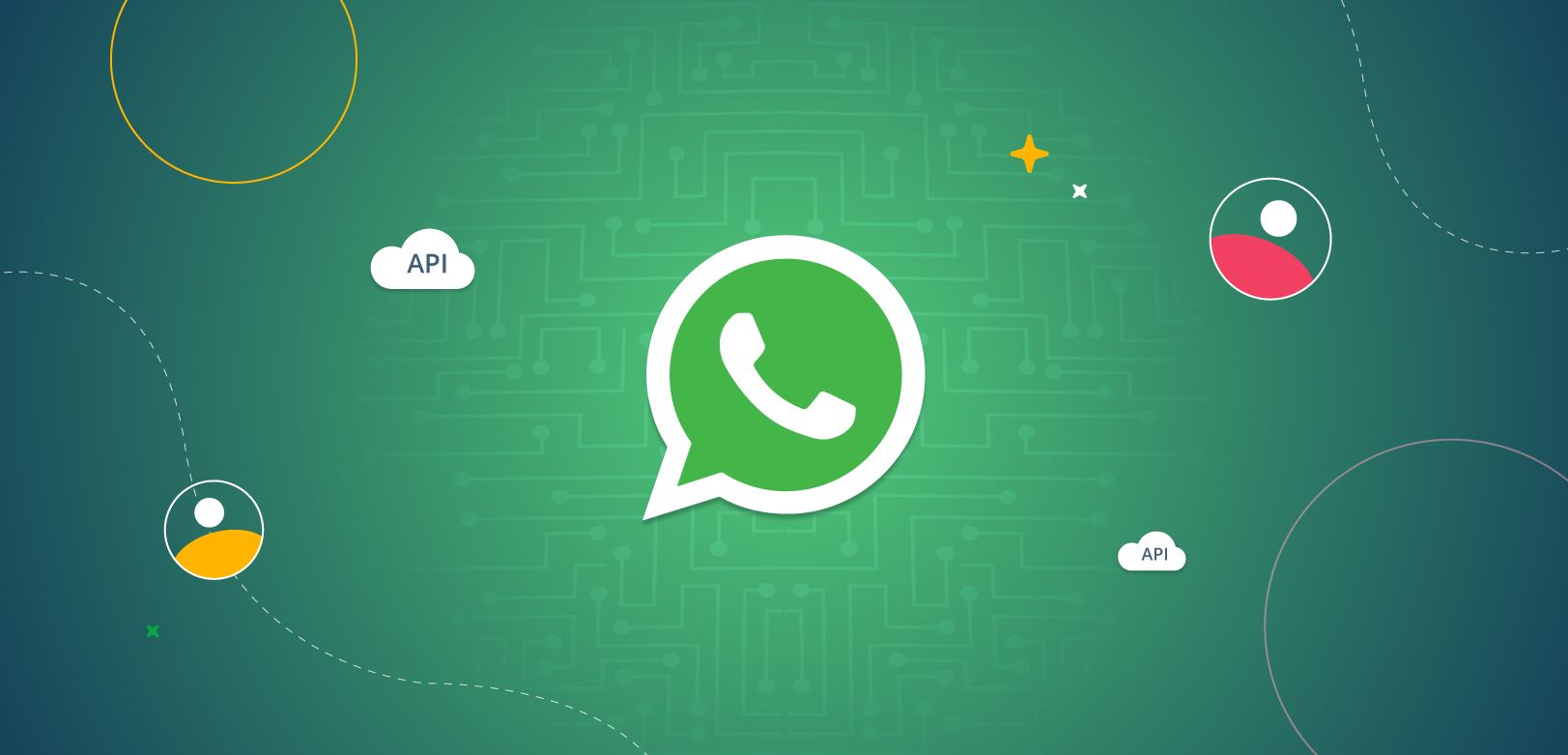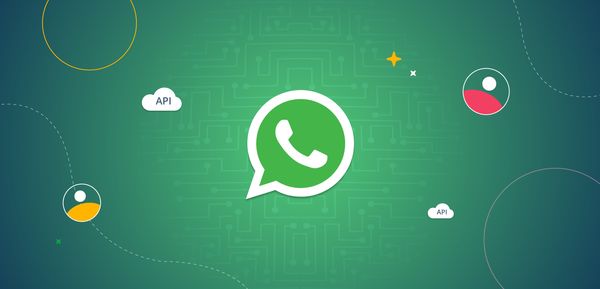 WhatsApp is on the brink of becoming the world's most popular messaging platform, used by millions of people globally. And, with the emergence of WhatsApp products like the WhatsApp business app and WhatsApp business API, the mere chat messenger is turning into a business communication hub. With WhatsApp business app being able to accommodate small businesses' requirements, given its limitations, there had to be a WhatsApp product to tackle the needs of larger businesses. Here's where WhatsApp API takes the front row when it comes to serving large businesses. Head to our blog to learn more about the various WhatsApp business products.
So, what is it that makes WhatsApp API a superior alternative to its counterpart when it comes to serving larger businesses? The answer is in its components. This article will provide a comprehensive overview of the different WhatsApp Business API components, which include:
WhatsApp Business API: Business Profile
WhatsApp Business API: Phone Number
---
WhatsApp Business API: Business profile
Usually, a customer views your WhatsApp business profile to learn more about your business. This makes it extremely important for businesses to keep their cover photo, description, address, email, and website up-to-date.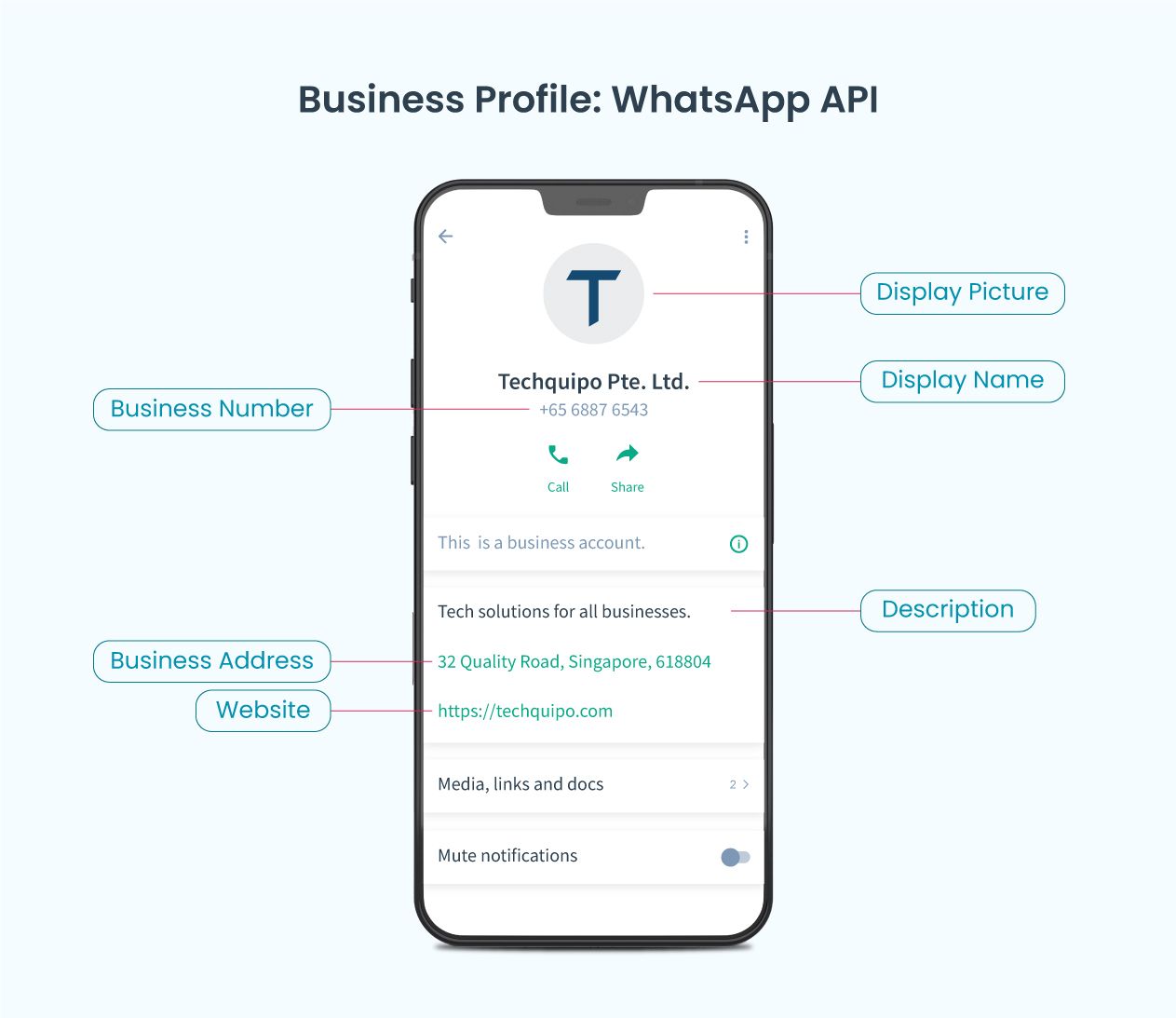 Note: The WhatsApp API business profile will not be searchable in the app, unlike other messaging apps.
In the section below, we'll discuss how WhatsApp API phone number works.
---
WhatsApp Business API: Phone number
To begin with, you must first associate a number with your WhatsApp API account. For that, you can either purchase a new phone number or port an existing one depending on your BSP. It is essential to ensure that the phone number associated with the WhatsApp API can receive calls or SMS.
It is recommended that you do not use a number that is already connected to either a WhatsApp Messaging or Business App account. You can migrate your number from the App to the API, but WhatsApp does not allow you to go back from the API to the App.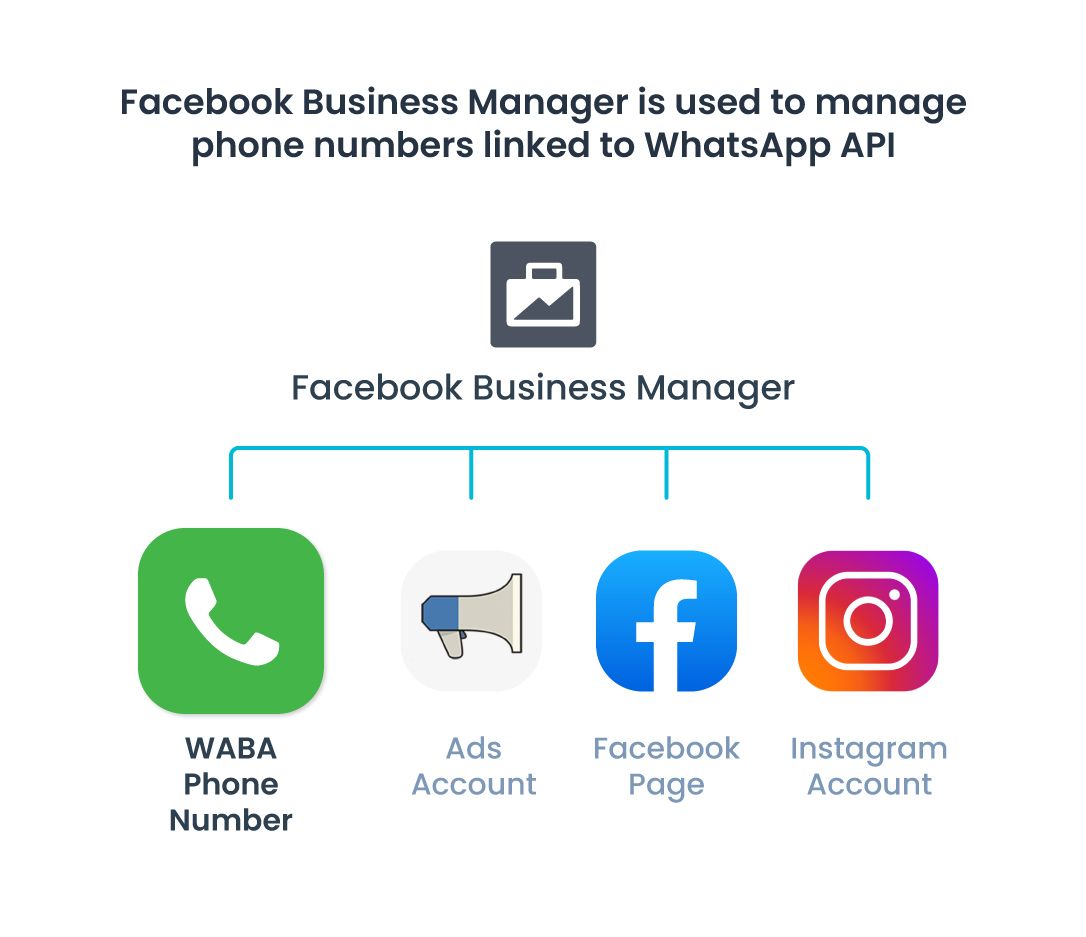 A phone number is associated with a WhatsApp Business Account, which is managed via Facebook Business Manager. You can also manage other Facebook assets in Facebook Business Manager.
Messaging limits and phone number tiers
The number of Contacts an account can message is determined by the phone number tier of your WhatsApp API account. A phone number inside a WhatsApp Business account can reach five tiers which include:
Unverified Trial Tier: Send messages to 50 unique contacts in a 24-hour period and have up to two numbers.
Tier 1: Have a maximum of 25 numbers and send messages to 1,000 unique contacts within a 24-hour period.
Tier 2: Send messages to 10,000 unique contacts within a 24-hour period.
Tier 3: Send messages to 100,000 unique contacts within a 24-hour period
Tier 4: Send messages to unlimited unique contacts within a 24-hour period
It is important to know that the messaging limits are only applicable for business-initiated messages called Message Templates. Businesses generally begin at the Unverified Trial Tier or Tier 1 depending on the BSP while registering their phone number.


You must verify your Facebook Business Account in order to upgrade from the Unverified Trial Tier to a higher tier. Whereas, businesses currently in Tiers 1, 2, and 3 will be upgraded to the next tier after reaching their current tier's messaging limit. Refer to the diagram above for a clear idea.
But recently, Meta has changed the way messaging limits get automatically adjusted. It was also predicted that in the beginning, the changes will affect businesses in Brazil, Colombia, and Mexico will be affected, eventually applying to all businesses. Check the diagram below to understand the changes after the update.

Earlier, to upgrade to the next tier, businesses had to send twice the limit of their messaging tier in 7 days. But with the recent update, they only need to send half of their messaging tier limit in 7 days to upgrade to the next tier.
Furthermore, if a business has a good quality rating and is not flagged, it will automatically upgrade to the next tier after 24 hours of reaching the messaging limit.
Quality Rating and Status of Phone Number
The quality rating and status of your phone number indicate customer satisfaction with the conversation quality of your business. These high-quality insights can be found in the Facebook Business Manager.
A number of factors contribute to the quality rating. This includes the number of blocks by customers, the frequency with which outbound messages such as notifications or promotional messages are sent, and the response time. There can be three quality ratings including:
High (green)
Medium (yellow)
Low (red)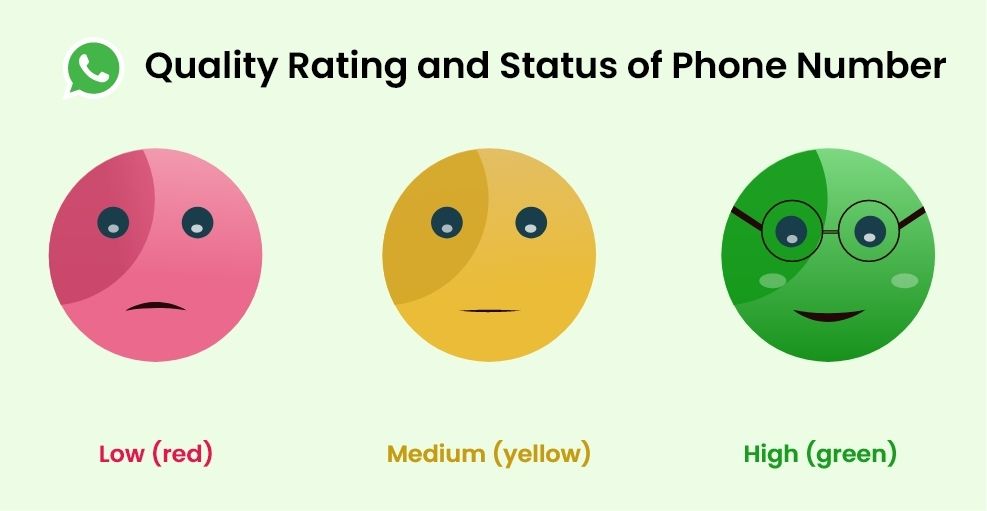 You need to be cautious to avoid having your phone number blocked. This is crucial because when your phone number is blocked, its quality rating falls from high to medium or low. So, the best practice will be to ensure increased quality ratings by following a few WhatsApp messaging guidelines like sending only high-quality messages relevant to your contacts.
A change in quality rating may have an impact on the status of your phone number. Altogether, there are five distinct statuses.
Pending: This is the status before the Commerce Policy check is completed
Offline: This is the status when businesses do not qualify for the Commerce policy check or cancel their WhatsApp API Account
Connected: This is the default status
Flagged: This is the status when the quality rating reaches Low. If the quality rating improves to Medium or High in the next 7 days, the status will be changed back to Connected. If it does not, WhatsApp will restore your Connected status while imposing a lower messaging limit on your number.
Restricted: This is the status when businesses reach their messaging limit while they have a poor quality rating

You can stay informed when there is a change in your WhatsApp API phone number status by subscribing to receive notifications. Now, each time your WhatsApp API phone number status changes from "connected" to "flagged" or vice versa, you will receive a notification.
In conclusion, the WhatsApp API components provide a powerful and efficient way to run business communications over WhatsApp. It offers a wide range of features and capabilities that can be leveraged to create a comprehensive sales strategy. The components are easy to use and configure. This makes WhatsApp API an ideal choice for businesses looking to scale up their sales by giving customers an engaging and powerful messaging experience. Visit our comprehensive blog on WhatsApp API to know more about utilising WhatsApp API for business success.