AssistAI Panel: A user guide to maximise productivity
Discover how AssistAI is revolutionising CRM interactions with AssistAI panel. Learn how to leverage its functionalities, explore use cases, and get helpful tips to maximize your sales productivity.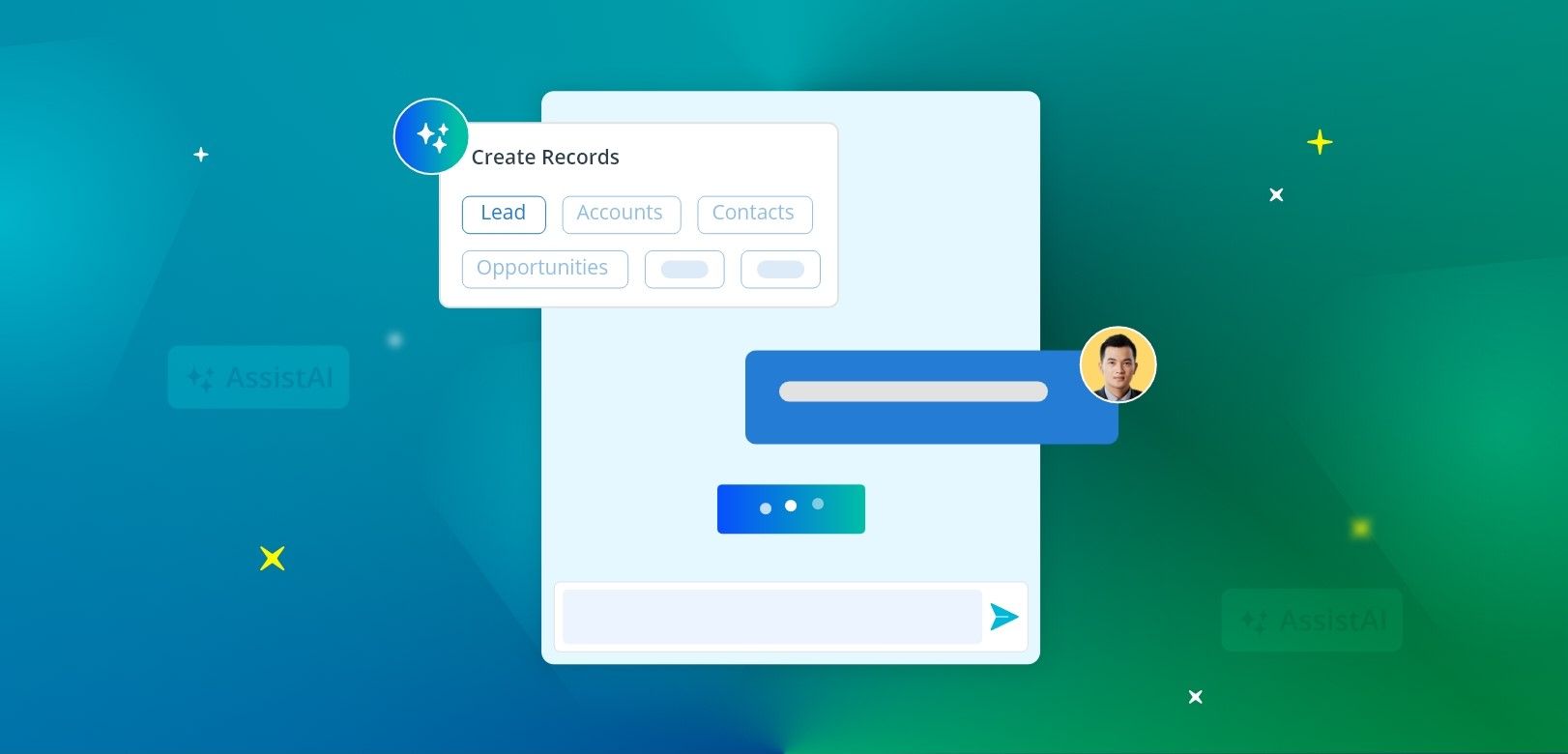 Gone are the days of sifting through complex menus or struggling to find the right option in your CRM interface. AssistAI simplifies the process by allowing you to communicate in plain language, just as you would with a human colleague. Whether you need to update a contact's information, schedule a meeting, generate reports, or perform any other CRM-related action, AssistAI is there to lend a helping hand. All you got to do is type in your command into AssistAI panel and relax as your AssistAI finishes the job for you.
In this blog, we will explore the various capabilities of AssistAI and provide you with helpful tips and tricks to maximise your usage.
What is AssistAI panel?
Functionalities of AssistAI panel
Use cases
How to use the AssistAI panel?
Frequently Asked Questions (FAQs)
---
What is an AssistAI panel?
AssistAI is an advanced virtual assistant integrated into your CRM platform. It utilises natural language processing and machine learning techniques to understand and respond to text-based commands provided by users.
The AssistAI panel is a conversational interface that allows users to interact with the CRM system using plain language instead of navigating complex menus or interfaces. It enables users to perform various tasks and activities within the CRM by simply typing their commands.
This intelligent and intuitive panel is designed to streamline workflow processes, enhance productivity, and provide a more user-friendly experience. It can assist users in a wide range of CRM-related activities, such as updating customer information, scheduling appointments, generating reports, and retrieving relevant data.
---
Functionalities of AssistAI panel
AssistAI panel allows users to perform the following actions:
Record creation: Users can create leads, contacts, accounts, and opportunities directly through the AssistAI panel.
Activity management: Users can add various activities such as notes, tasks, call logs, events, emails, and documents to their business records.
Record search: Users can search for specific leads and contacts within their CRM system.
---
Use cases
Here are some common use cases for the AssistAI panel:
1. User actions based on CRM:
Create a lead, contact, account, or opportunity.
Update and delete business records.
2. Interactions with business records:
Add notes, quotations (future), tasks, call logs, emails, events (future), and documents (future) to business records.
Assign tasks to business records.
Send emails to leads or contacts.
Schedule events or meetings with business records (future).
3. Prompt responses:
Get responses to various pre-defined prompts and queries.
---
How to use the AssistAI panel?
AssistAI panel provides a user-friendly interface to interact with CRM. Here's how you can send prompts and navigate through the interface:
1. Login to CRM. Click on the AssistAI floating button in your CRM screen.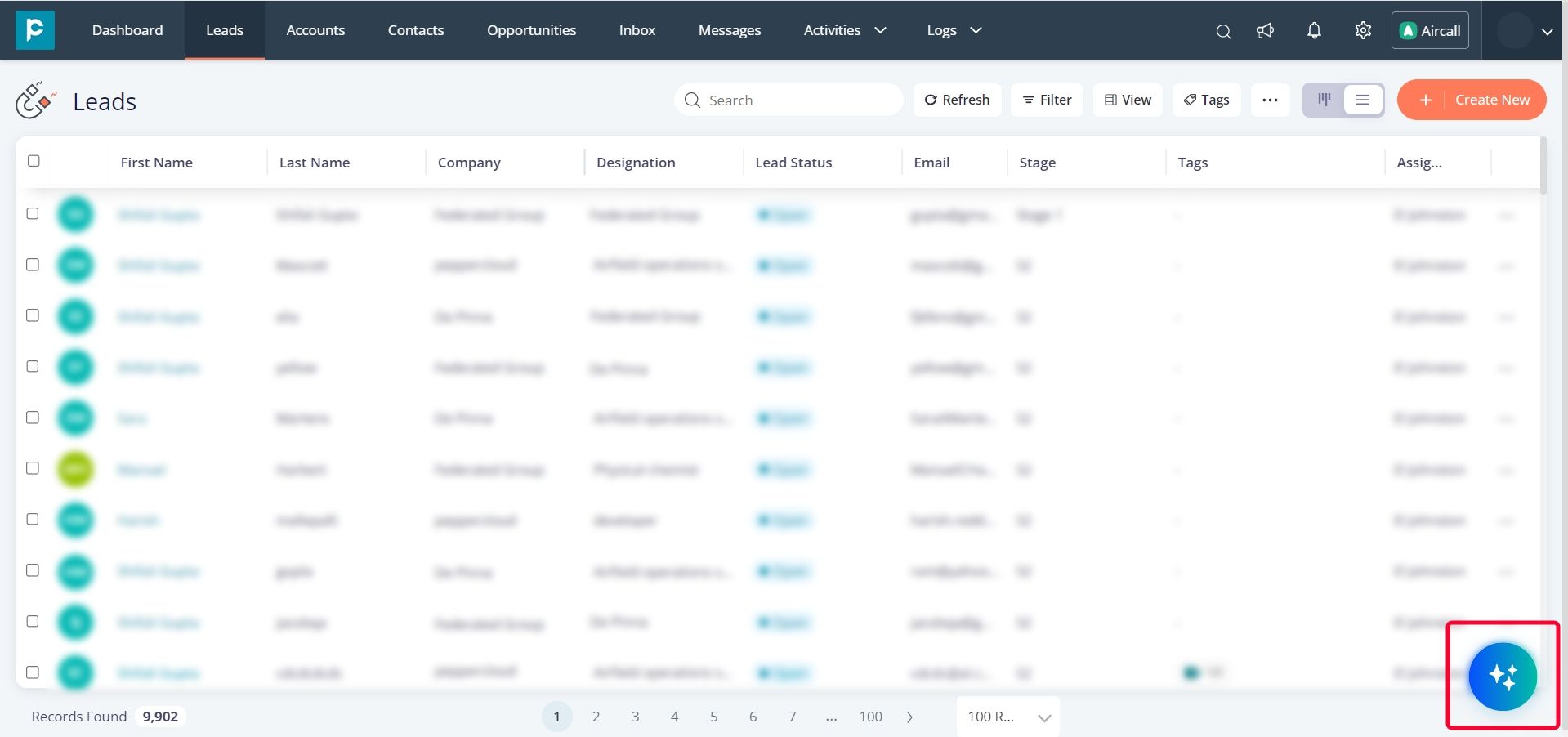 2. There will be prompts in which user can click, it will get fetched in the input box and give an action to the system. Select prompts or actions from the options provided.
3. Choose the module and the associated action.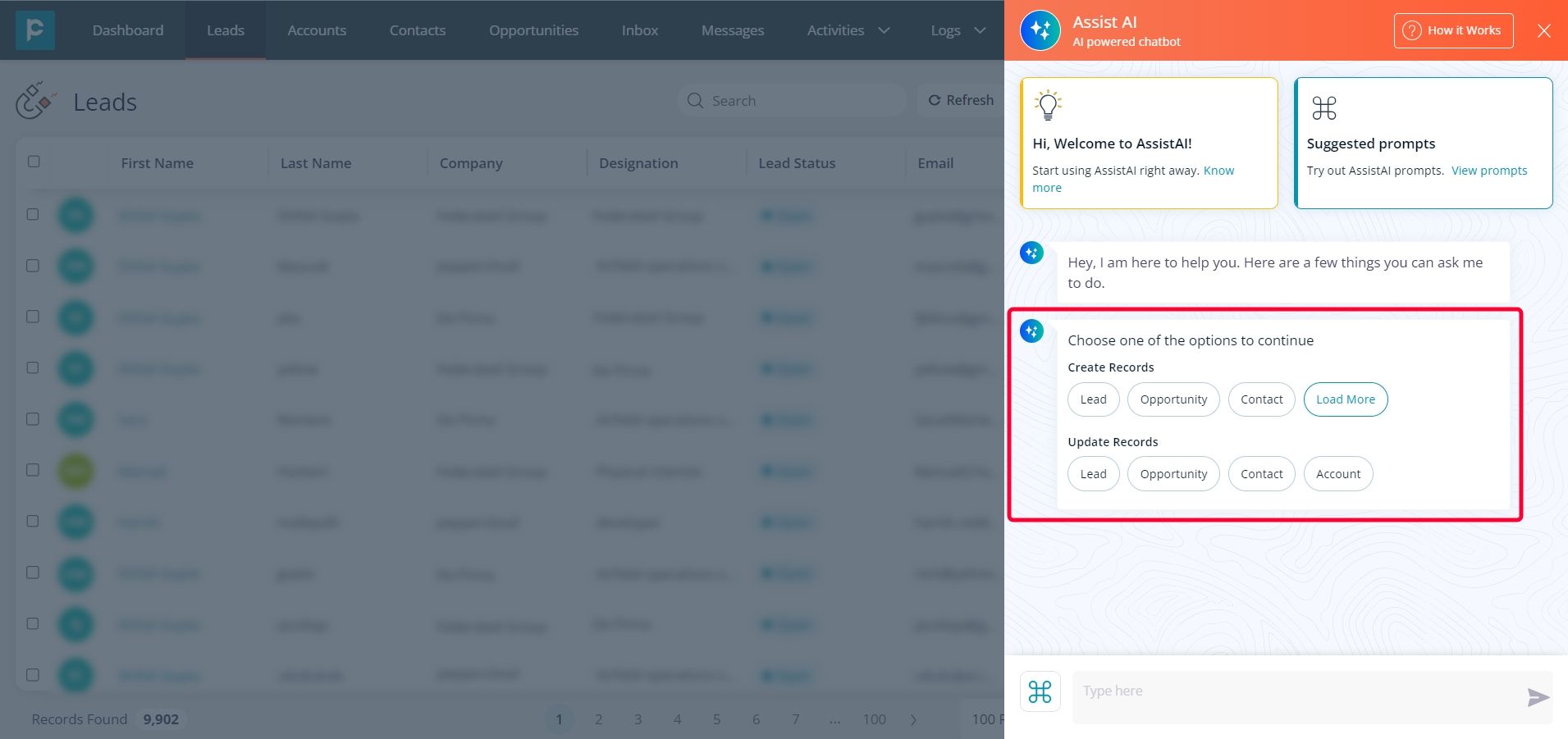 4. Enter the required requested details to complete the action.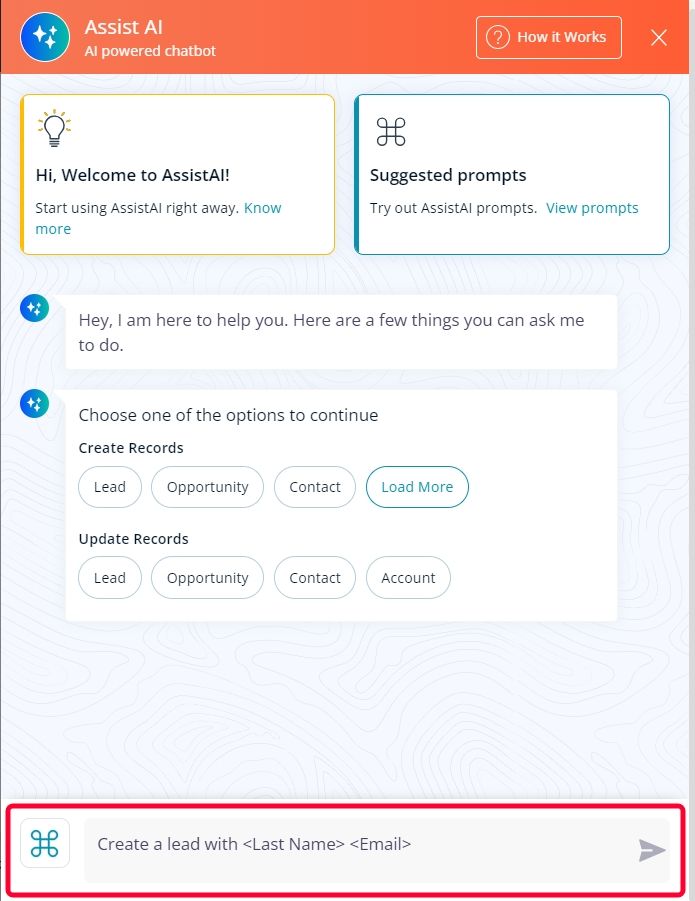 5. Success messages will be displayed after the action is completed.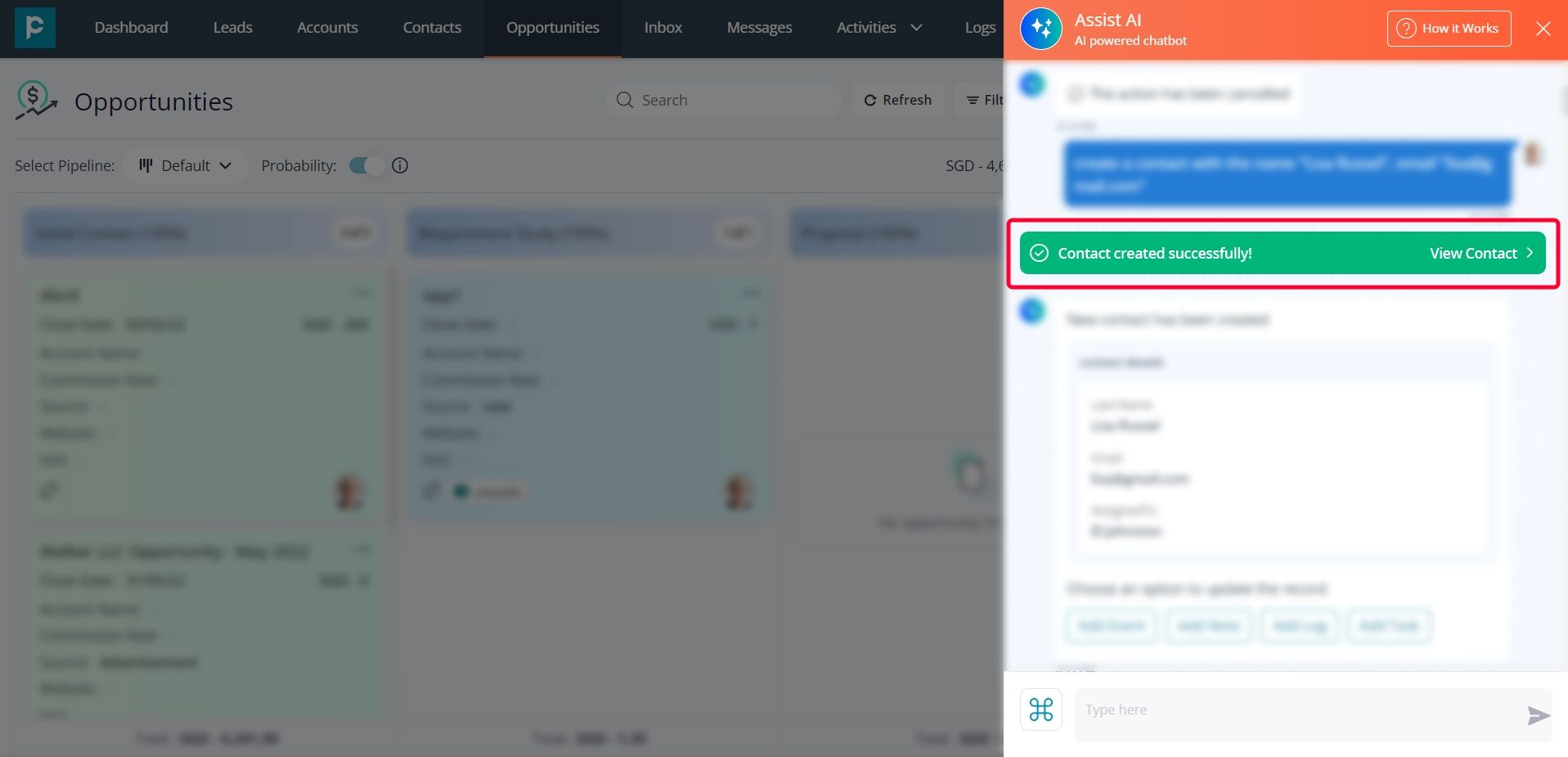 6. There will be some quick actions listed on which the user can apply some activities on the record in just a single click.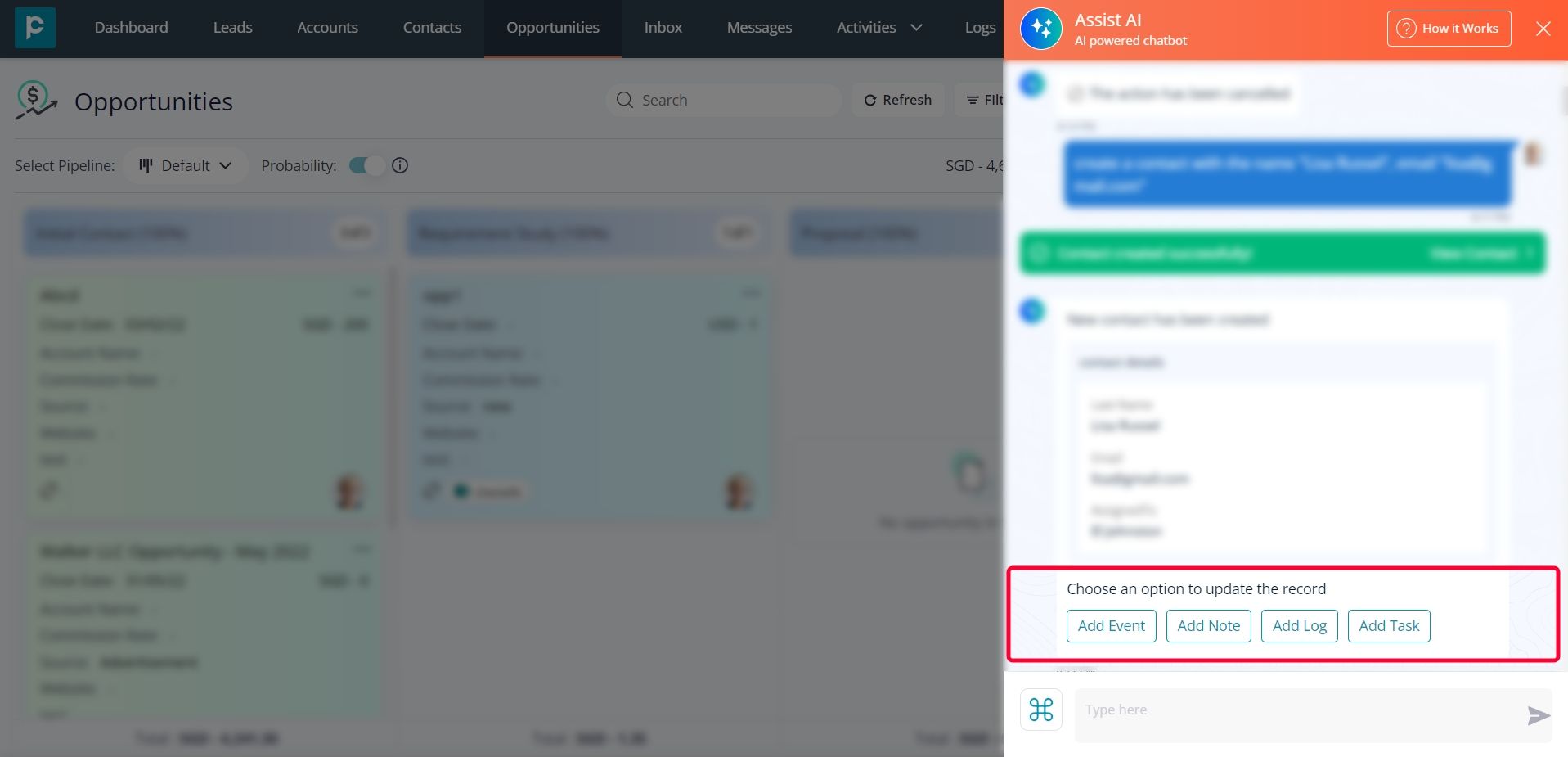 7. On the other hand, the user can click on the command icon to see all the predefined prompts and can ask the system instantly.
---
Frequently Asked Questions (FAQs)
1. Who can access AssistAI floating button?
All the users who have the credentials of CRM can access it.
2. Is it mandatory to have Admin rights to access AssistAI panel?
No, the standard and admin users both can use it.
3. Does AssistAI work like a chatbot?
It works like an AI agent that can eliminate all your manual tasks and you can now focus more on your sales.
4. I prompted the system to send an email to my contact, but it says email is not integrated. What should I do?
You would need to configure SMTP or integrate your email account with Pepper CRM. Only then, the system can send an email.
5. Can I access the chat history of AssistAI?
Yes, once you scroll up to access the chat history.
6. An user is trying to create a lead via the AssistAI panel but he is getting an error. What should we do?
The user might not have access to create a lead or the permissions for the lead module.
7. Can someone who doesn't have activity module permissions add activities through the AssistAI panel?
No, the user will get an error "You are not authorised to do this action. Contact your admin".
8. Can I send an email to the lead through AssistAI panel even though I don't have activity permissions?
No, you can't. You will get an error "You are not authorised to do this action. Contact your admin".
9. Can I create a task through the AssistAI panel even if I don't have business module access?
You can create a task independently and it will not be associated with any business record.
10. Is it mandatory to enter the subject while adding a note to any record?
Yes, it's mandatory to add a subject while adding a note.
11. Why am I not getting the report of other users when I send the prompt "Give me all the opportunities that are WON today and assigned to other users"?
If the Permissions and Visibility are set to "Private" in your system, you won't be able to view the opportunities of other users who are higher in the role hierarchy. Read our blog for more details on permissions and visibility.  
Here is a quick video on how to manage users:
12. What is the character limit of the prompt that we can send?
The maximum character limit for prompts is 2000 characters.
13. How AssistAI will charge us?
The pricing will be based on the count of prompts you can post, once you've reached your credit limits your token expires.
14. I often get errors and don't get an expected response, yet, I am being charged. How does it work?
Irrespective of the errors, your credits will be deducted when a prompt is sent.