An Overview of Enterprise Development Grant (EDG)
Learn what is Enterprise Development Grant (EDG), EDG grant eligibility criteria, and how to apply for an EDG grant.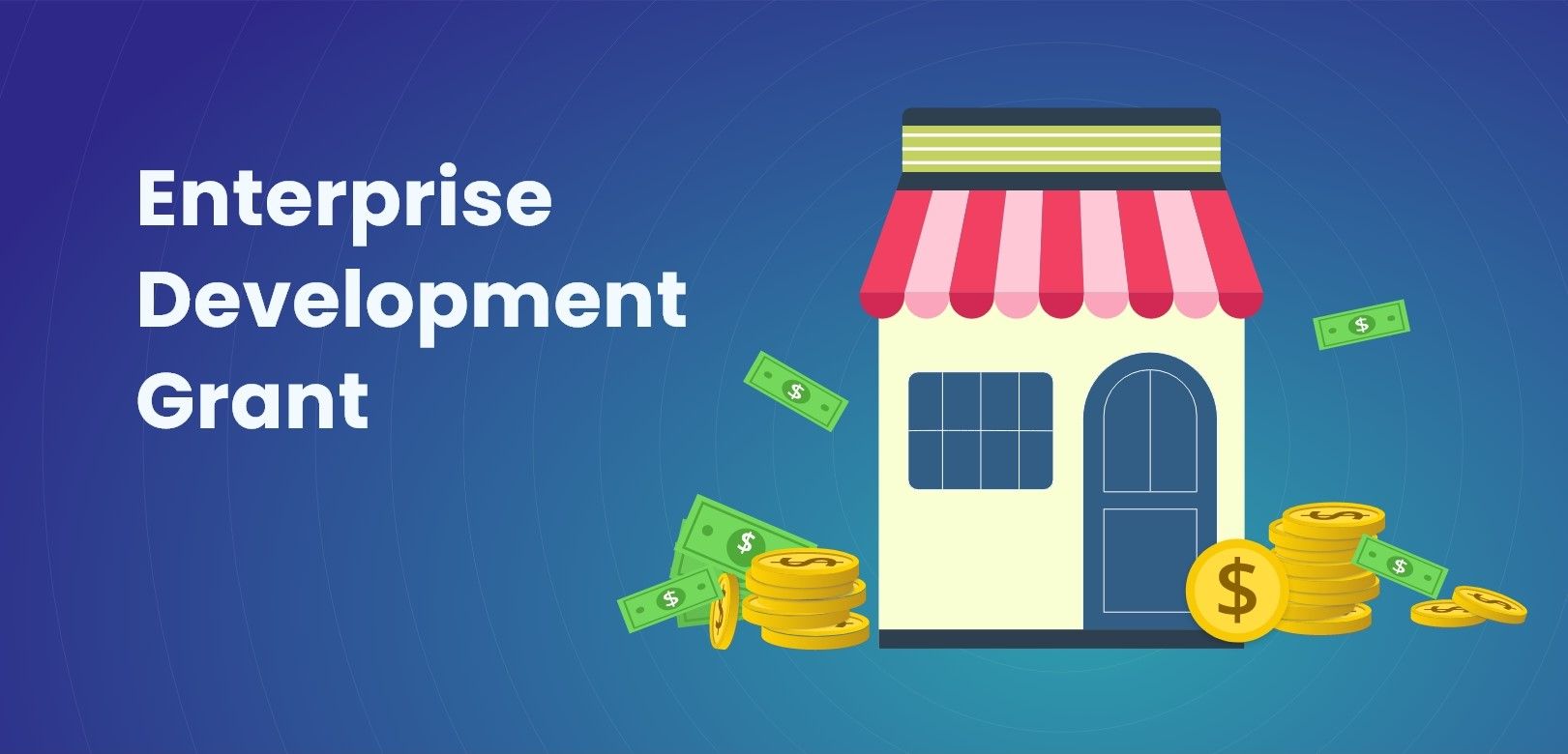 Are you an SME looking to develop deeper capabilities, scale up, and internationalise your business?
Now you can do so with the help of the Singapore government's grant - Enterprise Development Grant (EDG)!
In this article, we shall mainly focus on grants for software projects to automate your business process. These types of applications can be filed under the category of -  Innovation and Productivity - Automation. Before we understand the eligibility criteria and the procedure to apply for EDG, let's understand what EDG is.
---
What is EDG grant Singapore?
Enterprise Development Grant (EDG) is one of the Singapore grants that is aimed to help companies to upgrade their business, innovate or venture overseas. The EDG grant is a combination of the Capability Development Grant (CDG) and Global Company Partnership (GCP).
Previously, the CDG grant was offered by SPRING Singapore and the GCP grant was offered by International Enterprise Singapore (IE Singapore). EDG grant is a by-product of the merger between both entities.
---
What businesses are supported by the EDG grant?
EDG, a government grant for SMEs and non-SMEs, is applicable to three categories and each category has specific project areas which are supported.
Core Capabilities: Strategic brand and marketing development, Business strategy development, Human capital development, Service excellence and financial management.
Innovation and Productivity: Product development, Process redesign and automation.
Market Access: Pilot project and test-bedding, Overseas marketing presence, Mergers and acquisitions, and Standards adoption.
However, the software costs that are supported under the Productivity Solutions Grant (PSG) are not supported under the EDG grant.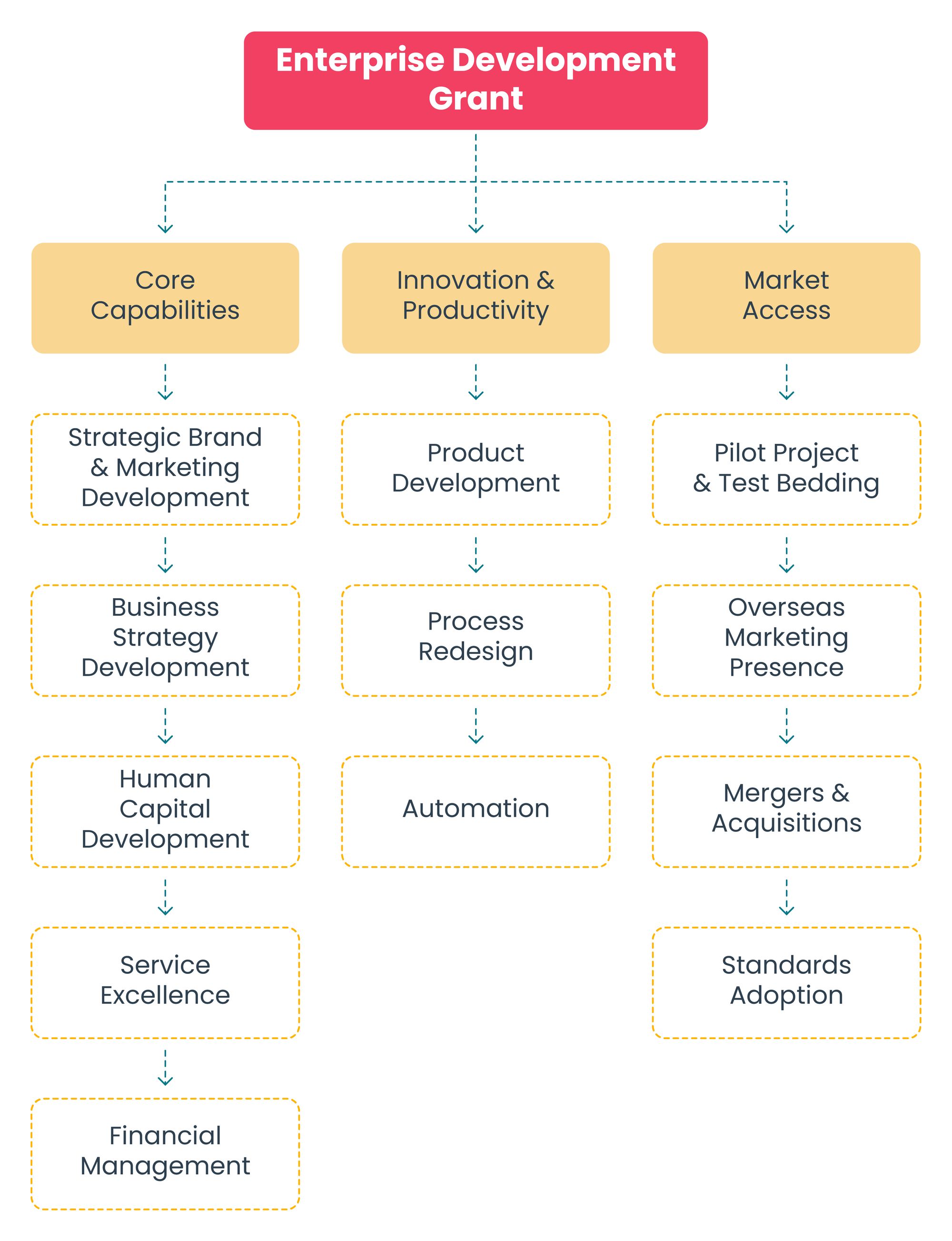 ---
What is the EDG grant amount? Is there a cap on funding?
Singapore government's EDG assists SMEs with up to 70% and non-SMEs with up to 50% of the qualified costs. The grant applications will be assessed on Group revenue and Group employment size. According to edggrant.com, there is no cap on funding technically.
---
Am I eligible for an EDG grant?
Before you initiate the EDG grant application, you should know the EDG grant eligibility criteria.
To qualify for the grant, your business entities must fulfil the following EDG grant criteria:
The company should be registered and must be operating in Singapore.
The company should have a minimum of 30% local shareholding.
The company should be in a financially viable position to start and complete the project.
---
What are the documents required for the EDG application?
If you are eligible and you are keen to apply for the EDG grant, get ready with the necessary documents.
Here is a list of required documents for filing an EDG application successfully.
A project proposal in the specified format
Latest ACRA information (not more than six months old)
Audited fInancial statements
Quotation for the project from the vendor
Relevant consultants' certification
Here is an EDG application checklist shared by Enterprise Singapore.
---
EDG grant application: How to apply?
If you are eligible for Enterprise Development Grant, identify the project category you want to apply for and initiate the EDG application process.
Here are the steps for application:
Login to the EDG grant portal
If you have your documents ready and you are all set to apply for the EDG, log into Business Grants Portal and submit your application.
Accept Letter of Offer
After your application is processed, log into the Business Grants Portal and accept the Letter of Offer. Letter of offer will mention the amount of grant approved. It will also mention project deliverables and the project qualifying period.
If the Letter of Offer is not accepted during its validity period, it will expire.
Continue with your Project
Complete your software implementation and training in a stipulated time frame.
File for Claim
If you are ready to submit your claim, ensure that your company meets these criteria:
The company has used the solution mentioned in the application.
The company has paid in full for the solution.
The company has submitted all the below mentioned documents.
After the approval of claims, disbursements can be made.
Documents Required during Claim Process
Invoice and Receipts from the vendor
Project summary report in specified template form
Documentation of project deliverables as mentioned in the project proposal
Bank statement confirming payment is made to the vendor in full.
---
How to submit EDG grant claims?
Log into Enterprise Singapore Grants Portal
Upload above mentioned documents
Select an auditor from the pre-qualified  panel who will audit your claims
Submit the claim application
After a claim is submitted, an EDG officer may contact you if clarifications are required regarding project deliverables. Similarly, the selected auditor may also contact you to verify the claims
Once the claim is processed, the amount will be transferred to your company-designated account using GIRO.
---
Top Most Frequently Asked Questions
1. What is the timeline to complete an EDG-funded project?
The projects are expected to be completed within 12 to 18 months upon successful grant application.
2. What is the processing time for applications?
After submission of the required information, applications are processed within 6-8 weeks.
3. What is the processing time for claims disbursement?
After submission of the required information, claims are processed within 6-8 weeks.
4. How will the EDG disbursement take place?
EDG approved amount will be credited directly to the company's designated bank account through GIRO, after the approval of your claims.
5. Can you purchase the solution or start work before filing for EDG Grant?
No. Your grant application will be rejected if you have signed the quote, made payment to a vendor or have started any work on the project before you file for the grant application.
6. Do you need to wait for grant approval before you start work on the Project?
No. If you wish, you can sign a quote, make advance payment and start work on the project after you have submitted your grant application. However, you run the risk in case the grant is not approved for any reason.
7. When should I consider applying for an EDG grant?
You should consider applying for EDG Grant if :
The solution that you wish to implement is not listed under PSG
The solution involves heavy customization
The company's group annual sales turnover is more than S$100 million, or the company's group employment size is more than 200 workers and hence your company is not eligible for PSG.
8. How is the EDG grant different from PSG (Productivity Solutions Grant)?
The PSG grant is one of the Singapore grants with different intent. It aims to support organisations and companies that intend to adopt specific productivity solutions or types of equipment. However, EDG aims to support the growth of companies.
With our ultimate guide to PSG grant blog, you can learn more about its definition, eligibility criteria, and application process.
For more information, click here!
---
How can Pepper Cloud help you?
We, at Pepper Cloud CRM, help you avail all applicable grants and assist in transforming your sales process by implementing CRM. You can mould and digitise your business operations while we take care of all the grant-related paperwork. Get in touch with us for a free consultation.
Want to know SME grant updates? Subscribe to our blog and we will ensure to keep you updated!
---
Further reading