Lead generation & Web forms - A complete guide
Simplify the process of capturing leads. Build, design, customise, and integrate the web forms into your website, social media channels, etc. as per your business requirements. Learn how web forms can help you with high intent lead generation.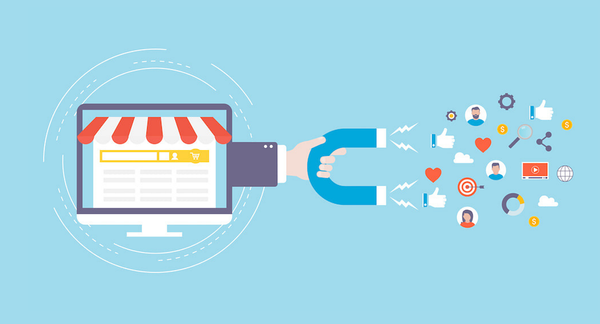 According to statistics of Marketo, more than 60% of B2B marketers cite generating high-intent leads as their toughest challenge.
Is your business generating quality leads for your sales team?
With the world going digital and your customers gleaning your business information from online sources, generating inbound quality leads through online sources is as important as it is to have a strong online presence. But, how to do it?
With Web Forms!
Web forms can capture the information of your website visitors and potential customers. This allows the companies to learn who visited the website, initiate the conversation with them, and possibly convert them into customers.  In other words, web forms are the bedrock of lead generation and inbound marketing.
So, let's dive in and understand everything about web forms and how they can benefit your business.
In this article, we shall discuss:
What are web forms?
What are the different types of web forms?
The connection between web forms and CRM
How to build web forms?
Best practices for setting up web forms
Benefits of web forms
---
What are web forms?
Have you ever shopped online?
Considering the fact that 2 billion people worldwide shopped online in 2020 alone, there is a good chance that you will answer "yes" to that question.
If it's a "yes", you have filled in your details in the web forms, inevitably.
Web forms are the websites' gateways where visitors fill out their information and send it to the servers to process. In other words, it is a powerful means for website visitors to get in touch with the businesses, send information, place an order, send a request or an inquiry. The information that is filled in here will be saved in the company's database.
Some of the examples of web forms are:
Collecting email addresses of users to subscribe them to newsletters.
Collecting the contact details of the users to send out an event invitation.
Capturing the contact information of the users for setting up a product demo.
There are numerous uses of web forms. However, the purpose of the web forms defines the type of web forms that can be used.
---
Different types of web forms
One size fits all - Does it work?
Businesses have different needs and the web forms are chosen accordingly. There is no "one-size-fits-all" web form. Hence, web forms have been categorised into different types such as order forms, registration forms, application forms, booking forms, feedback forms, membership forms, etc. However, in this article, we will restrict ourselves to some of the very specific types of web forms.
Contact forms
Contact forms are the best way to let your website visitors introduce themselves, ask business questions, or raise their concerns. These web forms contain fields that require leads to fill in their basic information such as their names, contact details, and their message.
Lead generation forms
Lead generation forms are typically focused on converting website visitors to leads by collecting their personal information such as their name, company details, contact number, etc.
Order forms
Order forms are an efficient way to collect orders for your business. They let the users place the orders, make the payments, and provide the delivery information.
Registration forms
From planning an event to signing up for the services you offer, registration forms are efficient and useful. This type of form usually collects the basic details of the user and the best way to contact them.
Survey forms or feedback forms
Organisations thrive on the feedback of customers, the public, and employees. Survey web forms provide just that. It helps you learn your customers' experiences, likes and dislikes about your products and services. And it also helps you in improving your business offerings, and future interactions with your customers. This form typically consists of multiple-choice questions and long-form questions.
---
The connection between web forms and CRM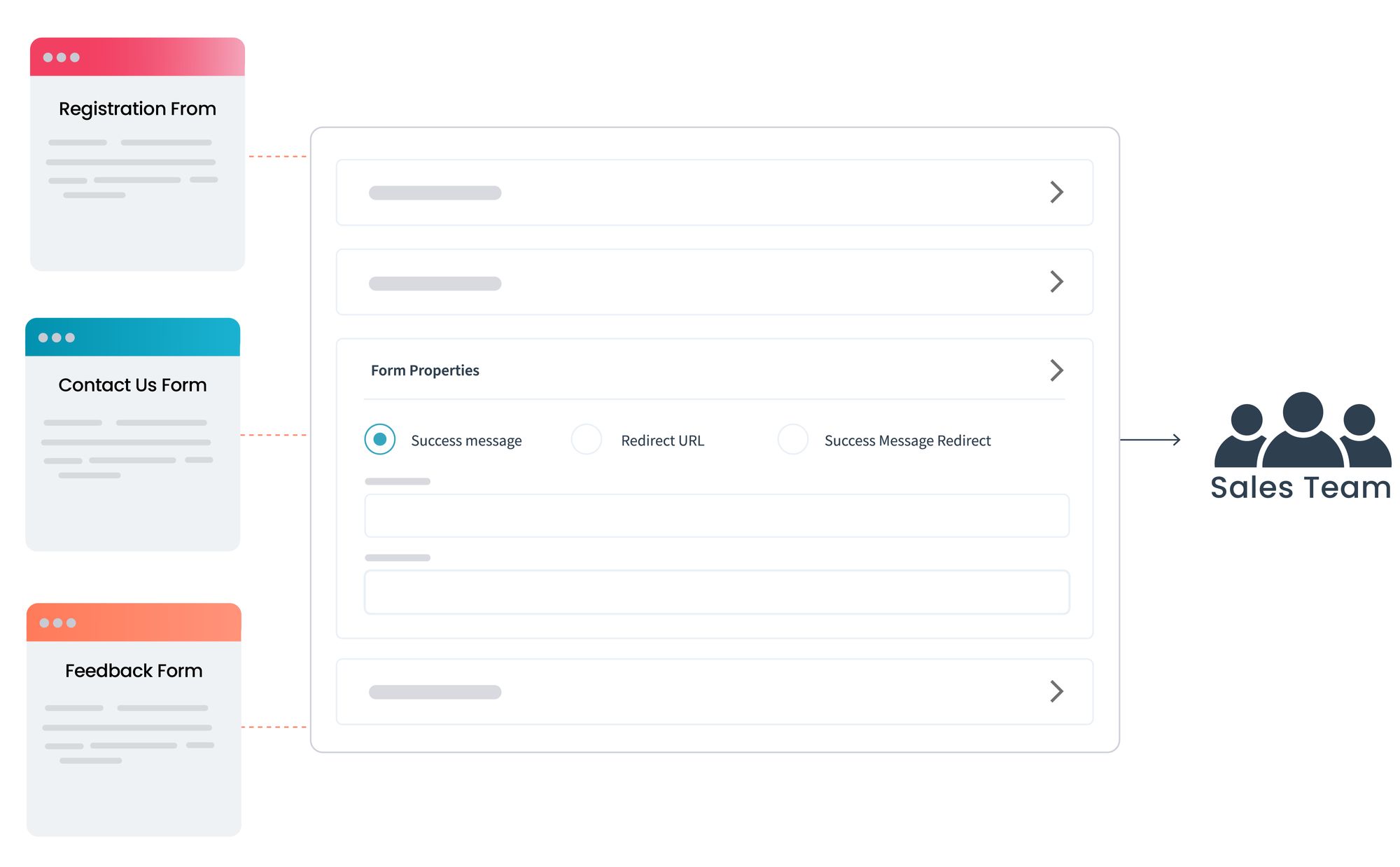 A web form is one of the most convenient inbound lead generation strategies. However, the web forms that are not integrated with CRM software can make the processing of the lead information a highly tedious and manual task.
On the other hand, when web forms are integrated with CRM software, they can positively transform the experiences for you and your customers.
Even without the knowledge of HTML, you can design and publish customisable web forms with the help of a CRM tool.
A web form created through the CRM system captures the necessary information in your CRM account. This eliminates errors, ensures visibility across teams and helps in prompt follow up.
Your CRM tool can create follow-up activities such as assigning the leads to your team members, automatically.
---
How to build web forms?
If you are a business owner looking to enhance your lead generation strategies through CRM integrated web forms, the next obvious question would be "How to build web forms?"
Let's find out!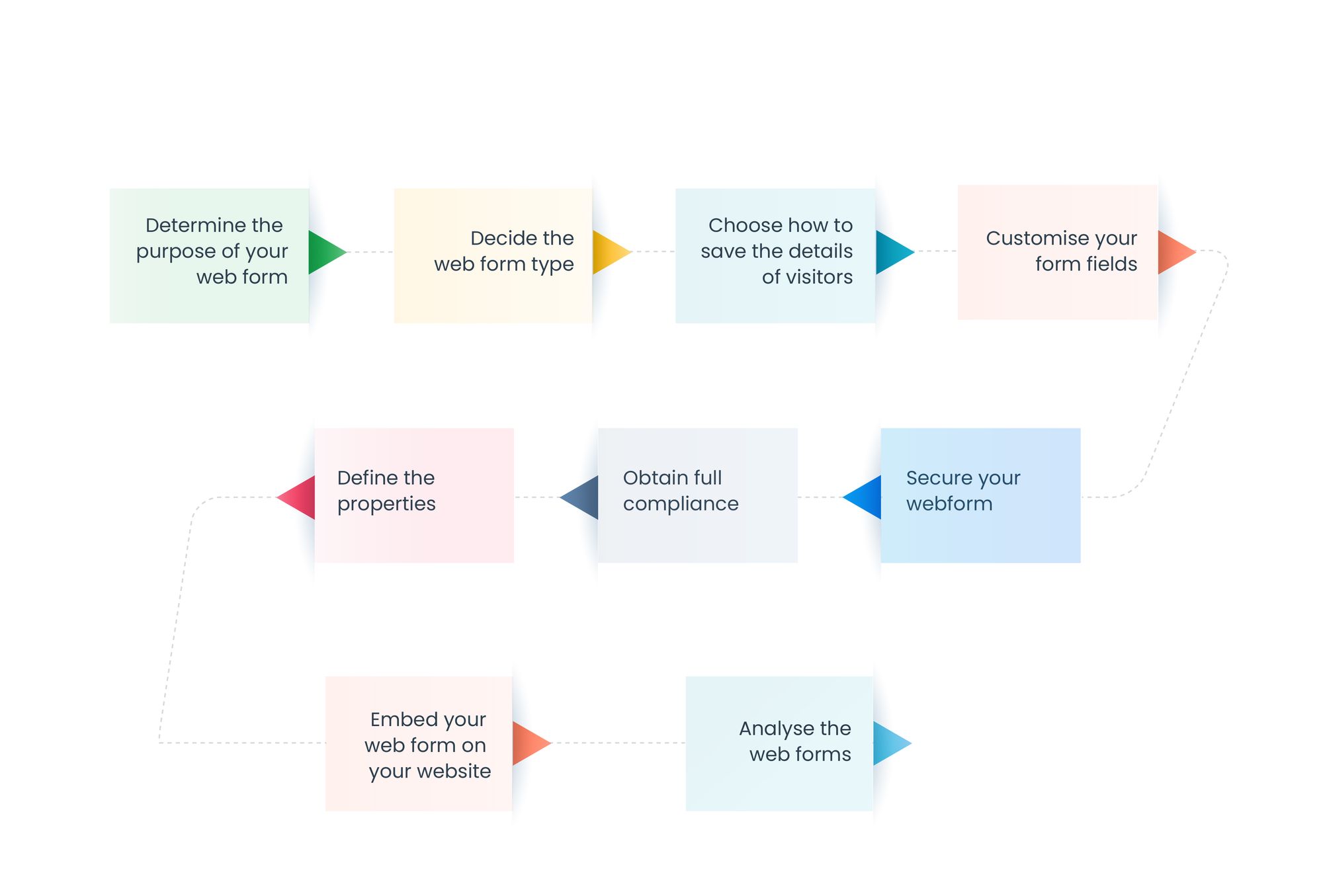 Determine the purpose of your web form
Before you start to design your web forms, ensure that you are clear about the purpose of your web form and what information you would like to capture from your leads. If your web form is complicated, you may lose potential customers. Here are a few ways to ensure that the purpose of web forms is clear.
Provide a clear and straightforward header
Offer a set of explicit instructions to fill up the form, what you expect your leads to fill in, and why you need those details
Offer an easy end-to-end experience to your leads by providing organised and neat web forms.
Decide the web form type
If you clearly define the purpose of your form, it becomes easy to determine which type of web form is appropriate for that purpose. For instance, if you want to get orders through web forms, you can follow the order form template; if you would like to receive your customers' feedback, you can follow the feedback form template.
Choose how to save the details of visitors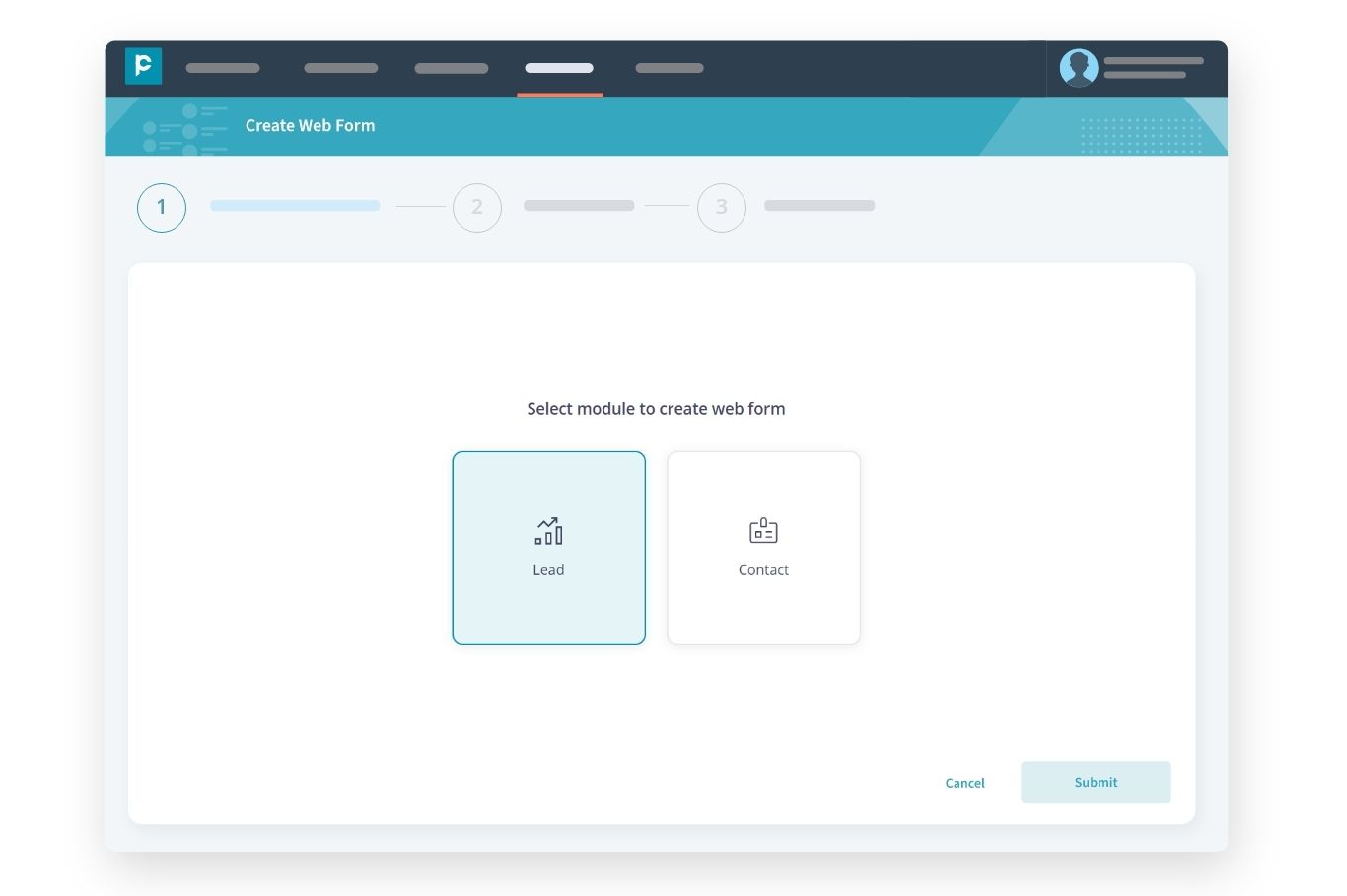 Once you determine the purpose of the web form and the type of the form you would like to use, decide upon whether you would like to list the captured information as a lead or as a contact in your CRM.
Customise your form fields
Based on your web form type, decide on a suitable header for the form, finalise the questions for which you need the answers and mark which fields need to be made mandatory. Irrespective of what type of form template you are using, basic contact information is always required in the form to determine the individual's identity.
For example, in Pepper Cloud CRM, you can either use the existing inbuilt form or create a new one from scratch. The form can be easily designed with an easy drag-and-drop feature, and form fields can be organised according to your preference. You can also define what should be the call-to-action button of the web form.
Secure your web form
Data protection has become a top priority for businesses. With a spam protection option in the form builder, creating a secure form has become easier than ever. You can turn it on or off while customising your web forms. The spam protection option conducts an email address validation process to ensure that the email addresses are genuine. As a second layer of spam protection, the web forms allow you to add CAPTCHAs requiring the visitors to confirm that they are not a robot.
Pepper Cloud CRM provides the option to build a secure web form effortlessly for businesses and the leads.
Obtain full compliance
Web forms have always been an excellent way to generate leads and their "Privacy Policy" option can help you achieve full compliance with various anti-spam laws.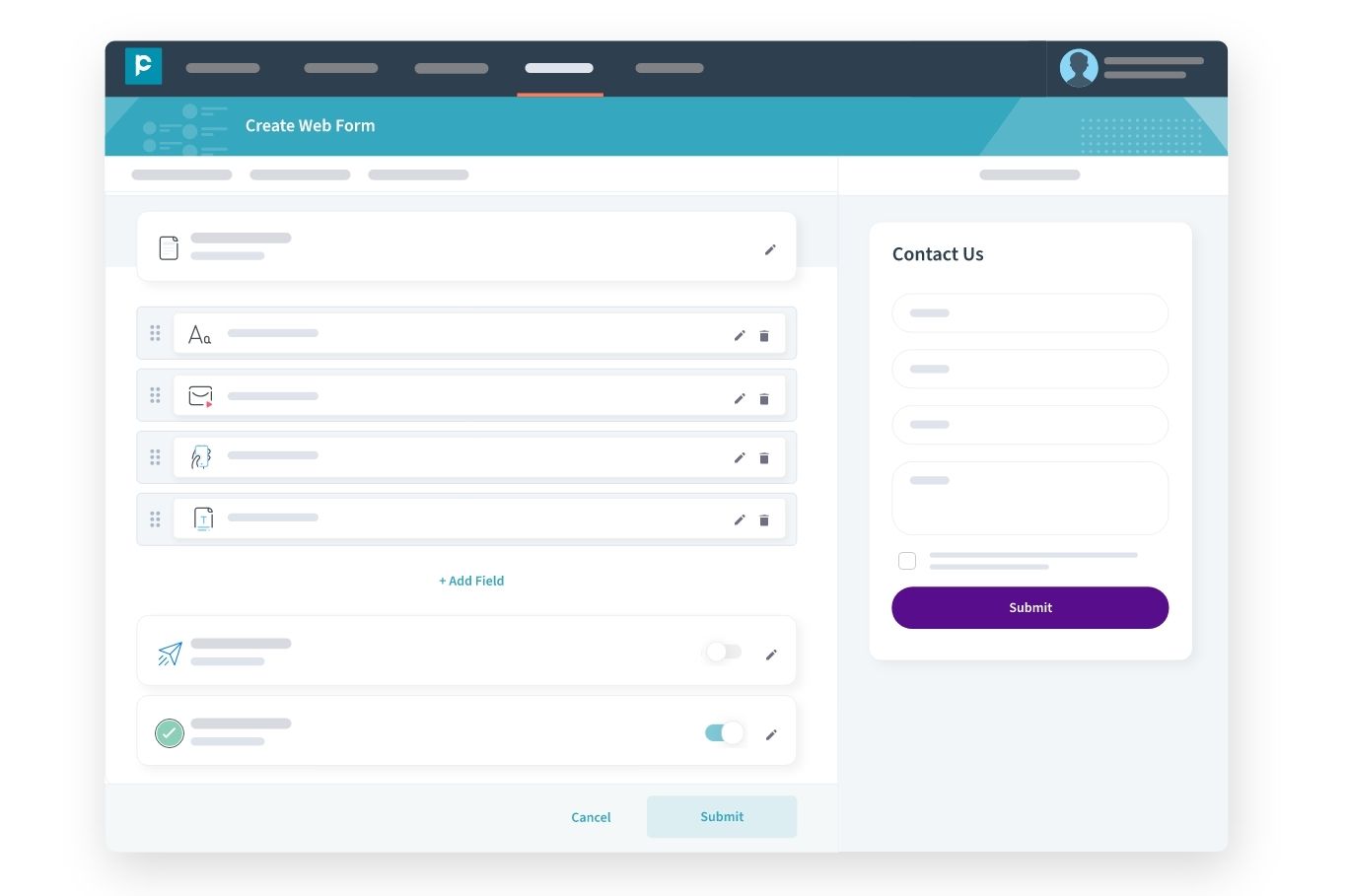 Define the properties
Define theme properties, field properties, form properties, and follow-up properties. This would help in designing visually appealing web forms.
Embed your web form on your website
Once you create your web form, it is time to embed it on your website, on your social media channels, and on other platforms. Start the process by determining where you would like the web form to be located. Answer which page of the website and which part of the webpage? For instance, the contact form can be located on the "Contact Us" page.
How to embed the web form? With Pepper Cloud CRM, you can directly copy and paste the web form's code snippet into the desired location on your website.
If a website creator or an external website is being used, you can embed the code snippet of your web form into the site's source code.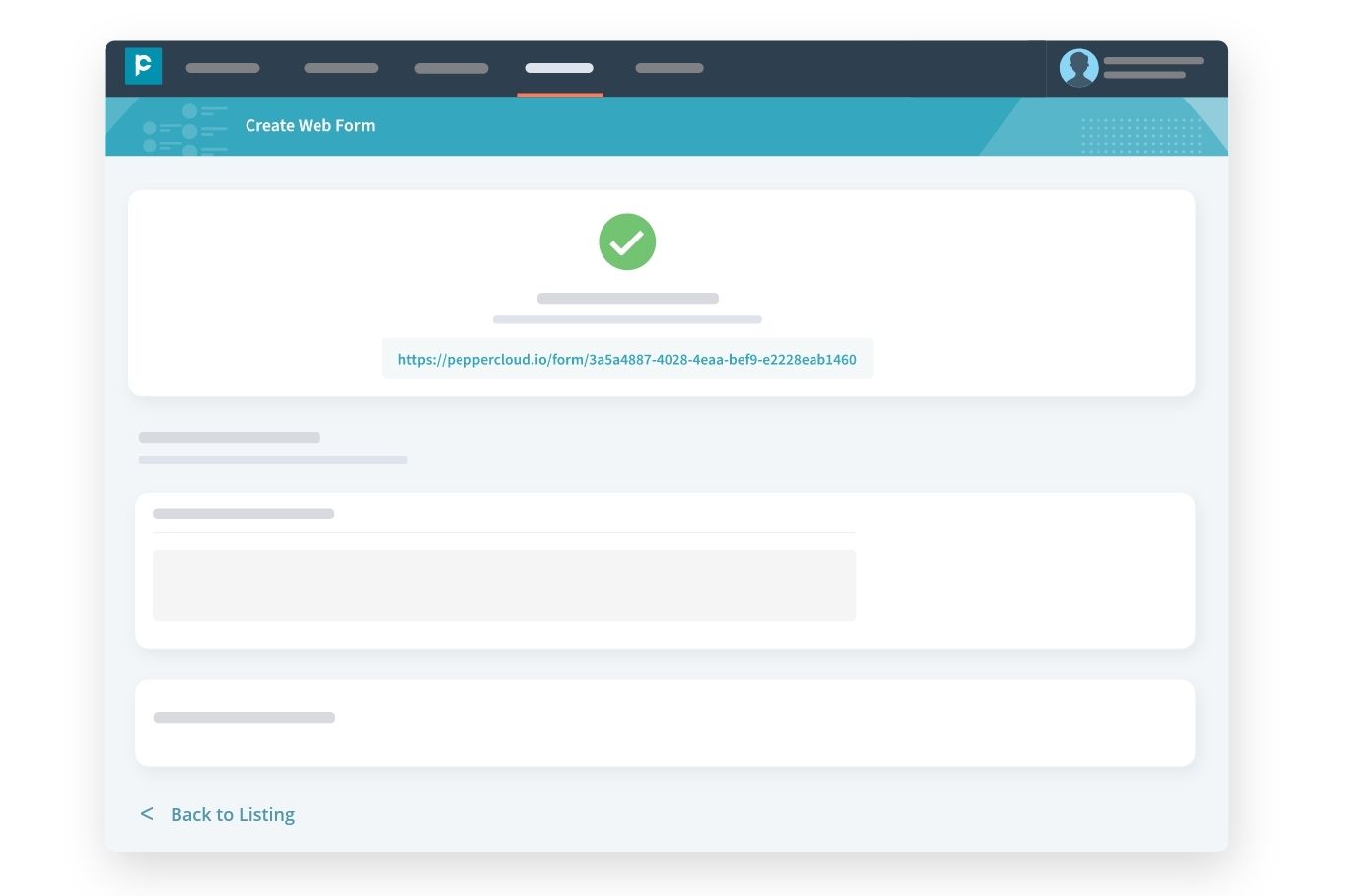 Analyse the web forms
After embedding the web form into your website and after it goes live, analyse your web form from the customers' perspective. Inspect the spacing, headers, design elements, and other necessary web form elements.
Building web forms is no rocket science. But there are a few design aspects that you need to consider to enhance the user experience of your web form.
---
Web form design tips
How can you entice the visitors to provide all the personal information without a simple, easy-to-use, and aesthetically pleasing form?
The answer is -  You can't!
Be direct in conveying your message. Use appropriate header, field titles, and remove non-essential wordings.
Use appropriate form fields. The form fields you choose should make sense to your leads and provide you with the required answers.
Use input limitations or constraints as and when appropriate. Mark mandatory fields with a sign.
Organise your web forms aptly. If the web form is lengthy and has multiple fields, arrange them in one single column. Too many fields deter people from engaging with your web form. Ask only relevant questions.
Display relevant error messages whenever there is wrong data input.
Choice of colours and fonts in the web form design should match your company brand guidelines.
---
Benefits of web forms
We all agree that web forms are one of the good inbound lead generation tools. The versatility of web forms offers various other benefits to businesses.
Automate the lead capturing process
Web forms help in automating your lead capturing process, saving you both time and costs. You don't need any external help in creating web forms and integrating them with your website.
Start conversations in real-time
Your potential customers deserve prompt action from your sales team. Web forms provide relevant information about your lead and your sales executives can start a conversation with your prospects in real-time. Reaching your potential customers early creates a good first impression.
Automating lead nurturing activity
As soon as you receive the lead details, you can activate the workflow and nurture the leads by automating the follow-up activities such as assigning the lead and creating relevant tasks and alerts. In simpler words, you can turn passive data collection into active lead nurturing in your CRM solution.
Considering that web forms are one of the inbound lead generation processes the customer information we receive through web forms is generally of high quality.
Relevant and targeted communication
Web forms through their functionality to obtain consent allow you to comply with data protection laws such as Personal Data Protection Act (PDPA) and General Data Protection Regulation (GDPR). This approves you to send follow-up emails.
In a nutshell, web forms help you to automate your lead capturing process and help you create buyer personas. A well-crafted web form offers a smooth experience to your customers and provides valuable insights about the lead, to your sales team.
Drop us a line, if you wish to know more about web forms and how they can help your business!