WhatsApp Business Multiple User: A simplified approach
One of the most valuable features of WhatsApp Business is its ability to support multiple users. Learn all about how to utilise the multiple-user support feature and what you need to know before getting started.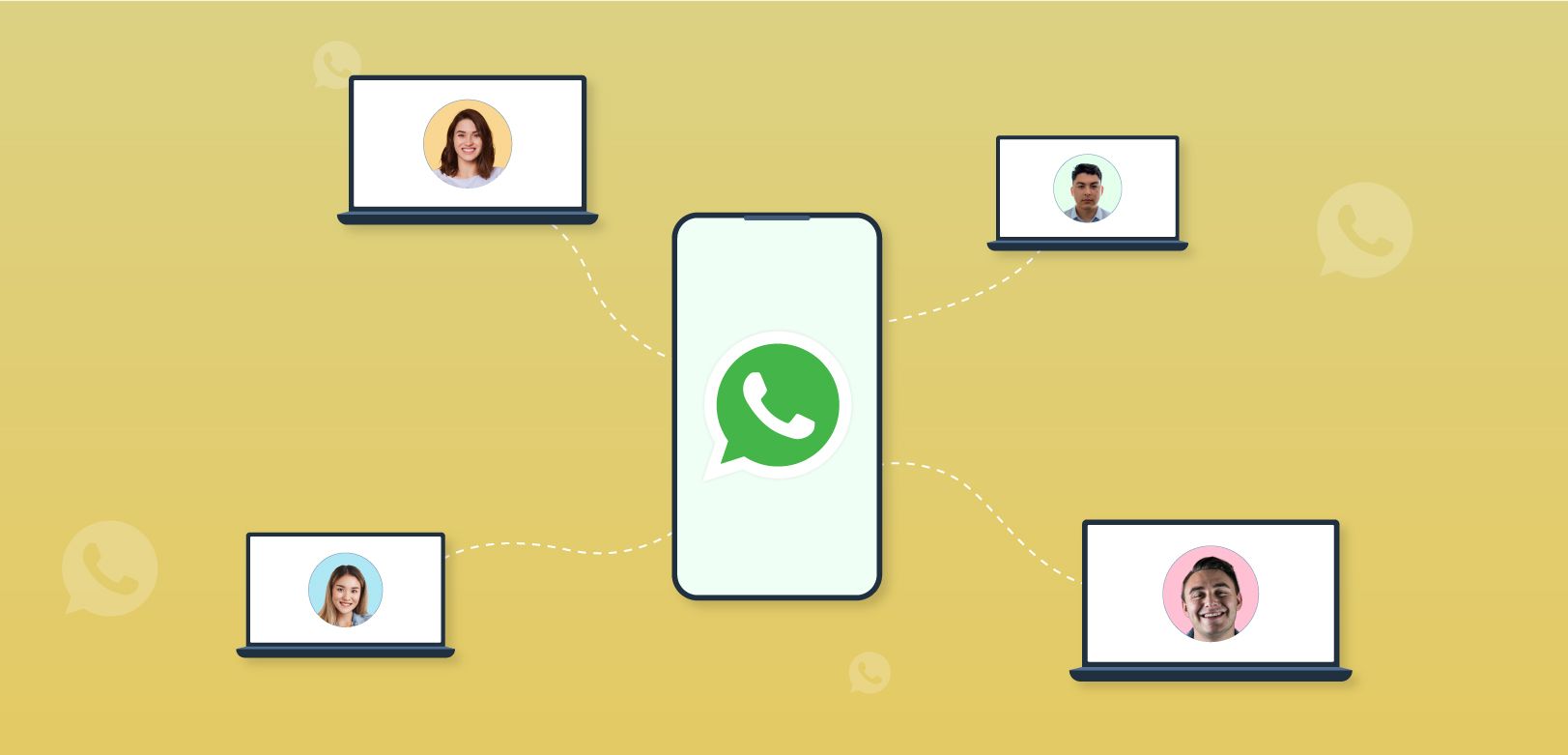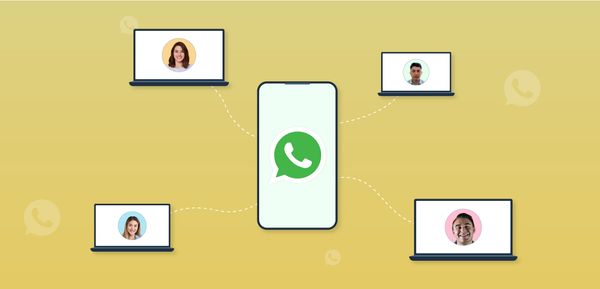 WhatsApp Business is quickly becoming a go-to option for companies that want to create a close connection with their customers. Through the app, businesses of all sizes can engage in fast, efficient, and personalised conversations with their customers. One of the most useful features of WhatsApp Business is its ability to allow multiple users to access the same account. This makes it easier for businesses to collaborate and manage inbound messages efficiently.
However, there are a few limitations on the number of users or devices that can be added to a single account based on the chosen WhatsApp product.
In this article, we'll touch on every topic that will help you understand the multiple-user feature of WhatsApp Business. Read on.
Let's look at the topics we'll cover in this blog.
Whatsapp business multiple users based on different business sizes
What to choose between WhatsApp Business App and WhatsApp API
How to use WhatsApp Business App for multiple users?
How to use WhatsApp API for multiple users?
Use cases for WhatsApp Business multiple users
---
WhatsApp Business multiple users: Based on different business sizes
Using WhatsApp Business with many users or on different devices depends on whether you are using the WhatsApp Business App or the WhatsApp Business API. Each platform has its own way of adding more users and devices.
WhatsApp Business App: Micro and small businesses
The WhatsApp Business App was specifically designed with small businesses in mind. It is free to use and includes an easy setup process. Furthermore, the app now allows multiple user access with the recent update in 2022, allowing up to 5 devices to be linked to each account, including 1 phone and 4 other devices.
As businesses expand, there is a need for a more advanced platform to manage their agents, contacts, and messages. The device limit of  4-5 becomes insufficient for larger businesses. The only way out is by using the WhatsApp API.
WhatsApp Business multiple users: SMEs and large businesses
WhatsApp API is designed for large businesses looking to streamline their communication with employees, customers, and other stakeholders. It allows more than five devices to be connected to one number, providing enhanced efficiency and scalability for larger organisations.
Using WhatsApp API, companies with multiple agents can efficiently manage a high volume of communications and track their team's workflow and organisational productivity. However, WhatsApp API can't be used as a standalone tool as it doesn't have an interface. It needs to be connected to a message inbox or with a WhatsApp-integrated CRM.
CRM can be integrated with WhatsApp by getting WhatsApp API through a WhatsApp business solution partner (BSP) such as Twilio or through WhatsApp Business Cloud API.
Let's first learn about WhatsApp API's basics before moving ahead.
WhatsApp has a 24-hour messaging window
WhatsApp API has a 24-hour message window that starts or resets each time a contact sends a message, giving businesses plenty of time to respond. But if businesses want to initiate conversations with their customers, they can do it with the help of message templates. For a better understanding, visit our blog on WhatsApp messaging templates.
The cost of using WhatsApp API depends on the product you select. If you choose WhatsApp Cloud API, there are no charges associated with it, while if you opt for WhatsApp on-premise API which requires third-party assistance, you will need to pay hosting fees. For more information about pricing, refer to our blog post WhatsApp API pricing.
*Note-  Opting for WhatsApp's on-premise API will require you to apply for an account and go through the approval procedure.
---
WhatsApp Business App or WhatsApp API: What to choose?
Before deciding on the best WhatsApp product for your business that provides multiple-user access, there are a few factors to take into account. The table below will guide you in making the right choice.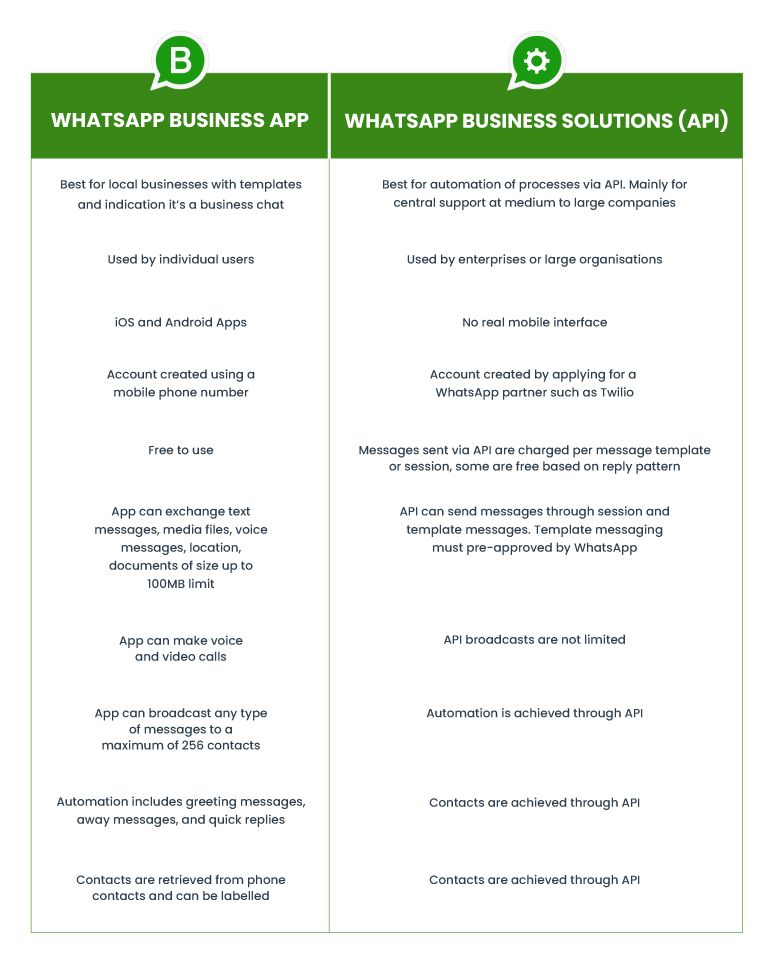 In the upcoming section, you will get step-by-step directions on using WhatsApp Business with multiple users.
---
How to use WhatsApp Business App for multiple users?
In order to set up the WhatsApp Business App for businesses with multiple devices or users, follow these steps below:
Open your WhatsApp Business App.
Tap on the 3 dotted icon for more options.
Go to "Linked devices" and click on  "LINK A DEVICE".
Scan the QR code.
And, your additional device will get linked to the WhatsApp business account.
You can obtain the QR code on your companion devices by using WhatsApp Business Web or WhatsApp Business Desktop App. The steps mentioned above are applicable to Android devices. If you are an iPhone user, simply go to WhatsApp Settings as shown in Step 2, and follow the remaining steps above.
But, make sure to have the updated version of WhatsApp on your phone before you start with the process. After connecting, your team will be able to use WhatsApp Business on your companion devices without keeping your phone linked.
---
How to use WhatsApp API for multiple users?
If you intend on using WhatsApp API for multiple users, you must first link it to your Facebook Business Account and add a phone number. For detailed step-by-step instructions on setting up your WhatsApp API account, head to our blog.
WhatsApp API being a mere channel delivering data to and from WhatsApp's network lacks an app or front-end interface. To send and receive messages, you'll need to link WhatsApp API to a Messaging Inbox or a CRM tool.
After setting up the account, enter the generated API token into your CRM. You are now equipped to use WhatsApp Business on multiple devices via the WhatsApp API.
---
WhatsApp Business Multiple Users: Use Cases
In this section, we'll show you how to use WhatsApp Business with multiple users on Pepper Cloud CRM for a variety of use cases.
WhatsApp Business with multiple agents for sales team
You may utilise WhatsApp API for sales with numerous agents by using our configurable processes. Whenever an inbound message arrives, you can direct the customer to the appropriate agent based on conversation purpose, and customer life cycle.
You can also prioritise your clients using colourful tags and ensure no customers go neglected by assigning them to the most appropriate and easily available agent on your team.
WhatsApp Business multiple agents for bulk messaging
Sending broadcast messages is an easy way to nurture your customers who want to hear from you.  Creating a message template with media attachments along with a Call-to-Action or a Quick Reply Button will result in a high volume of message replies from customers.  However, this message flow can be managed efficiently when you have teams of agents replying to them at the same time on multiple devices.
WhatsApp Business multiple agents to enhance team performance
Pepper Cloud CRM has solutions specifically developed to promote team communication. Agents can cooperate, reply, and resolve conversations faster by using tools to post comments and tag another coworker.
With our omnichannel inbox, you can also merge your contacts from various channels and view customer conversations. When all Contact information is readily available from a single consolidated dashboard, your agents can respond to clients more effectively.
Now, you will get notified each time you receive a new message in your inbox or whenever someone assigns you a new contact.
---
Conclusion
WhatsApp business allows multiple user access to accommodate businesses of all sizes. It allows teams to stay connected, collaborate, and work together in real time, regardless of location. With its intuitive user interface and easy setup, WhatsApp business with its multiple-user facility is an ideal solution for businesses looking to stay connected and collaborate more efficiently.